Station raises funds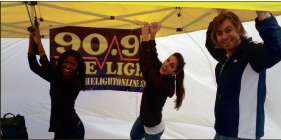 The Light, 90.9 FM, Liberty University's on-campus radio station, provides music and entertainment, but what most people do not know is that it is almost entirely run by students. One way the station supports itself is through its annual fundraiser, the Light-a-Thon.
Beginning Oct. 3 and ending at noon Oct. 6, the Light-a-Thon will feature testimonials and contemporary Christian music as listeners have the opportunity to call in to donate to the station.
According to Claudio, the Light-a-Thon is the station's way of giving back to its student employees.
"The benefit of the Light-a-Thon is seeing the hard work the students put into running the station really pay off," Andrew Claudio, Assistant Manager, Music Director and one of the Light's on-air DJs, said.
"Depending on how much money we raise during Light-a-Thon, the students who run our station will either get a good scholarship or no scholarship at all. It's all dependent on how much support we get," Hall said.
The Light will also have a tent set up in the courtyard in front of their broadcast station, which will allow students to donate in person. The station plans on having a dunk tank near the donation tent featuring Jeff Barber, Justin Kintzel and other well-known people of Liberty. For a small fee, students will be given the chance to plunge one of them.
Because of factors outside their control, The Light came up short of its fundraising goal last year, but this year, its employees are determined to reach their goal of $15,000.
"This year is an important year to get the station back on track," Claudio said.
The radio station provides students with CSER opportunities, offering hands-on experience to communication majors in practicum and work-study positions.
The station does not just give students short-term benefits though. It has also allowed many graduates to enter the community with the training needed to reach the world for Christ through a creative and growing outlet of communication.
"There are many different examples of students going into the world from Liberty's radio station," Claudio said.
ESPN and Fox News even have former employees of The Light working for them.
The Light reaches over 45 miles, broadcasting Liberty's convocation messages, campus church services and a broad range of Christian-based music.
For more information about the station and the Light-a-Thon, visit The Light's website at thelightonline.com.