Men's tennis completes season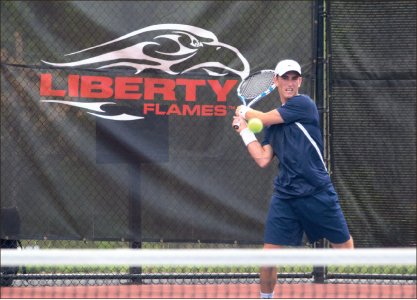 The Liberty Flames men's tennis team's season ended Thursday when they fell to Coastal Carolina in the first round of the Big South Conference tournament, 4-3.
"We lost a heartbreaker," senior Siim Tuus said. "We faced a good team, very close to our level, and one of us had to walk off the court with the loss and unfortunately, this time it was us."
The Flames rushed out to a lead by winning the doubles point. All-conference doubles partners Tuus and Gian Lemmi won their match 8-5, while Tristan Stayt and Shea Thomas upended their doubles opponent 8-5 as well.
"(Earning all conference honors) means that all the work that Siim and I have put into the program has paid off," Lemmi said.
Seniors Lemmi and Mandeep Yadav each won their respective singles matches, but that was not enough to carry the Flames through to the next round.
Tuus, who was named to the all-conference singles team for the third straight year, was shut down by Coastal Carolina senior Danny Heidecker 6-1, 7-5 in their No. 1 singles match.
"It is definitely an honor to earn all-conference singles honors three years in a row, and it shows that we are making the right choices and doing the right things," Tuus said.
Tuus became the first Liberty tennis player to earn both singles and doubles all-conference honors since 2001. Tuus finished the regular season with a 14-6 singles record and partnered with Lemmi to garner an 11-4 record.
"(Tuus) will be our lone senior next year," head coach Chris Johnson said. "He had an outstanding record this year and will no doubt have a great senior year as well."
Coastal sophomore Leo Christofides upended sophomore Shea Thomas 6-4, 5-7, 6-4 in the No. 2 singles match.
In the No. 4 singles match, freshman Dillon Segur took the first set 7-5, but could not hold the lead as he was defeated in the second and third sets 6-2, 6-1.
Freshman Wayne Harrell and Azuero finished their first seasons with singles records of 10-3 and 9-1, respectively.
The Flames will work hard over the off-season to improve and fill spots left by seniors Lemmi, Stayt and Yadav. Johnson will be hard at work recruiting talent for next season.
Tuus will be focusing on his fitness over the off-season and will continue to work on his overall game.
"We are very proud to be graduating three seniors, and they will be hard to replace," Johnson said. "This past year's recruiting class was ranked No. 19 in the nation, and they are developing nicely. We will add to that with this year's recruiting class and continue to build our program."
"It has been a blessing to be part of the Liberty community and serve God through athletics," Lemmi said.
Thomas teamed up with Stayt to finish the regular season with a stellar doubles record of 13-2.
The Flames finished the season with a record of 15-7, the best record for any Liberty tennis team since moving to NCAA Division I in 1993.
Freshman Jorge Azuero was the conference No. 5 singles flight winner, while senior Mandeep Yadav was the No. 6 singles flight winner.