MEW: Reaching the world through missions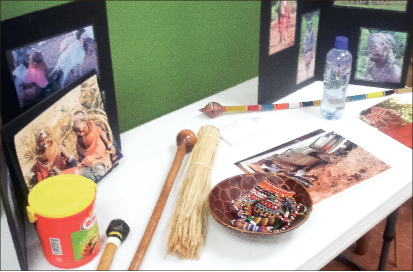 Liberty University's bi-annual mosaic of missions opportunities was held Feb. 13-17. This semester's Missions Emphasis Week (MEW) was themed "[un] Reached," offering students a chance to speak with missionaries from across the world and experience different cultures through seminars and other events.
The Founder and International Director of Empart Jossy Chacko was the first guest speaker to address students during Monday's convocation service in the Vines Center after a special presentation of the "Parade of Nations."
The "Parade of Nations" helped to kick off MEW and provided an opportunity for Liberty's international students to take pride in their respective countries by giving them a chance to carry their nation's flag in front of the student body while dressed in their traditional cultural clothing.
Chacko spoke about his personal convictions in the Christian faith and challenged students to explore God's objective for their lives.
"The only reason for me to exist as a Christian is to fulfill the Great Commission," Chacko said. "The only reason for you to exist as a Christian is to fulfill the Great Commission. That's why we are here, that's why God left us on this planet Earth."
Chacko spoke from the heart while sharing his experiences of working in North India. He elaborated on his decision in pursuing missions work and how he observed God using simple, humble people to accomplish big things in the mission field.
"God is keeping and enabling us to train up indigenous national leaders who are planting churches and transforming communities through many social programs. So far, God has enabled us to see 4,900 churches planted."
Throughout the week, different missions groups set up their stations in DeMoss Hall and made themselves available to answer any questions students might have.
According to the article "Students Learn global needs during Missions Emphasis Week" by Liberty News, the Office of Student Leadership welcomed over 130 representatives from 60 missions organizations to come be a part of this semester's special celebration at Liberty University, making this the largest MEW to date.
This event gives students an opportunity to connect with these missionaries, building
relationships while learning about the mission field.
During Tuesday's hall meeting, missionaries were welcomed into the resident dorms and invited to speak about their experiences in the mission field and give personal testimonies. A fundraiser for Rwanda also took place amongst the students.
In Wednesday's convocation, Marilyn Laszlo spoke about being on the mission field in Papua, New Guinea, translating Bibles as part of her work in ministering to the unreached.
Friday, Reverend and Vice President for Executive Projects Johnnie Moore took the stage to share his passion for missions and working with Liberty University.
A special "Experience Ethnos" series took place Monday through Wednesday, as well as other events, to allow students to learn about different cultures and how they can get plugged into missions.
The Schilling Center held a concert Thursday night featuring the Children of the World International Children's Choir. An international coffee and tea tasting was also one of the highlights from the event.
More information about MEW and other upcoming campus activities can be found on Liberty's website, liberty.edu.