Flames shred competition in Open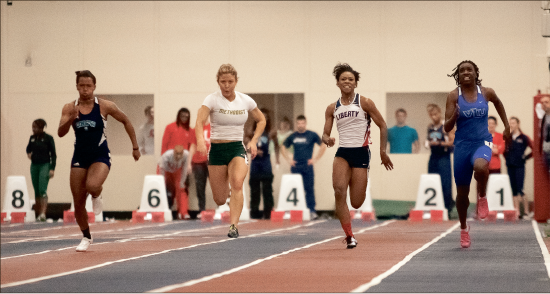 Coach Tolsma was proud of his teams' overall performance on the indoor track this weekend
The Flames track and field teams took care of business this weekend as they hosted The Liberty Open in the Tolsma Indoor Track Center.
Not only did they take care of business, but they did it in a convincing fashion, having nine overall event winners in both men's and women's events.
Redshirt senior Mia Aghaji took home the crown in the women's triple jump as well as high jump.
"I am definitely happy with my performance today," Aghaji said. "I was happy with my triple jump performance, but it could have been better. I was shocked to win high jump."
Aghaji credited head coach Brant Tolsma with her success.
"The main thing is we have to stay focused as a team and just listen to what Coach tells us. Coach Tolsma is a very smart man, so if we just stay focused and listen to him, I think we will have a great chance to build on this win."
Tolsma was happy with the performance he got from both teams.
"We're getting to that time of year where we want to see people putting up some decent performances, and several people have done that, and that's what we want," Tolsma said.
But, Tolsma refuses to rest on his laurels.
"We need to build on what we started. We have some people looking better, but we need to continue to keep getting better to continue to be a dominant program in the conference and move on to the next level."
So far, the Flames have been just that, currently ranked fifth regionally in men's standings, as well as sixth regionally in women's.
While No.14 Charleston Southern joins the men's team to represent the Big South in regional rankings, the Lady Flames are the only Big South women's team sporting a regional Ranking.
The Flames hope to carry this early success into conference meets, only a month away.
However, to accomplish their goals, the Flames will need to stay healthy.
"Of our key performers, about 25 percent are not performing at their best because of injury," Tolsma said. "Normally we hope for that to be about 10 percent. We expect the rest of the team to pick up the slack, but that's why you run the race — to go out and see if we can still go and perform well in the conference and on to the next level."
Alongside Aghaji, freshman Mychelle Cumings and redshirt junior Ryan Smith performed exceptionally well. Cumings broke her own school record and Smith was a double event winner, taking home wins in men's shot put and weight throw.
The Flames will be in action once again next week competing in the Sykes-Sabock Challenge Cup, located at Penn State University. Action is scheduled to begin Feb. 4 at 9 a.m.