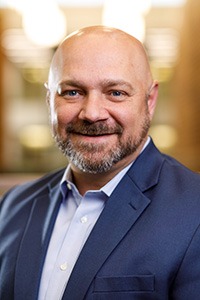 Residential Chair, Christian Leadership & Church Ministries
Dr. Jonathan Geukgeuzian is the Program Director for Christian Leadership Church Ministries and faculty for the Center for Youth Ministries (CYM) at Liberty University. He assisted the CYM as a part-time professor while still serving at his church near Roanoke, Virginia. He came to Liberty full-time in the fall of 2006 after 10 years of ministry both at Thomas Road Baptist Church in Lynchburg, Virginia and at Rainbow Forest Baptist Church near Roanoke, Virginia. During his years of local church ministry, he has served as assistant to the middle school pastor, middle school pastor, high school pastor, and student ministries pastor.  He received a Bachelor of Science in Religion from Liberty University, an MRE from Liberty Baptist Theological Seminary, and his Doctorate of Educational Ministry: Leadership and Family Ministry from The Southern Baptist Theological Seminary in Louisville, Kentucky. 
Jonathan and Felicia have been married since May 1998 and are proud parents of two beautiful daughters, Mackenzi Grace, born in October 2001 and Jordyn Faith, who was born in December 2003.  Jonathan and Felicia are alumni of Liberty University.  While at Liberty, Felicia served as a ministry team leader and an accountability group leader in the high school ministry at TRBC as she pursued her BS degree in Nursing.  Felicia works in the Neo-natal nursery at Virginia Baptist Hospital as an RN-C. Felicia has also received her Master's in Nursing through Liberty University Online and teaches education classes through the hospital. 
Jonathan is a part of the Next Gen Leadership Team at Thomas Road Baptist Church in Lynchburg, Virginia where he and Felicia continue to minister together.
Education
D.Ed.Min., The Southern Baptist Theological Seminary
M.R.E., Liberty Baptist Theological Seminary
B.S., Liberty University