Meet James Lechner, the Liberty professor who reports from Ukraine
Mass graves, destroyed Russian army vehicles, dead civilians and fallen soldiers — these are the things that now fill once lively Ukrainian cities.
The conflict may seem worlds away to some, but it is a cause that weighs on the hearts of many, including one member of the Liberty community —James Lechner. 
Lechner currently works as an online professor of military history at Liberty but has also been serving in Ukraine as a member of the Newsmax news team. Traveling back and forth between the U.S. and Ukraine, Lechner's most recent trip began in mid-October. He arrived back in the States at the end of February, and he will return overseas in about a month.
Before joining the faculty at Liberty, Lechner served in the Army for 27 years. The network of people that his time in the military provided him with allowed Lechner to learn about an opportunity for him in Kyiv, Ukraine, working with Newsmax.
Within a few hours of learning about this opportunity, Lechner was hired to run a team for Newsmax and serve as its security. A day and a half later, Lechner found himself on a flight to New York on which, upon landing, he discovered that he was set to arrive in Kyiv the next day.
Lechner began his work just as quickly as he arrived, leading a team consisting of a cameraman, a Ukrainian interpreter and a professional correspondent. Lechner worked as the security, driver and logistics manager of the team, as well as taking up some correspondent duties.
Lechner and his team put together between six and 10 live spots a day in which a correspondent would give a live update on the latest breaking news in the team's location. These live spots would air on Newsmax for about two minutes each. 
The team also filmed packages that shared a variety of stories about the events unfolding in Ukraine, ranging from orphanages to battles. A focus they held was on the battlefields after the battles.
The Ukrainian cities of Irpin, Bucha and Hostomel saw some of the worst fighting, and Lechner and the others witnessed the aftermath of these battles firsthand. Just days after these cities were cleared of Russian soldiers, the crew was there, ready to cover the story.
The capital city of Kyiv, typically populated by about two million people, claimed a population of only 200,000 when Lechner arrived there last year.
"It wasn't a ghost town, but it was very empty," Lechner said. "It's hard to imagine a city that big had been reduced down
that much."
By the end of April 2022, when Lechner left Kyiv to travel to other parts of the country, the population had gradually begun to rise.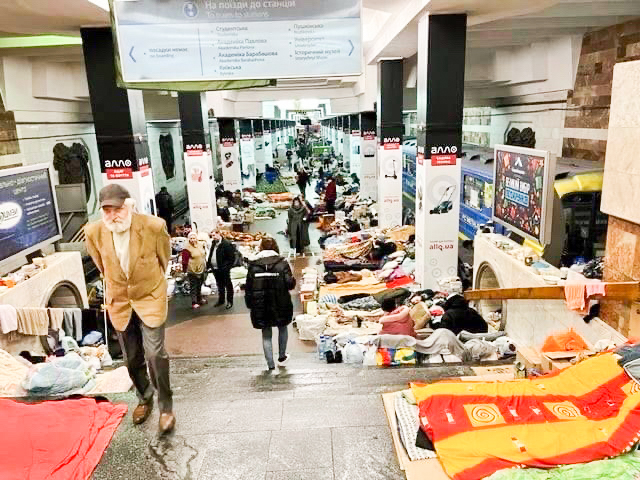 Kharkiv, the second largest city in Ukraine after Kyiv, was under siege for about four months when Lechner and his group got there. With the Russian military still invading from the east side of the city and the artillery shells still falling, no one lived there. At least, that's what Lechner and his team thought.
After making its way around Kharkiv, the group discovered that this was far from the truth. People did live there; they lived in the basements of apartment buildings and even in the subways. Thousands of people stayed in these abandoned places because they had nowhere else to go.
"The people in the apartments were so happy to see us, that somebody from the outside world would care and want to cover their story," Lechner said.
These people who made homes in such unconventional places had so little but were so welcoming to Lechner and his team. Even despite all they lacked, these people, living in the basements of abandoned buildings, found a way to present the team with gifts — Easter cakes.
Lechner pointed out how brave he thought these people were and the amazing joy they found at the group's arrival in the place they called home. Lechner also mentioned something written outside of their building — something that may have led to their unwarranted happiness.
"They had spraypainted 'God is with us' on the front of their building," Lechner said. "That was really touching."
Not only did Lechner meet people with touching stories like these, he also met some well-known names, including President Volodymyr Zelenskyy of Ukraine, who unexpectedly showed up to a steel factory full of soldiers anticipating a
medal presentation.
"I think after a year, meeting so many people, making friends with so many Ukrainians and having some of them go right up to the front and get killed soon after, you can't help but form a bond with them," Lechner said.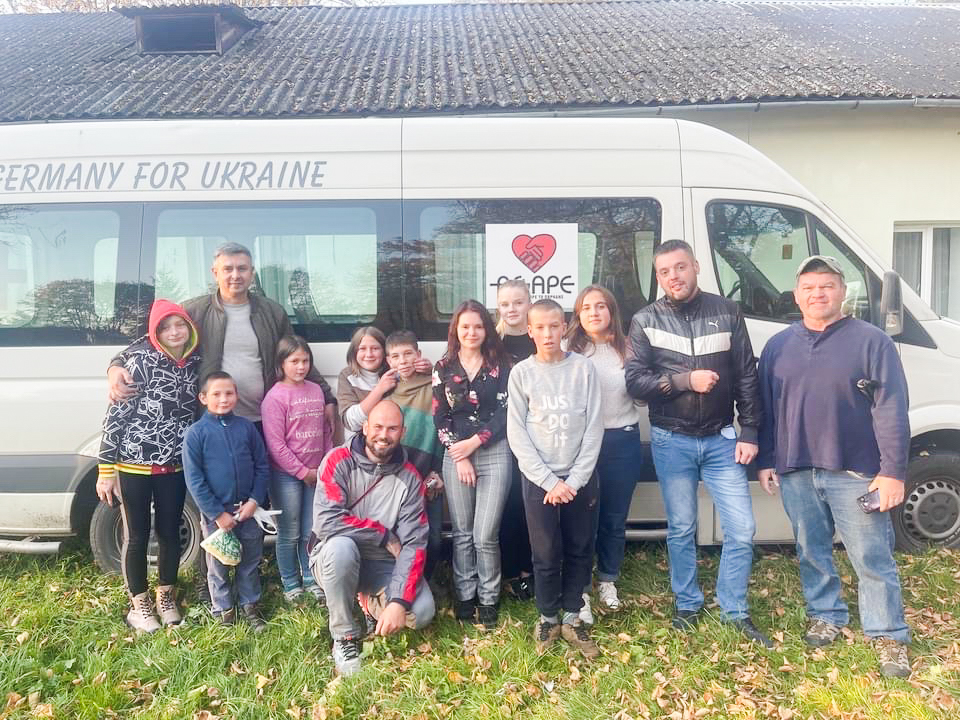 This bond has motivated Lechner to continue serving in Ukraine, and he will return there shortly.
"I've really got a bond with Ukraine. It's kind of my cause too," Lechner said. "You feel part of these historic events, but then you really feel part of what they're doing. It's nothing that we can identify with."
Editor's note: James Lechner is the father of Sarah Lechner, a senior and the
Champion's web and social media manager.
Williams is a news reporter for the Liberty Champion