The Liberty sophomore who changed his life by throwing footballs into a Dr Pepper can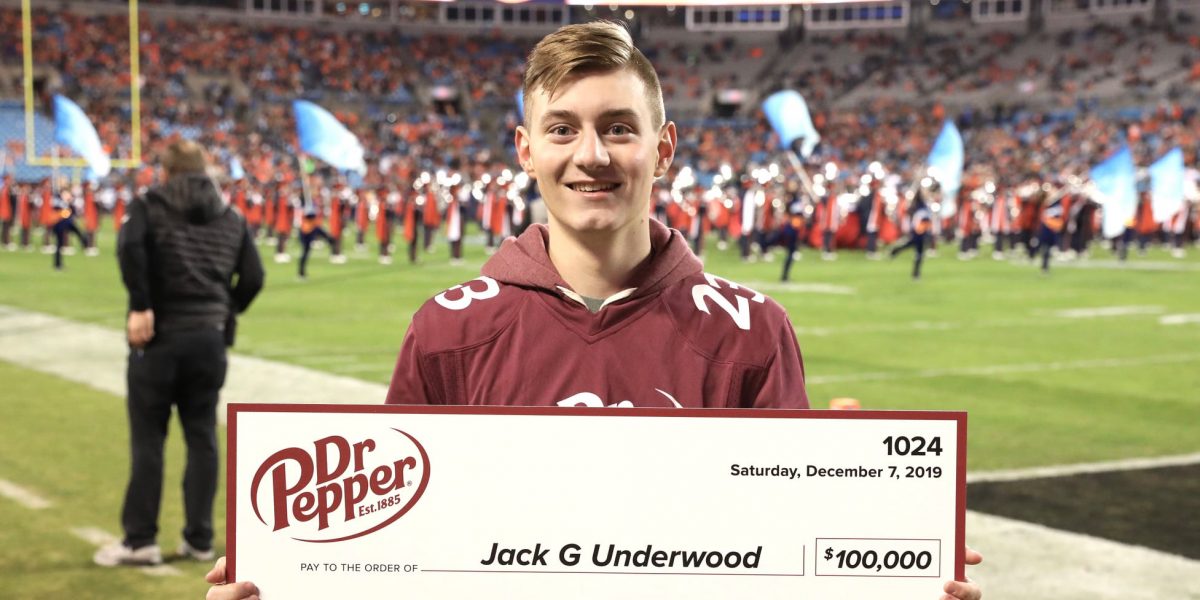 Sophomore worship major Jack Underwood had no idea how he would pay for his spring semester at Liberty. Taking a full course load while working 40 hours a week was proving to be impossible, and he wondered if college was even an option.
"Everything in me wanted to (quit), but everyone that loved me didn't want me to," Jack said.
Although he knew there was little hope of having his full tuition covered, Jack looked for scholarships. The Dr Pepper Challenge, an annual high-stakes football toss competition, caught his eye and he decided to give it a try.
But his mother, Anita Underwood, encouraged Jack to be realistic. Hundreds of students applied for that scholarship every year, and she was sure applying would be just a waste of time.
Jack sent in his video submission anyway.
On Nov. 16, 2019, Jack received a phone call congratulating him on being one of 20 finalists and inviting him to compete in the Dr. Pepper Challenge at the ACC Championship for the chance to win a $100,000 scholarship. He was dumbfounded.
As Virginia and Clemson faced off Dec. 7, Jack and Hannah Pin, Virginia Tech sophomore, waited through the first and second quarters "dwelling in the nervousness" according to Jack, shaking both from anticipation and from the gusts of chilly wind blasting through the open-air Bank of America stadium in Charlotte, North Carolina.
"I think the real nervousness started to set in when that overhead camera came down right in front of our faces and zoomed in at the beginning of it before we started throwing," Jack said. "I was looking around at the stands, seeing the hundreds of thousands of people there and I was just like, 'Oh, this is not good.'"
Jack and Pin stepped to the 5-yard line and prepared to throw as many footballs as possible into a huge can in 30 seconds.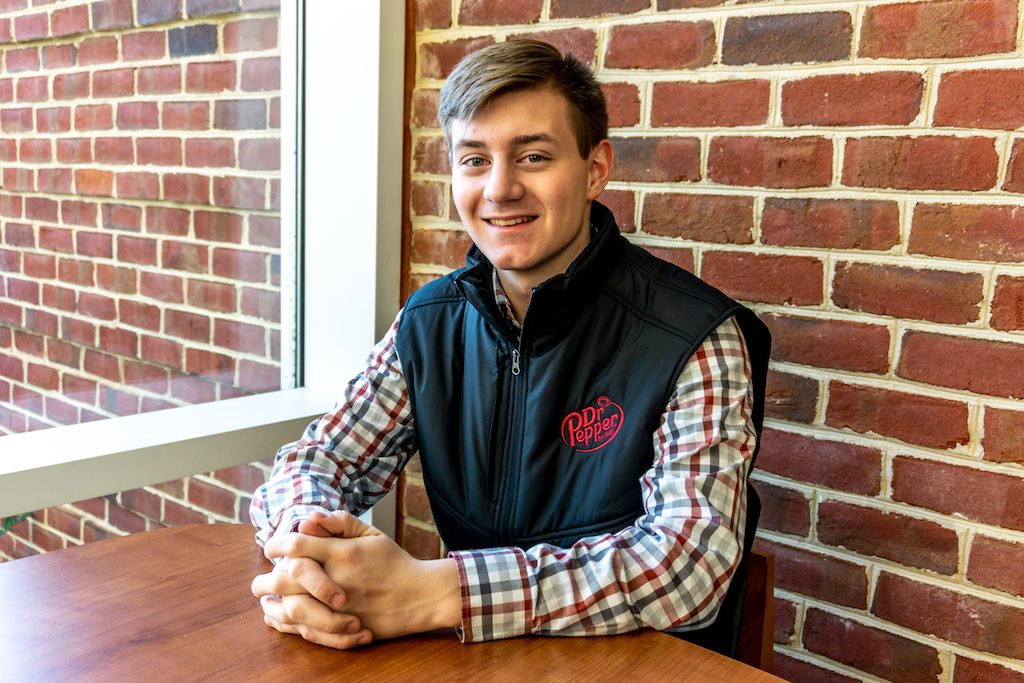 "As soon as I stepped up to the line, it was just blackout . . . I don't remember any of it. I couldn't even hear the crowd cheering, I couldn't hear the announcer – it was just dead focus. At the end of it, I didn't even remember what the score was, I had to ask someone," Jack Underwood said. "It was unreal to be on the field. It was cool. It was a really cool experience but also really nerve-wracking, and (I) did not expect what happened."
Jack won the challenge and Pin walked away with a $25,000 scholarship. As soon as Jack got back to Liberty for his spring semester, he put in his notice to quit his job.
"I think it really sank in when I got to this semester and it was covered," Jack said. "I just cried – I was just like, 'This is real, it's really happening.'"
One of nine children, Jack stayed in his hometown of Anchorage, Alaska, at 18 while his family moved to Ohio to seek medical care for Jack's brother. Going to a private university did not look like an option for Jack.
At first, Jack wanted to be an auto tech instead of going to college. Although he has led worship since he was 14 and has loved music ever since he was young, he was hesitant to go into debt to pursue becoming a worship leader. But his family and friends encouraged him to give attending Liberty a shot.
One friend in particular, 19-year-old Rebekah Harpool, was the driving force behind Jack chasing his dreams. Jack remembers a text he received from Harpool when he was second-guessing his decision to pursue a degree that did not promise much income.
"If this is what God wants, he'll make a way," Harpool told him.
Jack is mourning the loss of Harpool, who passed away in an accident Jan. 9. He continues to honor her memory by pursuing his dreams despite setbacks.
"She's the reason I'm here," Jack said. "She's the reason I believed in myself."
Anita often jokes with her husband that instead of "Jack" they should have named their son "Joy."
"Jack is always smiling in the midst of tough times," Anita said. "And those tears that you saw on TV, those come from a lot of hard for Jack . . . a lot of hard, a lot of struggle, a lot of reliance and saying, 'Okay God, I don't know how to do this, but I'm going to go where you lead.' I hope (Jack) does that for the rest of his life."
Watching her son push through long hours of work and school will no longer be a reality for Anita.
"It's been amazing to watch because it's just confirmation of (God's) provision," Anita said. "It just brings us to tears every time."
Anita knows that Jack will never let her live down the fact that she never thought he would win the Dr Pepper challenge.
"God never fails to surprise us," Anita said.
---
Crenshaw is the feature editor. Follow her on Twitter here.