Gone, but not forgotten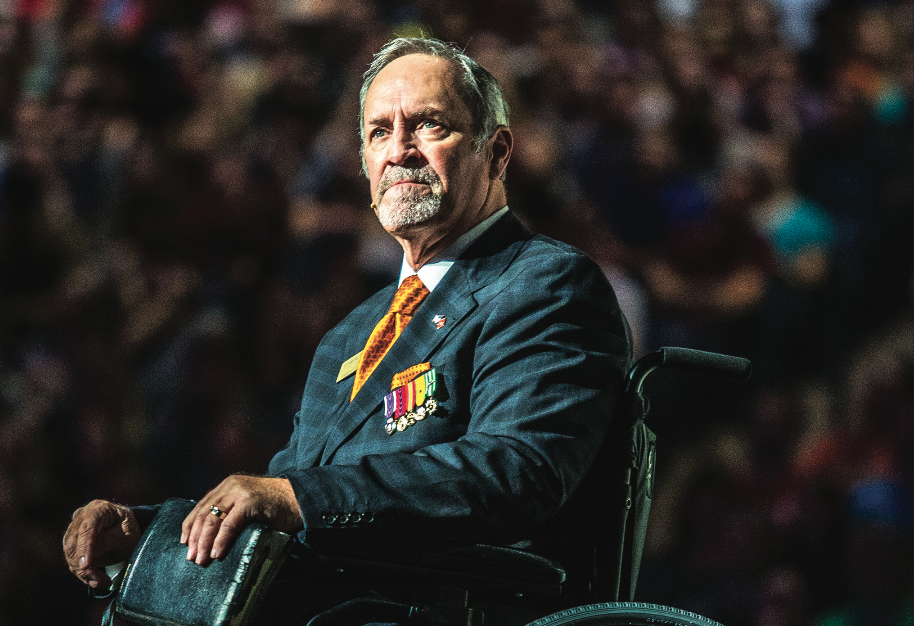 Liberty honors military service members by hosting campus events Nov. 5-12
Military Emphasis Week at Liberty University kicked off Nov. 5 and will last through Saturday Nov. 12 as military students, veterans and their families are honored and celebrated with multiple events throughout the week.
Liberty hosts Military Emphasis Week annually, and events range from the Valley View Mike Donahue Memorial 5-Miler to the Veterans Day at the Jerry Falwell Library, where students can meet members of Liberty's Student Veterans Association and receive free gifts from the library.
Liberty student and Army 11B Infantryman Noah Wetzel said the week is another sign of how much Liberty students, staff and faculty stand with its service members.
"It really means a lot, and I don't know how to explain it exactly," Wetzel said. "I didn't join for the recognition or attention, but knowing that I am supported by thousands of my classmates and teachers is truly humbling."
The day before Military Emphasis Week officially kicked off, former United States Marine Tim Lee was welcomed to the Convocation stage Nov. 4 with roars from students and a standing ovation from many. During his speech, he reminded students why he chose to fight for his country.
"I tell people all the time that I didn't go 10,000 miles away from home to give two legs for my country and come back here and be politically correct while America is being destroyed," Lee said. "If I fought for America in Vietnam, I will fight for America in America."
The Valley View Mike Donahue Memorial 5-Miler then opened up Military Emphasis Week Saturday, Nov. 5. According to Liberty's website, the run pays special tribute to Major Mike Donahue, who was killed in action during a tour in Afghanistan in September 2014. The run took place at Camp Hydaway on a trail that Donahue ran on frequently.
The military night of remembrance continued the appreciation week, taking place Monday, Nov. 7 at the Worley Chapel on main campus. There, military students and veterans heard a message on the importance of upholding freedom and were prayed over in a one-hour service.
Later on the same night as the race, the Liberty men's hockey team held its military appreciation game Friday and Saturday nights against Stoney Brook. The Flames wore their custom made blue digital jerseys in honor of all military officials.
According to Club Sports employee Kaleb Van de Perre, former Vietnam veteran Jim Purdy dropped the game puck on the ice to begin the game. Many students said they were glad to see Liberty's hockey team honor veterans at their game.
"I think that (service members) were extremely respected," student Drake Durr said. "I thought it was awesome to see men and women in uniform having a great time on the ice and off the ice. Seeing the respect that Liberty had for all veterans by using them in the game made them feel respected and honored."
Later in the week, military students, veterans and their families will be honored during Convocation Friday, Nov. 11. The Sounds of Liberty, the university's flagship traveling music group, will perform, and Larry the Cable Guy will later take the stage.
Events later in the week also include a Veteran Appreciation Reception at the Hancock Welcome Center Nov. 9 and a military care package workshop, where people can pack care package boxes for service members away from home. The military appreciation day football game caps off the week at Liberty's last home football game against Charleston Southern University Saturday, Nov. 12.
Wetzel said how difficult to stay connected to friends and loved ones while he is overseas. He said it greatly comforts him and makes it easier when he is overseas to know that students, faculty and staff at Liberty are here for support and assistance in multiple ways.
"Being away from (my wife) makes it hard for me to take care of her and be there for handling everything," Wetzel said. "Our friends have been very supportive of us and have helped her with many different things while I am away."
For more information on which events are happening during Military Emphasis Week and what times they happen, visit the Military Emphasis week webpage on Liberty's official website.
Robertson is a news reporter.