Fresh start for Lady Flames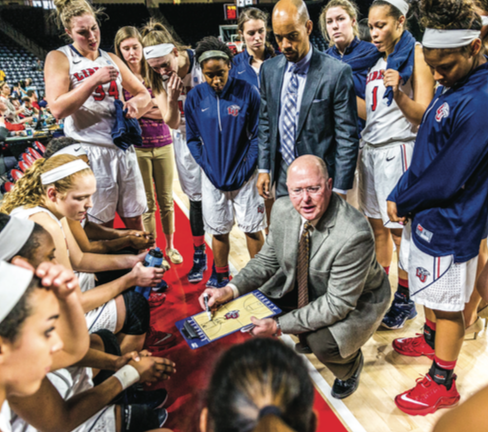 Coach Carey Green looks forward to seven new faces for 2016-17 season
The Liberty University Lady Flames basketball team is ready to take the court for its 2016-17 regular season in Head Coach Carey Green's 18th year at the helm of the program with arguably the youngest roster he has ever coached.
Coming off last season's heartbreaking double-overtime loss to the UNC Asheville Bulldogs in the Big South Conference Championship game, the Lady Flames lost five of the winningest players in program history in Ashley Rininger, Catherine Kearney, Katelyn Adams, Jaymee Fisher-Davis and Sadalia Ellis to graduation, and they will field a brand new starting five this coming season.
The Lady Flames have added seven new faces to the roster, and Green expects all of them to compete for playing time early in the season.
Joining the Lady Flames at forward are Keyen Green, Kaila Ballard, Kierra Johnson-Graham, Ola Makurat and Lela Sellers.
At the guard position, the Lady Flames added Iva Ilic and Nene Johnson — a junior transfer from Eastern Florida State College.
Makurat joins the Lady Flames from Poland, while Ilic joins the team from Croatia. Both have experience playing for their countries' FIBA international teams.
As with any group of new players, before they start to grow on the basketball court, Green said they must first deal with everything that comes with moving to college.
"It's going to be a big adjustment for them to Division I," Green said. "It's a lot of freedom that puts a lot of responsibility on these young ladies. A lot of (newcomers) will be in the game the first game of the season. I'm sure there's going to be a lot of changes. Success is usually not in a straight line. Usually there's a lot of detours."
After developing an identity built around physical post-play the last four years, the young team is still trying to find its identity with the losses of Rininger, Kearney and Adams, all of whom were 6-foot-4 or taller.
"We've had to go back to square one on teaching the fundamentals with this young group (to) make sure we're building this in a proper way," Green said. "It's developing character, and that's the number one thing on our agenda — to develop the character of these young ladies in the fundamentals of personal and team concepts."
"I think the overwhelming identity may be our team speed," Green said. "We lack height, so we need to be able to get up and down the floor. If we don't do that very well, then we're not playing up to our strength."
Junior guard and team captain Sheana Vega echoed her coach when talking about the style of play fans can expect of the Lady Flames this season.
"We're a lot faster this year," Vega said. "A lot of our points will come from transition. I think on the defensive end we're a lot faster as well. We have to rebound a lot. That's something that's always on Coach Green's mind."
Along with Vega, the Lady Flames return sophomore guard Tatyana Crowder and the lone senior on the team, forward Audrey Rettstatt, as captains.
After suffering a season-ending injury almost halfway through last season, Rettstatt said she is now healthy and ready to go for the upcoming season.
"I'm very excited," Rettstatt said. "It's been a long time. I was at the top of my game last year, so taking the injury was kind of hard. I've worked really hard to get back. (I'm) excited to leave it all on the court since it's my senior year."
Before her injury last season, Rettstatt played in seven games, averaging 3.9 points per game while shooting 38.5 percent from three-point range.
"I'm sure it's been pretty tough for her, because you've gone from a starting position to going down with an injury and to rehab," Green said. "That's enough right there. She's come a long way really quick. I think she understands the sense of urgency. Being a senior and being a leader, we've chosen her to be a captain. She's done an exceptional job."
Rettstatt's first game as the leader of the Lady Flames will come against one of the most successful women's basketball programs in the country when they welcome the Duke Blue Devils to Lynchburg.
"The opportunity to play a quality, ranked program will certainly be an opportunity to assess how far we're at with the development of these young ladies," Green said. "It helps us evaluate the things we need to work on."
Vega said she and her teammates look forward to the opportunity of playing a Power-5 conference opponent.
"I think it's going to be a great opportunity," Vega said. "They're ACC, so it's a great team to start off with, (and) it will set us up for the season. Being the underdog gives us a lot of confidence to come out and reach our potential."
The Lady Flames tip off against the Blue Devils Friday, Nov. 11 at 6 p.m. in the Vines Center.
Dillard is the sports editor.