Get the show on the road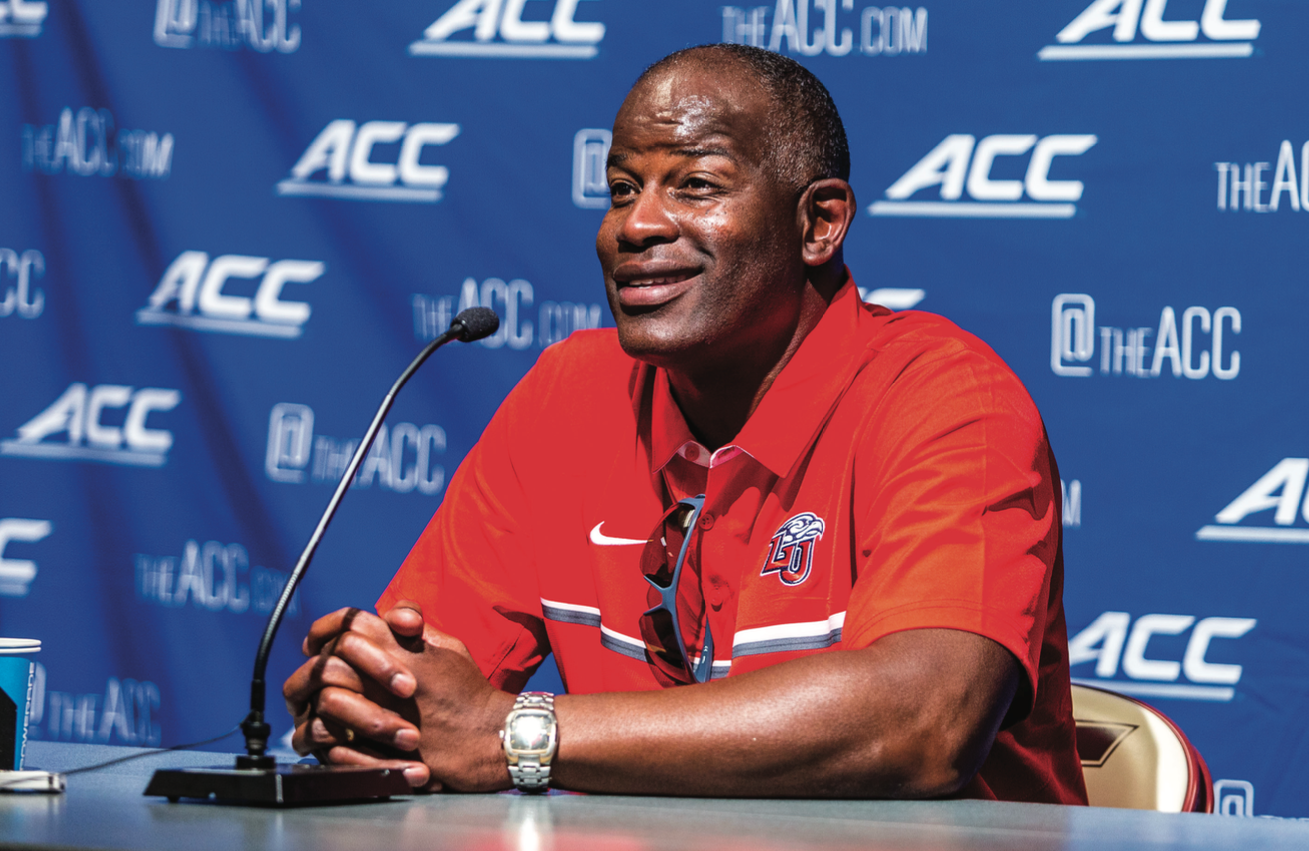 Flames are 1-0 in Big South and ready for tougher conference competition
After the first half of the season, the Liberty University football team (3-3, 1-0) looks to not only play competitively during conference play, but to also bring home another Big South Conference title.
After defeating the Robert Morris Colonials (1-5) by 34 points, the Flames had a bye week before defeating the Kennesaw State Owls Saturday, Oct. 15 in their first Big South Conference game of the year by a final score of 36-21.
According to Liberty Head Coach Turner Gill, the bye week was a good opportunity for players to rejuvenate before beginning conference play.
"The positive thing from the bye week was that we got rested," Gill said. "We had to get relaxed on a few things."
Gill said the first five games of the season helped solidify what the team needed to accomplish before the conference games.
"Overall, our defense has played well, and our special teams have improved from last year," Gill said.
According to Liberty Athletic Director Jeff Barber, each Big South Conference game is of high importance.
"We have to take them one at a time," Barber said. "We can't afford to lose any of them."
Of the five conference games, Barber said the game against the Charleston Southern Buccaneers (3-2, 1-0) Nov. 14 would probably be the most challenging.
"I might have a heart attack before it starts, but it should be a fun game," Barber said. "Charleston Southern will probably be the best team we play."
According to Gill, the conference games carry a little more weight with the players than the nonconference games.
"We've always had a sense of urgency in every ballgame," Gill said. "We'll put together a great game plan, and our guys are going to come ready to play."
Offensively, coaches are anticipating sophomore wide receiver B.J. Farrow to make an impact as conference play picks up.
"(Farrow) has a unique skill set," Liberty's offensive coordinator Joe Dailey said. "Nine times out of 10, if the football is thrown in his vicinity, he's going to get his hands on it."
Freshman quarterback Stephen Calvert set a Liberty freshman record against Robert Morris, throwing for 340 yards.
According to Gill, his contribution has added a lot to the Liberty offense.
"Everything is going to come (to) fruition if he does what he's supposed to do," Gill said. "He is very (involved) in learning the game, and that's what we like to see in a quarterback."
Barber said he liked Gill's mentality of focusing on one game at a time.
"The most important game is the next one that you have," Barber said. "If you look too far down the road, you will overlook the one that's coming up."
Barber encourages students and faculty to support the football team through all four quarters of the game.
"All the conference games are going to be important," Barber said. "We need to win them. The (success) of Liberty will help shine the mission of our school."
Smith is a sports reporter.