'Walk a little taller'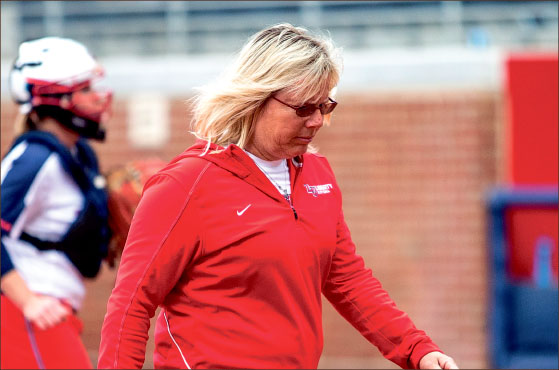 For Dot Richardson, being a coach means much more than athletic success
Most coaches have great passion and skill within their field of play, helping them to lead their teams to success. Dot Richardson is the epitome of that statement.
Hired in July 2013, Richardson hit the ground running, helping to design the Liberty Softball Stadium and bring in a whole new class of recruits who buy into her system.
The Lady Flames softball team has continued to improve and see increased success since Richardson arrived in Lynchburg — an event she recalls as a call from the Lord, as she also considered retirement or political involvement.
"I said my prayers, and this time pretty diligently … 'Lord, how can I serve you more, I know that you have a plan for me … Whatever it is … I will be 100 percent in, all I ask is that you make it perfectly clear,'" Richardson said.
"The next morning I get a phone call from the athletic director Jeff Barber of Liberty University."
The 2015 season was the team's first in the new stadium, and with it came a new level of competition. In front of the home crowd, the Lady Flames boasted a 13-10 record, their first winning home record since 2011.
The 2016 season looks promising, as they hold a 7-3 home record.
As her many achievements within the sport would show, Richardson certainly is the ideal woman for the job.
As a two-time Olympic gold medalist, four-time World Champion, five time All-American, among many other accolades, Richardson's experience on the field has given her the ability to lead well.
"Softball and coaching is really about mentoring, it's really about being that role model," Richardson said. "I want to be that Christ-centered role model as much as I can."
In February 2016, Richardson was named one of Sport Management Degree's 30 most influential women in college sports with the likes of Pat Summitt and Lisa Leslie.
"It's definitely humbling," Richardson said. "When you think of all of the women that are involved in collegiate athletics, to be considered in the top 30 is, like I said, a big honor."
Back in 2006, the NCAA celebrated its centennial with a list recognizing the athletic and academic achievement of 100 former student athletes. Richardson was chosen as 43 on the list in the company of Dean Smith, Vince Lombardi, Mia Hamm, and Michael Jordan, just to name a few.
Richardson insists that no matter what successes may come on the field, only one thing truly matters.
"The most rewarding (thing) is to see the difference in the lives of our student-athletes," Richardson said.
"When you see them walk a little taller, you see them more self assured and more confident that their life has meaning, meaning beyond the softball field and sport, that is what is impactful."
Carter is a sports reporter.