Senior night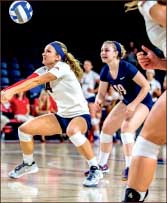 Lady Flames stymie red-hot Panthers
It was a special night for the Lady Flames volleyball team, as the team honored its seniors on Senior Night Nov. 6, and brought home the upset victory over High Point University, winning 3-1.
The Lady Flames were led by senior Caroline Douglas, who recorded a match-leading 19 kills. Liberty outhit the Panthers .200-.186.
After falling behind early in the first set, Liberty came alive and won the first set, 25-19. Douglas led the charge in the first set, recording three kills in the midst of a 5-0 rally that led to Liberty's first set win. Douglas would finish the first set with six kills, as Liberty posted .119 in the first set.
In the second set, Liberty fell behind once again. At one point down 18-13, the Lady Flames again went on a run, scoring six straight points. Liberty would take the second set 25-23. Lady Flames junior Susan Babcock served five straight points during Liberty's six point run.
Again, the Panthers held the lead midway through the third set, 17-10. Liberty attempted to rally back, scoring eight points while High Point added just two.
The Panthers would close the door, scoring the next four points on their way to a 25-20 win in the third set. Panthers junior Megan Kennedy recorded five kills, as High Point outhit Liberty .355-.148.
For the first time in the match, the Lady Flames led midway through the fourth set. The Panthers came within two points of Liberty in the fourth, but that would be the closest they would get, as the Lady Flames took the fourth set 25-18.
The match victory was huge for the Lady Flames, as they came into this event as underdogs to High Point. The Panthers were coming off a run of eight straight victories, winning 14 of their last 15.
This made the win all the more special for the Lady Flames seniors, as they prevented High Point's ninth straight victory. With the win, the Lady Flames gave themselves a shot at the No. 2 seed in the Big South tournament.
The Lady Flames took to the court again Saturday, Nov. 7 against the Campbell Camels, but they came up short 3-2. Liberty will play on the road against UNC Asheville and Gardner-Webb next weekend, before advancing to the tournament.
With a hitting percentage of .216, tied for second best in the conference, Liberty's tournament goals appear plausible as they chase the conference's top team, Coastal Carolina.

Husker is a sports reporter.