Learning to live healthy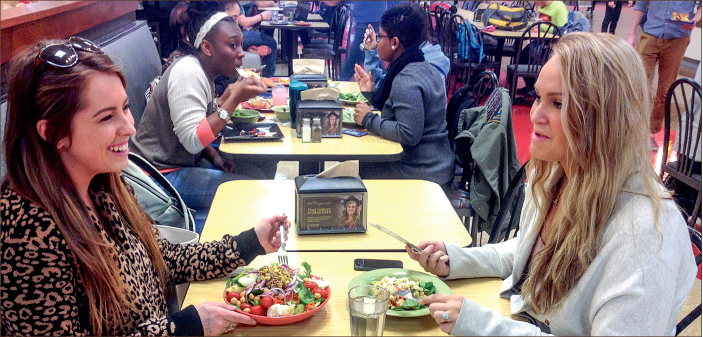 The Daniel Plan offers students and staff advice for nutrition and exercise
At most campus eateries, it is just as easy to choose unhealthy food as it is to choose healthy food. And many times, it is hard to know the difference.
Buses will carry students across campus to avoid a walk, and Netflix can distract them from most everything else. At this point, "healthy" might seem like a confusing concept.
"Even stuff that looks healthy really isn't sometimes," Robin Quay, registered dietitian at Liberty University Dining, said.
Quay hosts six weekly meetings each semester dedicated to learning about a healthy lifestyle through the Daniel Plan. The spring 2015 group ended just before Spring Break.
"It was actually fantastic," Quay said. "Everybody lost weight, which is a first. It made me so happy."
Liberty offers two groups – one for students and one for faculty and staff. This semester's student group attendance was low, so the two groups combined into one.
Quay, along with the six-person group, watched Daniel Plan DVDs with teaching from Rick Warren, pastor of Saddleback Church, and different guest speakers corresponding to the weekly topic. The group also used the Daniel Plan workbook to learn about each of the five main points of the Daniel Plan.
"It's not just about what you eat," Quay said. "There are the five components, which are faith, food, fitness, focus and friends."
Quay said willpower alone usually could not fuel a life change that lasts more than three weeks. She said God's power is needed to make sustainable changes. Rather than operating strictly as a diet and exercise program, the faith factor is weaved throughout the Daniel Plan.
"It's faith based, so it's not just about food and fitness, which is what you'll get if you do most other programs," Quay said. "It's very scripturally based. It's about loving yourself and seeing yourself the way God sees you."
The group did not follow a specific diet but focused more on eating natural foods and avoiding processed foods. As a dietician, Quay's appreciation for each food group kicked in when she noticed the Daniel Plan avoiding wheat and dairy.
"For me, as a dietician, it's a little bit anti-dairy, anti-wheat, which I don't necessarily agree with unless you have allergies," Quay said. "For most people, they are fine to eat, but (the Daniel Plan) is a very flexible plan, so you can do what works for you."
Quay said the Daniel Plan is not about depriving or perfecting anyone, but rather appreciating what natural options God offers through creation.
The Daniel Plan website sells workout DVDs, but the campus group focused on finding the fitness activity that each person individually enjoyed.
The group also discussed some of the negative thoughts that get in the way of a healthy well-being.
"Focus is about your thoughts," Quay said. "How you think really affects what you do, and we have a lot of negative thoughts that pop in our heads that just aren't true.
So it's a lot about putting your mind on what is true and what God says about you."
"Friends" is the last component in the Daniel Plan, but it is the first that this group experienced at the meetings.
"We all do better in community," Quay said. "God created us to be in community to support each other, to hold each other up. Studies show that if you want to lose weight, you'll be 50 percent more successful if you do it with a buddy."
Quay started living the Daniel Plan when she began teaching it two years ago, and since then, she has lost 40 pounds, ran three half marathons and completed two triathlons.
"I would never ask someone to do something that I wouldn't do myself," Quay said.
The next Daniel Plan group will begin in the fall 2015 semester. Those interested can inquire or sign up at ludiningevents@gmail.com. Quay said students can also show up to the first meeting without registering.
HOOSIER is a news reporter.