Graduation housing fills up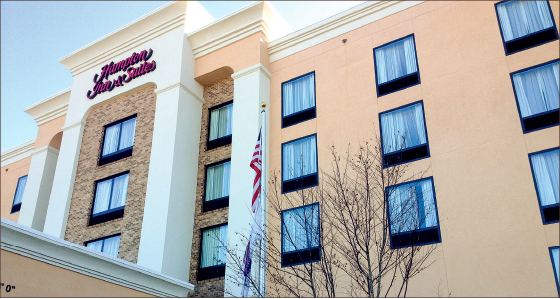 Lynchburg hotel reservations begin to sell out for Commencement weekend
There may not be room in the inn at Liberty, but try the Sleep Inn across the street.
The Office of Student Housing (OSH) at Liberty activated phone lines for hundreds of people to make their reservation from the 200 available apartments in East Campus during Commencement weekend, May 8-10. OSH opened registration Jan.19 and sold out by Jan 20.
"It typically sells out in one day," Lori Baker, assistant registrar for operations, said. "The wait times are pretty intense. We're talking an hour. That's actually improved drastically from previous years where we've heard people waiting two to three hours to get a room."
Each apartment is stocked with six to seven beds and will collectively house 1,300 people during Commencement weekend.
"We have folks bring air mattresses and sleeping bags and everything else as well," Baker said.
Commencement guests staying on East Campus have full use of Liberty's transit system to avoid navigating and parking issues on the main campus. For those friends and family of graduates who need housing during Commencement weekend, there are still options available, and Liberty can help you find them.
"There are still rooms left in Lynchburg," Baker said.
Users will find a PDF listing 24 local hotels, their phone numbers and availability on the Commencement page at liberty.edu. Select "commencement weekend availability" in the "Housing and Dining" section.
"(Lynchburg has) three new hotels since last year's Commencement that are right nearby," JoAnne Hammerly, Assistant Director of Housing, said. "So we have a lot more options (and) a lot more facilities for Liberty to make it more accessible."
The OSH staff regularly updates the "commencement weekend availability" PDF. If a hotel is not listed on the PDF, that hotel is out of vacant rooms. Some hotels, however, have not begun taking reservations for the weekend.
"Now we will start updating every week or week and a half," Baker said. "The Sleep Inn, which is right across the street, hasn't even opened reservations up yet. They open Feb. 1, so there is an entire hotel that hasn't been booked yet."
As of 10 a.m. Feb. 2, there are still availabilities in the Sleep Inn.
Baker said that people are likely to find hotels in Roanoke at a cheaper rate than in Lynchburg during Commencement weekend if they are willing to drive the 45-50 minutes. Other nearby cities such as Charlottesville, Richmond and Greensboro also could offer cheaper hotel rates in exchange for a longer drive on graduation morning.
"There's a ton of rooms left in Roanoke," Baker said. "You're doing really well if you're staying 45 minutes away."
Baker also advises hotel hunters to call hotels directly, rather than calling a hotel corporate number.
"If you look online at Expedia, or even on the hotel's website, they're going to say that they're booked," Baker said. "But if you call the local number, a lot of times that's how you get through. We have found when you call hotels directly at their local number — not at their 800 number that goes to a call center somewhere — there's some stuff out there."
Liberty is anticipating around 34,000 people, including about 6,000 graduating students in the program, during the 2015 Commencement — similar to the 2014 Commencement of about 32,000-34,000 people on campus.
"It's the biggest event of the school year," Hammerly said. "It takes a huge team of people to put it all together."
Campus construction requires some parking adjustments during this year's Commencement weekend, but Hammerly said the main ceremony would remain the same as usual. Construction and the number of graduates in each school will also affect where each degree ceremony will take place.
"This year we do have the parking garage, which is going to be a huge improvement to traffic on campus on that day," Baker said. "Last year, the tunnel had opened the week prior, so no one really knew about it. (It) wasn't used a ton last year because it was so new, but I anticipate this year, it will be moving along."
Graduating seniors must apply to graduate and RSVP to Commencement weekend by March 23. They must apply for graduation regardless of whether or not they attend Commencement.
"It's exciting," Baker said. "The whole weekend is exciting. We're constantly trying to improve it to make the experience better. Not only is this the culmination of four years of being on campus for residential students, it's many times the first and only time that online students will be on campus."

Hoosier is a news reporter.