Against all odds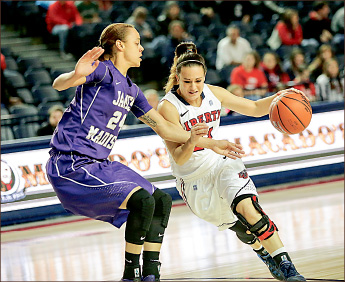 Emily Frazier continues career despite injuries
Through triumph and heartbreak, basketball has always been a staple in Liberty point guard Emily Frazier's life.
"I've had a basketball in my hands since before I could remember," Frazier said. "My brothers and my dad played basketball, and one day, they were out shooting, and I just went out there and started shooting layups, and the rest is history. I just fell in love with it."
Frazier was homeschooled during high school and played in the same homeschool basketball program as former Liberty University basketball players Jesse Sanders and Rachel McLeod, as well as current Flame John Caleb Sanders.
While Liberty Head Coach Carey Green was on a recruiting visit for McCloud, he was able to meet Frazier for the first time.
"When they were recruiting (McLeod), Coach Green met me when, I think, I was in eighth or ninth grade," Frazier said." (Green) stayed interested, stayed in contact, and things ended up that I'm at Liberty by the grace of God."
According to Frazier, her path to Liberty was a little more complicated than most, because she had torn her anterior cruciate ligament in the summer of 2009, forcing her miss her entire senior season of high school basketball.
"Several schools had sort of dropped off (in recruiting), except Coach Green," Frazier said. "He called me up, and I'll never forget that phone call. He said, 'I have a deal for you.
You're graduating early. Why don't you just come here and get used to school a semester early … and just kind of get acquainted with the team and with the school,' and that's how it happened."
During the 2010-2011 season, Frazier was named to the Big South All-Freshman Team after starting 30 games and leading the Lady Flames with 2.8 assists per game and a 41 percent three-point field goal percentage.
However, Frazier's promising future came to an unforeseen halt when she injured her knee for the second time in her career during the 2011-2012 preseason and was forced to take a medical redshirt and sit out what would have been her redshirt sophomore year.
Even with Frazier on the sideline during the 2011-12 season, the Lady Flames won the Big South Conference Championship and received an automatic bid to play in the NCAA tournament.
Frazier returned for the 2012-13 season and was a key member of the Lady Flames team as a redshirt sophomore. According to the Liberty Flames website, Frazier led the team with 4.7 assists per game and also recorded 13 assists versus Longwood University, setting a career high and tying the Liberty record set by Kristi Mercer in 1989.
But once again, Frazier's season came to an unfortunate halt when she suffered a third knee injury against Radford in February. For the second straight season, the Lady Flames won the Big South Conference Tournament and had the opportunity to play in the NCAA tournament without Frazier.
Although missing out on two NCAA tournament appearances has been difficult for Frazier, her passion for the game of basketball has continued to grow, according to Frazier.
"I'm sadly recovering from my third knee surgery, but I can honestly say its made me love this game even more," Frazier said. "There's so much more to this game than even the playing aspect. You can learn so much just from sitting on the bench and watching."
Through the injuries, Frazier has not been discouraged and continues to persevere to play the game that she loves.
"I used to joke after I had my second surgery," Frazier said. "I was like, 'If I have three surgeries I'm done. 'There's no way (I'm coming back).' And sure enough, I get injured at the end of last season, and immediately there was obviously discouragement, but I just had fire and got ready to get back out there."
That fire to continue playing has paid off. Frazier returned for her redshirt junior season in 2013-14. Through the first seven games of the season, Frazier has averaged seven points, four rebounds and 3.7 assists per game.
"It was really hard (recovering), but again, I was just like I'm going to do whatever it takes to get out there," Frazier said. "Through the hardship, it's really just the grace of God working through me to give me that passion and desire."
Not only has Frazier returned, but coaches and media members of the Big South also named her to the 2013-14 preseason All-Big South Team.
"It is great that the conference has recognized her skill level," Green said. "Yet from my perspective, I just want her healthy. I know what I would get if she continues to just get stronger and healthier every day."
With the loss of three starters from last season's team and just four upperclassmen returning this season, Frazier is expected to be a team leader.
"I have been able to be here longer than (the rest of the team)," Frazier said. "(I have) my experience in games and tight situations, so I hope to help them know it's the same pressures as high school, and just don't let the hype of college mess with you. So I feel a lot more pressure to be a leader, but we have a lot of leaders on this team."
Green said he also believes that Frazier will be a key member of this season's squad, and that her injuries have helped her mature as a person and basketball player.
"I think this is now her day to show her maturation," Green said. "(It's her time) to show she's a spiritual, emotional leader on the court, as well as a physical leader in the point guard position. She has had the experience, and sometimes the bad experience of injuries, and that is all together fit into her development and maturity."
Despite the accolades that Frazier has received, Green hopes more than anything else that she can be healthy so she can reach her full potential while at Liberty.
"Come March, I want a good leader going into the Big South tournament," Green said. "And she is very capable. I'm certainly glad to have her back."
Off the court, Frazier has already graduated with a bachelor's degree in interdisciplinary studies from Liberty and is now pursuing her master's degree in elementary education.
"I've always loved kids," Frazier said. "But I never thought about teaching until coming to school. I was like, 'I want to be an elementary school teacher.' So that was my focus. Now it's sort of changed. I just want to teach, and my heart is with younger kids."
Not only does Frazier want to become a teacher, but she also expressed a desire to pursue coaching.
"I would love to coach one day," Frazier said. "I just always want to stay plugged into this game, and that just kind of goes with the teaching. I used to want to teach little kids, but as time has gone on, I just love teaching. I love people, and I love helping people learn.
Despite the injuries on the court during the past four years, Frazier could not be happier about her time at Liberty.
"It's been phenomenal," Frazier said. "God just works so much. I didn't really want to come here at first. I was sort of like, 'Oh well maybe, maybe not.' But this has just been the greatest school, the greatest opportunity on the basketball team and off the basketball team."