LFSN offers opportunities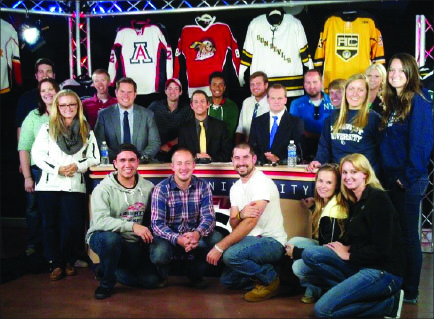 The broadcasting program now has a studio for students to use
The student-broadcasting program at Liberty University has been growing rapidly over the past three years.
Currently, students broadcast up to eight or nine games a week, covering sports like hockey, soccer, field hockey, lacrosse, baseball, softball and more. With crews as small as 10 or as large as 20, multiple cameras, replay and graphics capabilities, student broadcasting has come a long way.
Jordan Bolt is the unit production manager for Liberty Flames Sports Network, teaching workshops and crewing sporting events. He said he is all too familiar with the less glamorous broadcasting days under the supervision of Dan Crutchfield. In 2012, only soccer, baseball, softball and basketball were regularly streamed online.
"Back then, we only had one little Tri-caster (switcher board) and three little (handheld) Sony cameras," Bolt said. "Max on a production may have been four to five people, if that."
One of those select few was Sam Farnsworth, a senior broadcasting major and an active member in the Club Sports broadcasting team. He said he also remembers the pre-glory days before the Liberty Flames Sports Network (LFSN) was established as a full-production operating network.
"Basically, our entire production fit into the back of (Dan Crutchfield's) car," Farnsworth said. "One time, we were at a soccer game, and the fluid in our really cheap tripods froze so we couldn't pan left or right. We also had to edit in all of the graphics during post-production. Nothing was added live."
According to Bolt, productions were drastically improved between 2011 and 2012 when Liberty and the Big South bought new cameras, equipment and an HD truck for students to learn how to operate. The truck allowed more sports to be aired because the control room was no longer in a single set location. It could travel wherever the event was taking place.
"Looking back at the time when we didn't have the equipment we have now, it definitely was not real broadcast," Farnsworth said. "But it was a good starting point to get plugged in because you got a sense of what a broadcast could look like with the right technology."
The opportunities for students interested in broadcasting, both behind and in front of the camera, grow exponentially every semester, Bolt said. For anyone interested in a digital media career, student broadcasting is where to start, no experience necessary.
"There are always opportunities for people with no experience at all to come in and start," Bolt said. "It's our job to train them. So I say bring 'em on."
According to Bolt, students are able to get their hands on the equipment and learn how productions work. They are taught everything from wrapping cable and operating cameras to higher up control room jobs like directing and producing.
"Every position is available for students, you just have to work for it," Bolt said.
As Bolt reflected on making the decision to enter into a broadcasting career, he said he wished he had known just how hard it was going to be.
"It takes a lot of time, a lot of effort and a lot of dedication," Bolt said. "A lot of (students) go into broadcasting and media as a glamour and entertainment thing, but it is a really difficult field. It has to be your life."
Bolt also explained that while students are hungry for experience, the commitment level often intimidates them.
"You give them every opportunity in the world, but they're too scared to take it because they don't want to give up the luxury of going home at three in the afternoon to sit around and watch TV or play video games," Bolt said.
Both Farnsworth and Bolt said that digital media is a competitive, all-consuming career field. It requires more than just good grades in class. Employers are looking for people with experience, which is why student broadcasting is a good place to get involved.
"You need experience," Farnsworth said. "Now is the time to get work experience along side professionals. Here is where you are able to discover if this is really what you want to do."
According to Dr. Norman Mintle, dean of the School of Communication & Creation Arts (SCCA), the school that houses all these broadcasting opportunities has worked for the past 16 months since he arrived at Liberty to help create a unique student-professional learning environment.
"Our plan is for SCCA students, in any of our four departments and myriad majors, to be able to walk out of the classroom – where they receive valuable academic and practical learning – straight into a real-world media arts environment where they work side-by-side with professionals," Mintle said.
According to Farnsworth, college is the time for students to get involved and make mistakes before they enter into the work force.
"We work a professional job, but at the same time we are at school, and we are here to learn," Farnsworth said. "You don't have the pressure of thinking that you have to do your best and you can't afford to mess up. In reality, now is the time to mess up and make mistakes because that's how we learn."
Even when the work is long and tedious, or the production did not go as well as planned, Bolt said the final product makes it all worth it.
"There are a lot of crazy and stressful things that happen while (the live broadcast) is going on, but at the end of the day, when you can actually see what you did, that's rewarding," Bolt said.
Farnsworth said it is not hard to feel good about what you are doing when you produce an excellent show.
"If you apply yourself and you work hard, and if you're really serious about this, you can gain a lot of tangible, invaluable skills," Farnsworth said.
For students who want to work in media, Bolt offered another bit of sound advice.
"It sounds crazy but watch TV," Bolt said.
According to Farnsworth, when watching live TV from a broadcasting perspective, one should take note of the types of cuts and transitions, the style of replays, where camera positions are to get the best angle, what announcers are saying and what questions are asked during interviews.
"Watching TV is almost like homework," Farnsworth said. "As I moved up into positions like directing, part of my job is choosing camera locations. When I watch ESPN, I try to figure out where their camera locations are so that our productions can imitate the professionals."
While student broadcasting focuses more on live sporting events, LFSN is also taking the network to new heights with a brand new studio set, a new set for the daily shows that will air beginning January 2014, Farnsworth said. Those shows will then be broadcast to millions of homes all across the United States. LFSN will create job opportunities for students while they are still in school as well as internship options and career starting blocks after graduation.
Beginning in January, a daily college sports program called, "Game On!" will debut. Students and professionals will work together to create content packages, direct, produce, operate cameras and announce various highlights from Liberty sports in the 30-minute show, Mintle said.
According to Mintle, later in the spring, a new full-power television station will go on the air. Taking its name from the Liberty Chanel, it will be called "The New WTLU24." Its programming format will be news, weather, sports, and talk. No other station in our market provides 24/7 coverage like our new station will. And, it will give students in Digital Arts, Advertising, Public Relations, Journalism and Digital Media real-world experience working side-by-side with the professionals who will run the station.
"We're in our birthing years," Bolt said. "We're learning and we're growing, but the more LFSN grows, the more students will be able to figure out what they want to do."
"I like to call this 'Opportunity U,' a place where we offer unprecedented options and opportunities to our students," Mintle said. "There is no other university in the country doing what we're doing to this extent: 250+ sporting games, over a thousand campus production opportunities, a new TV station, a student radio station, VictoryFM that broadcasts on a state-wide network. No one."