Sgt. Alex Helmich: Helicopter pilot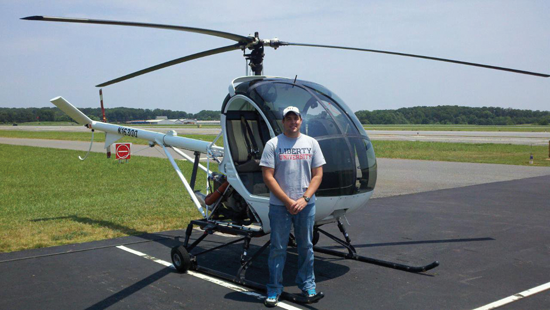 Jacksonville, Ill. native Sgt. Alex Helmich — now a helicopter aviation student at Liberty University — enlisted in the Army in 2006 in response to the attacks on Sept. 11, 2001.
"I chose the Army so that I could serve my country for what happened on 9/11, and I chose the Army over the other branches because of what the Army could do for me," Helmich said. "They set me up to succeed in whatever I do in the future."
After training to be an air defense artillery soldier, Helmich deployed to Camp Anaconda in Balad, Iraq from April 2008 to April 2009.
"In Iraq, me and my unit actually had a joint mission with the Air Force and the Navy called 'CRAM' (Counter Rocket Artillery Mortar)," he said. "Basically track and shoot down all artillery shot at our base with high tech Gatling guns."
Helmich tracked rockets and mortar rounds, both to get the grid coordinates for Air Force and artillery counterattacks and to warn the base of incoming fire.
"One night we got hit with five 120mm rockets from about three miles south of base," he said. "I sent up grid coordinates to the Air Force, and they deemed it necessary to drop two 500-pound bombs on the spot they were fired from. Seeing the fighter jets drop them and hearing them go off is very unforgettable."
Helmich finished his service in the Army and got married in July 2010. When he enrolled at Liberty the following month, he said he was not sure where God was leading him.
"My wife kept asking me what major I was going to declare. I didn't know," Helmich said. "So from my experience in the Army with going through Air Assault School and being around helicopters all the time in Iraq, I chose to be a pilot. I jumped in the helicopter program head first and never looked back."
With the end of the helicopter program at Liberty, Helmich will have to transfer to a new flight school at the end of the semester to go for his commercial certification. He is disappointed about the decision, but he said he understands why the school had to do it.
Helmich also thanked Liberty and his instructors — Director of Helicopter Flight Operations Don Childs and flight instructor Josh Tate — for "a good foundation" in his flight training.
"I wish there were some way to keep it so other future helicopter pilots can learn in the same environment that so many other Christian pilots have learned," he said. "The School of Aeronautics had a choice to make and they made it. I'm not bitter about it, that's just the way it has to be."
Because of the new change in plans, Helmich is not sure when his graduation date will be, but he has goals in place when he finishes his certifications.
"Eventually when I do graduate, I want to fly tours over the Grand Canyon," Helmich said. "And possibly join back in the Army to be a combat medic pilot. Either way, I will be doing something that I love and will continue to enjoy my whole life."