The Civil War: The Musical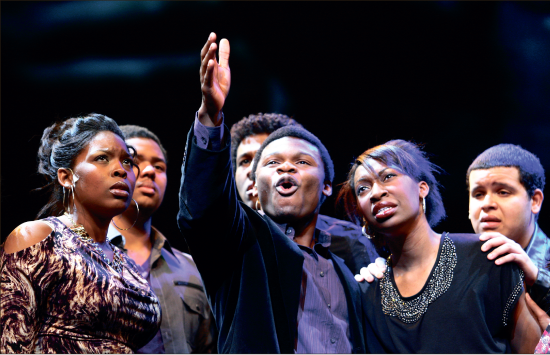 Decades and generations collided on Liberty's Tower Theater stage, in front of audience members enraptured by the visual effects and vocal talent of the Liberty Theatre Department's latest production, "The Civil War: The Musical."
This latest production is slightly different from the plays and musicals normally performed by the Theatre Department, with more of a focus on music than dialogue. Play director and Assistant Professor of Theatre Arts Chris Nelson described the production as a "theatrical concert."
"We decided that we were going to take a show that was written very much as a theatrical concert in many ways," Nelson said. "The dialogue is actually the music. We moved away from a concept-and-style approach to more of a concert feeling, while blending the contemporary and the historical aspects together."
According to Nelson, the ideals and viewpoints that were experienced during the Civil War are still experienced throughout the world today, such as slavery, cultural relations and families being torn apart by war.
"What we've done with the show is that we are relating (the Civil War) to events beyond the Civil War, such as the Civil Rights movement. There are many contemporary images that relate back to the historical images of the Civil War," Nelson said.
The play's concert-like appearance is reinforced by its organization. The play's actors are only credited as "ensemble," and costumes were created by the actors from their own wardrobes. Nelson encouraged his students to create costumes that made them feel more connected to the characters they played. A live orchestra performs on stage during the concert, while the actors act out their scenes around them. There is no constructed scenery for the play — Nelson opted for civil war-era photographs projected onto a large screen over the stage. The play is meant to have a more personal and emotional appeal for the audience than the plays that have a traditional story line and cast.
"The role I have in 'The Civil War' is more about how I would be affected if I had to go through these events, instead of portraying a specific character," actor Caleb Hughes said. "I would like to challenge (the audience) to really put themselves into the emotions and events that are experienced by the characters in this play."
"The Civil War: The Musical" will have performances through Saturday, Feb. 26. For ticket information, visit the Liberty Theatre Arts website, which can be found through the Liberty splash page.