Redeeming her time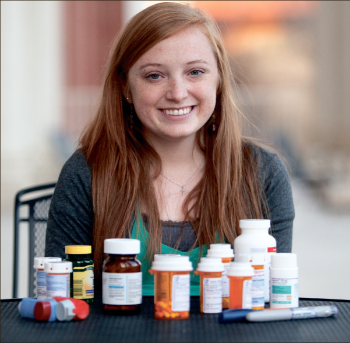 Student serves the Lord, battles lethal disease
Meagan Van Engen knows time is running out. She chooses to embrace her days rather than waste them.
"I'm probably past my half," Van Engen, who has cystic fibrosis, said. "In reality, I probably won't live until I'm 40."
Her expression is not morbid, but inspiring.
"I'm okay with that. It just means that I have to do more," she said, a wide smile stretching across her face.
Van Engen, a Liberty junior, has been in and out of the hospital since birth, battling cystic fibrosis, a genetic disease causing respiratory and digestive problems. The life expectancy for cystic fibrosis patients is 37 years.
Outgoing and expressive, Van Engen cherishes life and takes advantage of time, her words rising above self-pity.
"I have to do more for God's kingdom in the time that I have now," Van Engen, a health promotion major, said. "I really feel blessed, in a way, to know I'm not going to live until 60 or 70. I know my time here is a lot shorter than most people, so I have that mind frame that I'm not going to live forever. "
Van Engen has much work to do and little time to waste dwelling on her plight.
"I'm going to do the best I can to further God's kingdom, glorify him and leave a legacy that glorifies him while I'm here," she said. "I'm not going to wait until I get out of college or get a master's degree or get married."
Van Engen was in the hospital 25 times before her sixth birthday.
"The hospital has always been my second home," Van Engen, typically admitted three times a year, said. "I've never known anything else."
Van Engen juggles college with daily treatments to battle the disease's effects.
For 30 minutes each morning and night, she wears a vest that vibrates to break up mucus in her lungs and takes a breathing treatment.
"I have a very aggressive form," Van Engen said.
She takes three inhaled medications, one a trial drug prescribed from the University of North Carolina at Chapel Hill. Van Engen also takes an insulin shot to treat cystic fibrosis related diabetes, along with 50 pills.
"I've always been very proactive with my care," Van Engen said. "I like to do a lot of it myself."
Her father, Rob, a Liberty professor, and mother, Tuesday, Liberty's assistant softball coach, provide daily support.
"I'm very thankful for my parents," she said. "I know for a fact that if my parents weren't as supportive or proactive, I wouldn't be as healthy as I am."
During high school, Van Engen was so sick that doctors told her parents, "She's slipping through our hands."
Van Engen was moved to another cystic fibrosis center where doctors made minor changes to her treatment.
"I was just really, really sick. I think it was just prayers," Van Engen said. "I told God, 'I'm not done doing your work yet.'"
Van Engen, who has lived in Virginia and Michigan, graduated high school valedictorian despite spending weeks in the hospital.
Van Engen wants to be a health foundation research coordinator.
"I've always been interested in health because I've grown up in the medical field," Van Engen said. "I really have a passion for research. I know if it wasn't for research, I wouldn't be healthy. I think that is really where God is calling me."
A frequent speaker to nursing students and health care providers, Van Engen wants to use her career to speak "on the platform of a life-long patient with a chronic disease and also share the gospel."
"Especially in the medical world, sometimes quantity of life is viewed greater than quality of life and sometimes vice versa and there has to be a balance," she said. "I want to open eyes to what the Christian perspective is on it. Life is valuable at any phase."
Cystic fibrosis research continues to improve treatment and Van Engen wants to be part of it.
"When I was born, the majority of people with cystic fibrosis didn't graduate high school," Van Engen said.
The life expectancy range for cystic fibrosis patients continues to climb and 50 percent of those with the disease are adults.
Van Engen, who loves watching sports with family, wants to leave a legacy for the Lord in the time remaining.
"My footprint might be here only 25 or 30 years, but I want that footprint to be deep enough that it is going to be here for a while," she said.