Film Uncut

Film Uncut is a residential high school experience where you will spend 9 days with us here at Liberty. You will interact with Liberty Film faculty in small master classes, collaborate with current Film majors and alumni, experience Liberty University up close and personal, and enjoy the freedom to integrate faith and art. Film Uncut fosters creativity and fun while introducing filmmaking knowledge and skills. You will learn cinematic storytelling infused with technical expertise from accomplished faculty and take home an original short movie!
At Film Uncut you will write, direct, and edit your own short film using professional equipment and facilities. You will also learn what each member of a film crew does by helping fellow campers film their stories too.
Session Information
June 26-July 4, 2021
Grades: Students who have completed grades 9, 10, 11, or 12.
Location: Liberty University – Green Hall (Campus Map)
Film Uncut Banquet: July 3, 2021, 5:30 p.m.-7 p.m. located in the Alumni Ballroom. Campers attend free. Family members can purchase banquet tickets, $25/guest at registration. Attire is business casual.
Student Film Red Carpet Premiere: July 3, 2021, 9:30 p.m. located in our Cinema Theater
---
Registration
 Enrollment Deadline: June 4, 2021
Tuition: $895. Includes room, board, and collegiate level instruction from Liberty University faculty and industry guests.

Early Bird: $795 now through May 14, 2021

Multi-Camper Discount: 20% off of the second registration when you register two campers at the same time; 30% off the third registration
Multi-Session Discount: When registering a camper for two sessions, receive 20% off the second session
---
Experience Requirements
Prior film experience is not necessary. Some light lifting may be necessary when using equipment.
---
I'm enrolled! What do I do next?
Travel Itinerary
On June 26, 2021, you should arrive and check in from 12-4:30 p.m. at the Commons 3. On July 4, camp will conclude after the morning worship service, which ends at 10:30 a.m. For those arriving and/or departing by plane, please choose flights that work within the check-in and check-out time frames. If a flight is not available within the time frames, please choose a flight closest to them and we will do our best to accommodate.
Uncut Series provides shuttle service to and from the Lynchburg Amtrak Station, the Lynchburg Bus Station, and the Lynchburg Regional Airport. Students may also wish to fly into the Roanoke Regional Airport or Greensboro Regional Airport; however, shuttle service will not be provided from these locations. For those traveling by bus, train, or plane, and in need of shuttle service, please email Chris Nelson (cnelson@liberty.edu) with your itinerary no later than June 11, 2021.
---
Camp Schedule
---
Camp Counselors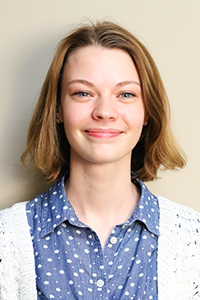 Emily Beaulieu
Emily Beaulieu grew up between Maine and North Carolina but now lives in Lynchburg year round. She is a professor's assistant in Liberty's Cinematic Arts department and loves getting to spend each semester helping junior and senior students achieve their film dreams. She graduated from LU with a Bachelors in Cinematic Arts, completed her Masters in Visual Communication Design, and is now working on her Doctorate in Strategic Media. Once she graduates she will be moving to Japan to help missionaries cross intercultural communication barriers using film and entertainment media.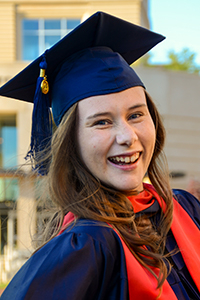 Katie Debnam
Originally from North Carolina, Katie has always had a passion for films and teaching others about the film making process. She is a recent graduate of the Zaki Gordon Cinematic Arts Center, here at Liberty University. Although she specialized in producing and assistant directing, she is looking forward to being able to watch the campers learn more about the process of making their stories come to life.
Leah Hussey
Leah Hussey is a recent Liberty graduate from the Cinematic Arts program. Being more into the paperwork and scheduling side of things, Leah also has a good time editing with Premiere Pro. She has experience working on multiple short films and enjoys working with a team. 
Brodie Sell
Brodie loves being able to tell a story in every aspect of filmmaking from set design, to lighting and shadow, to screenwriting and acting. He's done lightning, grip work, assistant directing, editing, and camera work for feature length films, short films, digital media, theater, and even bands. Brodie loves creating community, playing board games, and telling stories any time and any way he can.
Bradley Teisen
From Southampton, N.J. and with a Bachelor's Degree in Cinematic Arts, Bradley would like to become a writer, work in a writer's room, and create unique stories.
---
Lorene Wales
Film Uncut Coordinator
Dr. Lorene Wales has 20+ years experience in feature film production and teaching. Her credits include feature films such as "In-Lawfully Yours" (Netflix) and "First Landing" (ABC Family Channel), winner of 7 national and international awards. Her short films have won various awards such as 2 Telly's and 3 Worldfest Houston awards. She is also the author of 3 published textbooks, including the most recent "The Complete Guide to Film and Digital Production." Dr. Wales currently teaches legal issues for filmmakers, marketing and distribution and branding and entrepreneurship for the Zaki Gordon Cinematic Arts center.
---
Questions
All film equipment will be provided. Each student will need to bring bed linens, a pillow, a towel, toiletries, camp clothes, and a Bible. Students may also want to bring snack foods, water bottle, a bathing suit for the LaHaye indoor pool, recreational clothes, and laundry detergent. Snacks will be available in the camp counselors' dorm rooms to purchase (prices range from $0.50-$2.00).
What Kind of Supervision Will Be Present?
All students will be under 24-hour supervision. Camp counselors will reside in the dorms alongside campers for the duration of the camp.
Where Can My Parents/Friends Stay?
I Am a First-Year College Student Considering Transferring to LU. May I Attend Film Uncut?
Yes! Film Uncut is a great opportunity for potential Liberty students to come, live in the dorms, eat in the dining hall, and meet Liberty Film students, faculty, alumni, and staff members.