Spanish Institute
Serve in Spanish-Speaking Countries
---
Guatemala Trip
First Three Weeks: Partial Immersion
Spanish Instruction
You'll enroll in six hours of Spanish 499. These credits will then be applied wherever you need them in your Spanish major, minor, concentration, etc. Classes will feature efforts toward developing fluency, with particular training in the Plan of Salvation, personal testimony, and other elements directly related to ministry in Guatemala and other Spanish-speaking countries.
Ministry Opportunities
Evangelistic programs

In churches/schools
In parks/on street corners
In poor villages, sharing food/medicine
Painting homes
Church/home construction
Medical clinic
Orphanage
Christian school
Final Five Weeks: Total Immersion
You'll homestay with a family who only speaks Spanish and work and/or do ministry designed to aid in fluency.
After the first three weeks, if you're not ready to begin your homestay with Guatemalan families, you will be given intensive tutoring during the fourth week. The anticipation is that you will be ready for a homestay at the end of the fourth week.
---
Projected Cost
Tuition for six to twelve hours of Spanish credit: Contact Registrar's office for current cost.
Room and board plus travel to, within, and from Guatemala: $4,000
---
Contact
Contact Jared Barber for more information about this opportunity:
jdbarber1@liberty.edu
(434) 582-2277
DeMoss Hall, Room 4014K
---
Spain Trip
No trip scheduled for 2020. Please check back later for an update for the next trip!

First 2 Weeks: Partial Immersion
Stay in the local Christian center of Camarma de Esteruelas, where you will take Spanish classes on language, culture, history, and art. Learn and enjoy Spanish culture. Take weekly excursions to nearby cities (Madrid, El Escorial, Segovia, and Toledo).
Minister in many of the following areas:
Conversation Classes
ESL Tutoring
Kids Club
Translating
Art Ministry
Sports
Youth Ministry at a Local Church
Park Ministry
Music
Social Work
Street Evangelism
College Ministry
Final 6 Weeks: Total Immersion
Stay with a Spanish family in the literary town of Alcalá de Henares. Work and serve in a ministry specifically designed to aid in fluency. Help serve at a local Christian sports and ESL camp. Spend time with other college students. Engage in Spanish culture through food, conversation, and new friendships.
Whatever your talent, gift, or passion – we will find a place for you.
---
Projected Cost
Tuition for six to twelve hours of Spanish credit: Contact the Registrar's office for current cost
Room and board, classes, and travel to, within, and from Spain: $4,500
---
Contact
Contact Dr. Stephanie Blankenship for more information about this opportunity:
slblankenship@liberty.edu
(434) 582-2277
DeMoss Hall, Room 4014L
---
Testimonials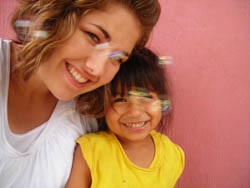 Brittany Cross:
"God is always moving in our lives and we are continually growing and changing. But being in Guatemala was one of the most intimate and incredible experiences of God just showing up and being real amongst a broken, but lovely, people. It was an unforgettable time in my life."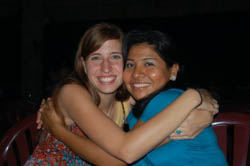 Kelsey Richards:
"The best part of the trip for me was the people from both Liberty and Guatemala. They loved you like you were their best friend or their own child."
Jon Morgan:
"It is a great place to experience mission work and another culture while having so many opportunities to improve one's Spanish."
---
"How then shall they call on Him in whom they have not believed? And how shall they believe in Him of whom they have not heard? And how shall they hear without a preacher?" —Romans 10:14