Women's volleyball eyes conference title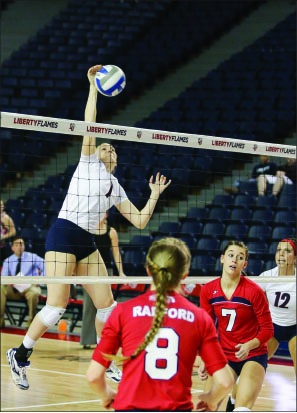 Liberty hopes to continue its ascent up the Big South leaderboard after defeating the Radford Highlanders
The Lady Flames volleyball team beat Big South Conference leader Radford University in a five-set match Friday, Nov. 1 (23-25, 25-23, 25-19, 23-25, 15-9). The Lady Flames moved within one match of first place in the conference.
"At this point, we do not care if you are No. 1, 2, 8 or 9, we are working on working as a team, blending and getting ourselves to peak at the right time," setter Jade Craycraft said.
Liberty led the match with a season-high 14 blocks, and held Radford to a .127 hitting percentage, its lowest of the season.
Craycraft notched her fourth triple-double of the season with 42 assists, 10 kills, 11 digs and three aces. Senior outside hitter Lillie Happel recorded her eighth double-double of the year with 10 kills and 12 digs. Happel is now ranked 10th in program history with 1,171 kills.
Redshirt sophomore Caroline Douglas recorded a season-high 14 kills and a career-high nine digs. Junior Melissa Racz set a new season-high in kills with 12 and recorded five blocks.
The Radford Highlanders gained a four-point lead in the first set at 16-12, but the Flames fought back to take the lead 21-20. After nine ties and four lead changes, the Highlanders surged through to take set one.
With set two tied at 22, Happel recorded a solo block to give the Flames the lead. Liberty was able to hold the lead and clinched the second set, tying the match 1-1.
"We thought we were going to have to win some battles at the net, and we know that they are a very good defensive team," Head Coach Shane Pinder said. "I knew certain moments of the game would come down to some offensive kills, because both teams are really hard to score on."
The Flames gained momentum early in the third set with a 7-1 lead. Liberty's momentum grew and the Lady Flames doubled the Highlanders score to make it 18-9. However, Radford did not give up trimming Liberty's lead to four (23-19), before the Lady Flames pushed for the final points and the third-set win.
With the fourth set tied at 23, the Lady Flames were looking for a set win to take the match. Highlander outside hitter Jordan Watson's back-to-back kills led Radford to a win, sending the match to a fifth game.
Liberty took a 5-2 lead in the second set, but Radford cut the lead to one. The Lady Flames then posted a 4-0 rally and the Highlanders were unable to fight back as Craycraft sent her 10th and final kill down to win the match.
"We have been preparing all week, and what we talk about is how we are going to be the tougher team when the lights come on on Friday night," Craycraft said.
Despite a slow start to the season, the team has been able to bounce back and now has a chance to collect another Big South Conference title.
"I have to give credit to my staff," Pinder said. "They have done an unbelievable job in this time. Through all of this, the kids have stuck together. They have stuck with the right heart and have answered the call in so many ways that does not show with wins or losses, (but) in their attitude every day and their work ethics."
The Lady Flames next matchup will be against High Point Friday, Nov. 8 at 7 p.m. in the Vines Center.