Flames skate to seventh straight victory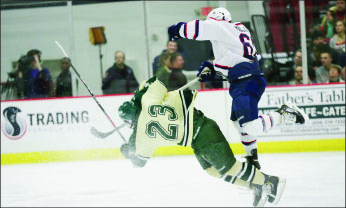 The Liberty University men's Division I hockey team swept the Eastern Michigan University Eagles in a weekend series Friday, Nov. 1 and Saturday, Nov. 2 at the LaHaye Ice Center.
LU 4, Eastern Michigan 1
In the first-ever meeting between the Flames and the Eagles, Liberty extended its winning streak to six straight wins, defeating the Eagles 4-1.
The first game of Liberty's doubleheader against Eastern Michigan was a dead heat through the first two periods. Although they were unable to capitalize on several early scoring opportunities, the Flames got on the board first, as senior defenseman Jackson Kuhn scored on a power play halfway through the first period.
The Flames held on to the 1-0 lead until late in the second period, when Eastern Michigan tied the game at 1-1.
The score remained tied until early in the third period, when the Flames put up two back-to-back goals.
Early in the third, junior defenseman Cam Bakker scored on an assist from freshman forward Robert Ward, giving the Flames a 2-1 lead.
Just three minutes later, Bakker's shot from the point was deflected into the goal by freshman forward Brandon Mistal, giving the Flames a 3-1 lead. Junior forward Ryley Egan secured the win for the Flames with a final goal, giving the Flames a 4-1 victory.
LU 5, Eastern Michigan 2
Liberty defeated Eastern Michigan 5-2 in their second matchup of the weekend Saturday, Nov. 2.
The Eagles scored the first goal of the game midway through the first period when Kyle Astalos put in a rebound off a shot from Bobby Gasser.
However, freshman forward Charles Williams responded and scored Liberty's first two goals of the game in the same period.
Williams' first goal came on an assist from Mitsal. Williams slid the puck past Eagles goaltender Andrew Duff for his second goal, putting the Flames up 2-1.
The Eagles then tied the score at two, but Liberty took a 3-2 lead later in the period when Brandon Cox scored on an assist from Williams.
"(Cox) really capitalized on the scoring opportunity and performed great on the penalty kill."
Junior forward Ryley Egan scored the fourth Flames goal, and Bakker added a fifth to secure a 5-2 victory over Eastern Michigan.
The Flames will next be in action at the LaHaye Ice Center Friday, Nov. 8 versus the Delaware Blue Hens.