Camels conquered in shutout
Six different Lady Flames score for their second conference victory in a 7-0 shutout win against Campbell
Liberty University women's soccer (7-3, 2-0 Big South) dominated Campbell University (4-5, 0-2 Big South) 7-0 in a performance that included goals by six different players.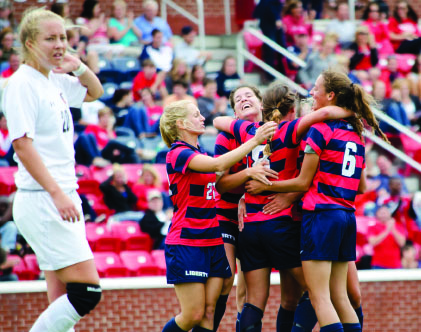 Despite the lopsided box score, Campbell presented a challenging game for the Lady Flames — a challenge they answered with a near perfect performance.
Quick and precise passing, coupled with accurate shooting, allowed Liberty to score more goals than it did in its last five games combined. More than half of the Lady Flames goals came from careful passing around and into the penalty box, resulting in several easy scoring opportunities.
The seven goals scored by the Lady Flames were the most since a 9-0 victory over Southern Virginia in 2007.
Lady Flames Head Coach Jessica Hain described Campbell as a "high pressure, physical team" capable of scoring lots of goals.
"Before the game, our speech was, 'be bold,'" forward Crystal Elmers said.
Elmers led the Lady Flames in scoring with two goals, and Julia Delgatti accounted for half of Liberty's six assists. However, Liberty excelled in more than just its offensive game. The Lady Flames also limited Campbell to only one shot each half, outshooting Campbell 16-2 over the course of the game.
Liberty jumped out to an early lead seven and a half minutes into the game, with Casey Norris heading the ball into the goal off a free kick.
"We play much better when we are on the front foot with an early goal," Hain said.
Two more goals by Megan Warner and Madison Kauzlarich put Liberty up 3-0 heading into halftime.
Despite being up by three goals, the Lady Flames did not fall into the trap of complacency. They came out blazing in the second half, with Elmers scoring less than a minute in to push the lead to four goals. Liberty never took its foot off the gas, adding another three goals in the second half to seal the win.
"I was most proud of our ability to finish today," Hain said. "This is the most goals we have scored in a game so far (this season). I was impressed that we were able to continue to threaten the goal and put balls in the back of the net."
The Lady Flames will travel to play the UNC Asheville Bulldogs Wednesday, Oct. 3, at 4 p.m.