Flames blank Bears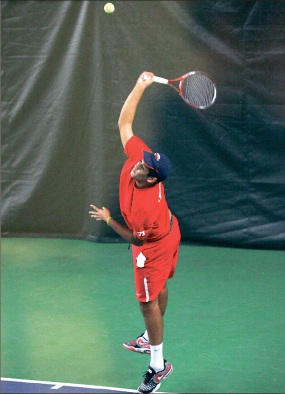 Liberty's 7-0 win against Morgan State improves its record 4-1
The Liberty University men's tennis team (4-1, 0-0 Big South) defeated the Morgan State Bears (0-9, 0-0 Mid-Eastern), 7-0, Friday, Feb. 22, denying the Bears their first win of the season.
The Flames 4-1 record this season is equivalent to its best five-match start in program history.
"The last time we started the year with a 4-1 record was in 2001, so I'm glad to be part of a team that has a ton of talent," junior Shea Thomas said.
Liberty's Siim Tuus and Stan Vaughan ended their two-game losing streak with a win over Morgan State's Eric Ward and Jannick Tash, improving their record to 3-2 this season.
Egon Samaai and Thomas took another win for Liberty, defeating Ondre Cargill and Dmitriy Borodkin 8-3 and advancing the Flames to a 5-1 record for the season. Dillon Segur and Jorge Azuero were up 7-4 once Liberty clinched the doubles point, ending the game.
"We all played with high intensity, and we came out firing on all cylinders," Thomas said.
Liberty then dove into the singles matches, starting with Samaai defeating Ward, giving the Flames a 2-0 lead. Next, Tuus took the win 6-0, 6-2 over Borodkin, bringing Liberty to a 3-0 lead. Thomas defeated Duk Young-Park, giving Liberty the last point it needed to take the match. Thomas and Tuus are now undefeated, with a 5-0 record to start the season.
Azuero and Vaughan knocked out both their opponents in quick matches. Segur capped off the win for the Flames with a hard-fought match, ultimately beating Ward.
"This win shows how good of a team we are and how we can come out and dominate against a team we should not lose to," Thomas said. "We're looking to take this momentum into our match against Longwood. We just got to keep bringing a high level of play to each and every match as we start our conference matches soon."
The Flames will play their first Big South Conference game against Longwood University in Lynchburg Tuesday, Feb. 6 at 1 p.m.