Women's Hockey holds 3-2 victory vs. Raleigh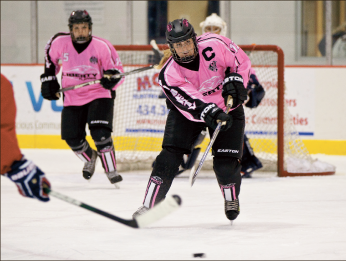 Liberty University's Lady Flames dominated the ice against Raleigh in a two-game series, Oct. 6-7
The Flames Liberty D1 Women's hockey team wore their pink uniforms in their exhibition game against Raleigh on Saturday, Sept. 6 at 7 p.m. Flames brought home the win 3-2.
The game started with the Flames having an early advantage. The first goal of the night was scored against the Liberty Flames in the 14th minute of the first period. Sarah Stevenson had a great shot on goal.
Two minutes later, the line change and goalie swap happened. It was the first major change of the night.
Several calls later, and the score remained 0-1. Intensity swirled as the game rush picked up around the ninth minute of the first period.
Sophomore Amanda Grainger had a beautiful breakaway opportunity, but unfortunately missed her scoring attempt.
Four minutes remaining in the first period, shots piled upon the opposing goal, with no scores. With 2:19 remaining in the first period, Liberty's Carly Peleshok tied the score 1-1. A high shot by Steph St. Amand led to the goal by Brittany Hymer with two minutes remaining in the first period, making the score 2-1 for Liberty.
The second period began uneventfully as Raleigh pulled its goalie for a brief time, but did not manage to score. Several trips to the penalty box were made by both teams.
The game was tied 2-2 with 9:44 remaining in the second period. A failed breakaway attempt by Lady Flames forward Carly Peleshok at 8:45 spawned the opposing team to fight harder.
As 7:51 remained, Liberty took the lead 3-2 as Carrie Jickling scored off the assist by Brittany Hymer.
Several penalty box visits occurred from both teams, rounding out the second period.
Between periods, the women were told to continue "the hard work and remain calm. You know the game. Just communicate with each other out on the ice. Be familiar and relax. It's only an exhibition game. In practice, we will try and fix the mistakes," Head Coach Paul Bloomfield said.
The final period was filled with trips to the penalty box and Senior Stacey McCombe had several nice breakaways with no avail during the game.
With 7:32 left in the game, the crowd picked up when the opposing team began to lose its composure as the Flames swooped and pounded the puck at the empty net after Raleigh pulled their goalie.
"The team has a couple tough games to get through as they attempt to work together for the first time," Bloomfield said. "The girls worked well overall tonight and scrambled a bit in the beginning, but pulled out the win. (We) feel good about the win, and (we) got the freshman debuted."