Liberty grad studies abroad at Cambridge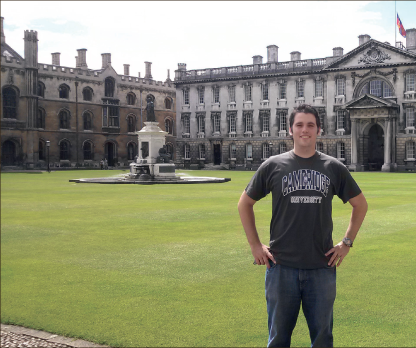 A recent Liberty graduate received one of the highest academic honors available to college students when he was selected to participate in a program that allowed him the opportunity to study at Cambridge University this past summer.
Jonathan Davis, former history major and honors student, applied for a competitive study abroad program. He got into the program and studied at Corpus Christi College, a subset of Cambridge University. Davis spent about one month there, in a program that provided six academic graduate school credits.
According to Davis, the program was not offered through Liberty University, but instead through an outside source.
"An email was sent to the head of my department about this opportunity to study at Cambridge," Davis said.
The encouragement Davis received was, "It's up on the board — give it your best shot."
Davis applied within the first week of the program's opening, and the application process was open for a month and a half.
"I think that gave me an advantage because I was there in the forefront," Davis said.
Davis was selected along with 12 other applicants from schools such as Harvard and Boston University. Jim Nutter, honors director and quiz bowl coach at Liberty, said that the Cambridge program received about 400 other applications.
"Davis not only got this position, but also got partial funding," Nutter explained.
"I was in charge of taking care of the contacts, applying and finding independent funding," Davis said.
He received a scholarship from the program along with other outside funding to help cover the cost of the experience.
Davis was in England during the Summer Olympics in London. While he was able to go to some of the celebration festivities, he was unable to purchase tickets to an actual Olympic event.
"I wanted to go to a track and field game, but one ticket was about 1,200 pounds. That is almost $2,000."
There were two specializations offered by this program — British and American security intelligence and archaeology. Davis took part in the intelligence class and was also required to write a research paper during his time there.
"Every day, we were studying," Davis said. "We did not even get Sundays off. We had double lectures meeting in awesome classrooms." He explained that the classrooms did not have modern technology for use by the professors and that the rooms looked like a scene out of a Harry Potter movie.
Studying at Cambridge, Davis also had the opportunity to visit significant places in England that related to his studies. He was able to visit Parliament, to sit in on a House of Lords session, and Whitehall. He spent three days at The National Archives of the UK government.
According to Davis, there was a class structure at Cambridge. There is a meritocracy in the university that only allows professors and fellows, or post-grad scholars, to walk on the immaculate grass located on campus.
"You had to earn your right to walk on the grass. I've never wanted to walk on grass that badly before," Davis said.
Nutter described Davis as "down-to-earth and humble," explaining that the opportunity Davis received was well deserved.
"He was a moderator for the quiz bowl team, in the honors program, and now as a graduate student, he is part of the racquetball team. He is a guy with a lot of extracurricular activities (as well as academic)," Nutter said.
"I've really tried to divide my time in athletics, community service and academics," Davis said. "I feel that if you really diversify yourself, you give yourself a better shot." He encouraged other students to apply for every opportunity that arises. "If you don't try for it , you're never going to get it."