Men's golf secures NCAA Tournament berth with ASUN Championship

With the Liberty Flames' golf team having returned to Lynchburg after the ASUN Championship in Mobile, Alabama from April 25-26, the team bus had some extra hardware in the form of an ASUN Championship trophy.
The Flames came to play in the conference tournament, notching multiple record-setting performances on the trail to a championship victory. The Flames finished day one of the tournament in the lead after posting a record-setting round, carding 27-under par 261. That marks the lowest 18-hole total in Liberty program history, marking the new standard in the ASUN championship.
As weather concerns loomed, the Flames ended up playing 36 total holes during day one, finishing with an overall of 40-under par 536.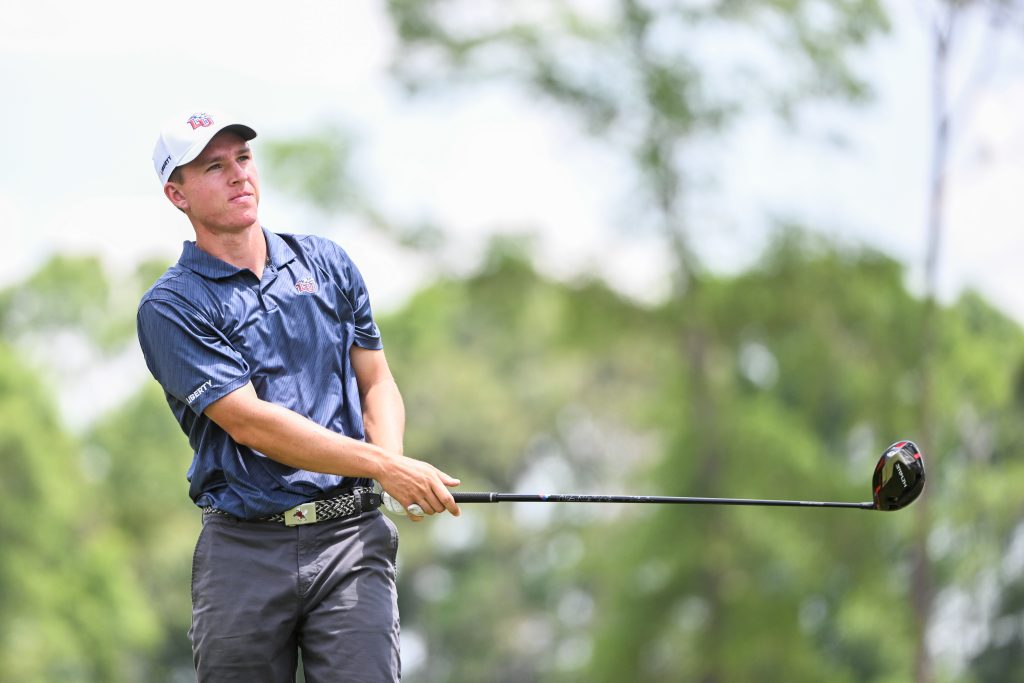 Jacksonville State set a conference record on day one, scoring 19-under par 269 in their first 18-holes. It wasn't theirs long, however, as the number was quickly shattered by the Flames, who beat it by eight strokes.
The first day of conference competition ended with Flames senior Jonathan Yaun and redshirt junior Isaac Simmons tying for second individually for the championship.
As day two got underway and the Flames looked to build off its lead from day one, the team didn't disappoint. On day two, Liberty set a new program 54-hole team scoring record as they finished the championship with a score of 53-under par 811.
Now, all that stood between the Flames and ASUN glory was the North Florida Ospreys, the team who took it last season. As the battle came to an end, Flames came away victorious, notching its second ASUN title and seventh conference title in program history.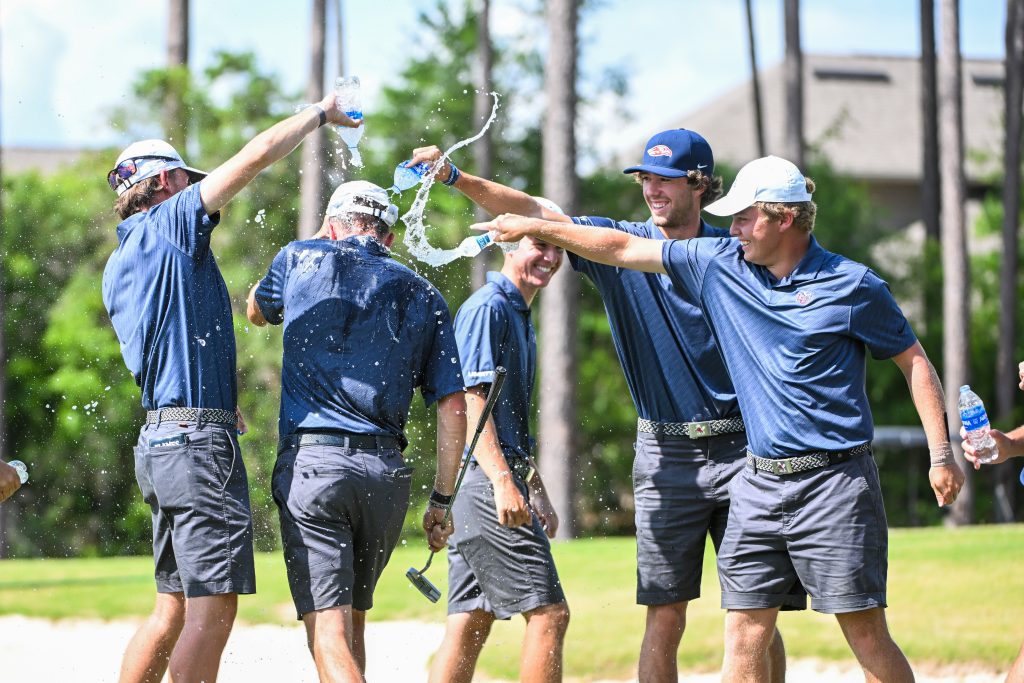 The Flames' ASUN title fun doesn't end there, however, as Liberty had multiple players perform incredibly as individuals as well. Yaun, the face of this Flames team, won the individual ASUN championship as he finished 18-under par 198, the lowest individual 54-hole total in program history, and even finished with a stroke to spare. This marks the 35th NCAA Division 1 individual medalist honors in program history and the third of Yaun's Liberty career. The Flames also saw Simmons and senior Connor Polender place in the top five, as Yaun, Simmons and Polender all earn the title of the ASUN All-Championship team.
While this was an electrifying couple of days for the Flames and they will certainly take their time to celebrate, they also look ahead to competing in the National Championship. Even before the Flames headed off to the ASUN Championship, it was clear from talking with the players and head coach where they had their expectations set.
The NCAA Regionals will be from May 15-17 and the pool will be announced May 3. The Flames certainly look to build off the ASUN Championship as they look to compete for the program's first National Championship.
Willard is a sports reporter for the Liberty Champion. Follow him on Twitter