Alluvion Stage Company presents the classic story of character transformation in 'The Music Man'
Trouble comes to River City when Harold Hill schemes his way through town, and now people at Liberty University have a front row view into the chaos that ensues. 
Liberty's latest theater production, "The Music Man," follows Hill, a traveling con man, who convinces the town to start a band. Hill persuades the town to buy instruments and uniforms and intends to leave after receiving all the money.
However, Hill bumps into the local librarian, Marian Paroo, who suspects that Hill is a fraud. Paroo keeps quiet because she sees how the band has positively impacted her younger, moody brother, Winthrop. Hill begins to develop feelings for Paroo and has to make a decision about leaving or staying in River City.
Presented by the Alluvion Stage Company, the comedic, lively musical is full of both large dance numbers and somber songs. This company includes a cast of all ages, comprising a team of alumni, professors, students and children. Some of the faculty include School of Music Dean, Stephen Müller, and Andy Geffken, an associate professor in the theater department.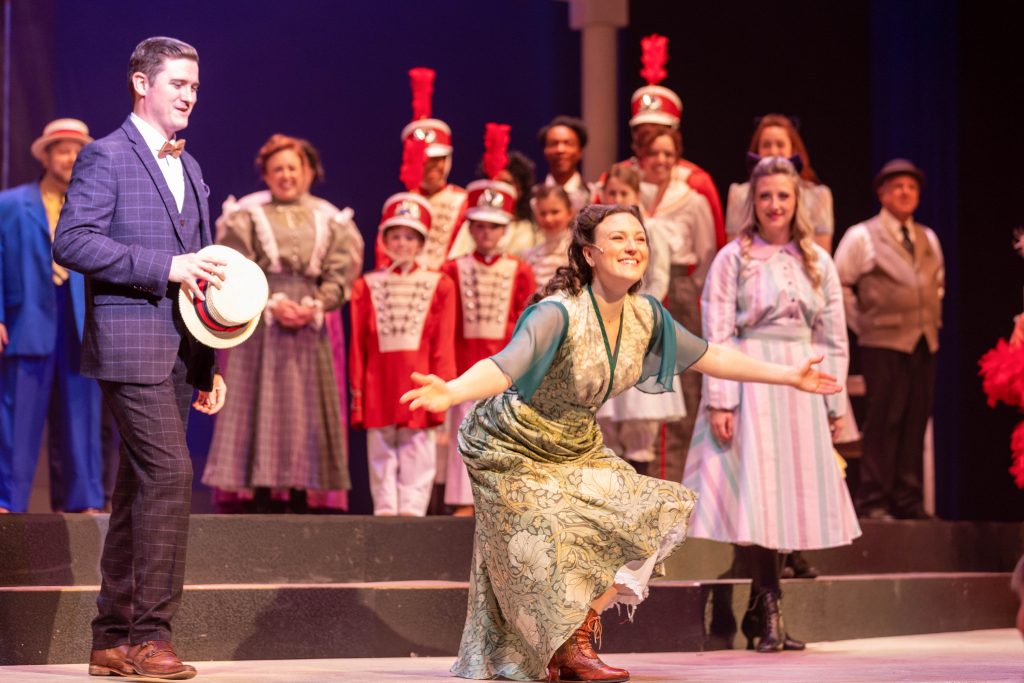 Geffken plays the lead role of Hill in the musical. He discussed what it is like playing a con man and the strategies behind playing a role like this.
"He really does bring out the best in the citizens of River City, despite the fact that he is taking everyone's money," Geffken said. "My favorite thing about playing him is how much he gets to specifically interact with different people because he's a salesman."
Geffken appreciates the opportunity he has to work with his students as well.
"The most fun has come in just by being able to work with the students. I don't get to act with them often," Geffken said.
He is excited for the upcoming shows.
"I like playing characters that either have a certain degree of charm or salesmanship," Geffken said.
He also spoke on what it is like to work with the Alluvion Stage Company.
"It's nice to get a little bit more diversity as far as the age range and the experience level. It feels more like an actual community in a town other than a college theater cast," Geffken said.
One alum is back to star as Marian Paroo. Now working in New York in Off-Broadway, Maria Reginaldi graduated from Liberty in 2018. Reginaldi described feeling honored to return to Liberty University and play a starring role in the musical.
"In another life, I feel like I would probably be this character," Reginaldi said.
When describing her character, Reginaldi said that Marian is a very organized, structured and skeptical character. Paroo does not easily trust, and she is not open to change. Reginaldi encourages people to come see the show to see how Paroo reacts to change and Hill.
"I'm normally cast as someone who is a little maybe a little strait-laced, knows what they want, kind of focused, but then kind of lets loose because life teaches them that they can," Reginaldi said.
Reginaldi also spoke about her time on Off-Broadway.
"I think coming as prepared as possible because in those settings, when I don't (know) the directors as well and I don't know my fellow actors, I come in anticipating everything. I think that's really shaped my work ethic," Reginaldi said.
She also thanks the Lord for this opportunity.
"My main goal is to make people happy and make audiences smile," Reginaldi said. "I truly am living my dreams."
"My favorite thing is working alongside the people and getting to know college students that I wasn't in school with and getting to work alongside Andy," Reginaldi said.
Aaron Hall, a senior theater major, plays Tommy Djilas, a teenage ruffian in the town. This is Hall's 15th and last show with Liberty.
"It's bittersweet. It's been a great time, and I loved my four years here, but it's also time to move forward," Hall said.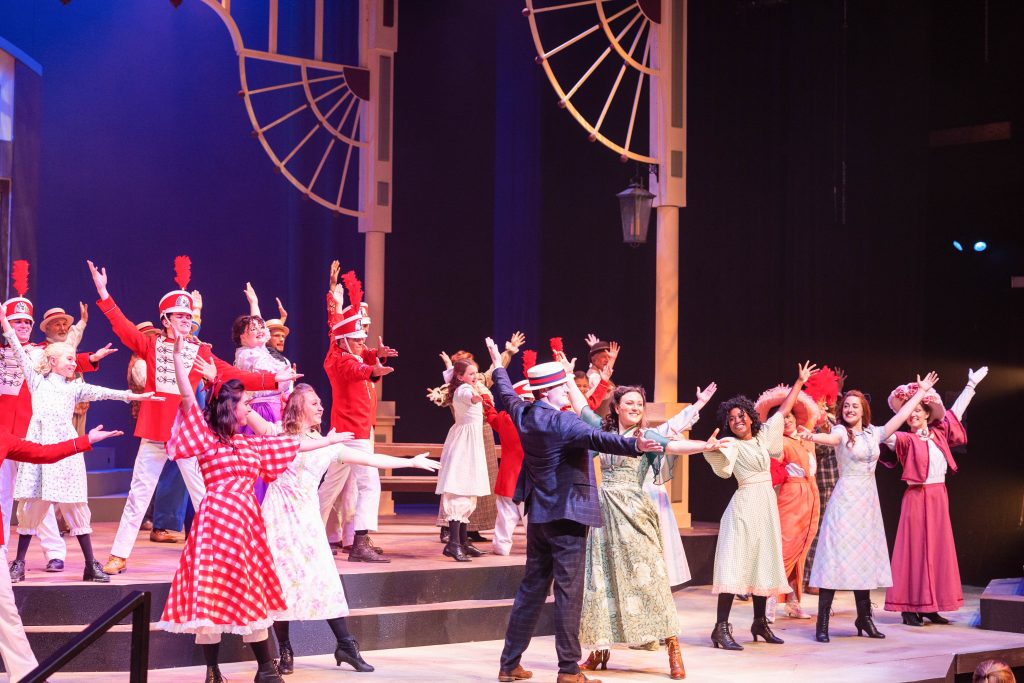 He described similarities between himself and his character. Strange enough, this role fits him well, and he considers the character as more similar to him than some of the other characters he has played.
"Oddly enough, this role is actually my age. Especially in college, we play a lot of older roles because we're all college students, but this is the most recent teenager I've been able to play who's supposed to be young and vibrant and loves to dance," Hall said. "He's more similar to me in a lot of ways than other characters who have been the polar opposites of myself."
Hall explained the themes of community, forgiveness and second chances found in "The Music Man." He encourages people of all ages to come see the show.
The Lynchburg Symphony Orchestra is also performing for the musical to enhance the show's production.
"The Music Man" is showing at the Tower Theater until May 7. For more information, visit their website.
Lunt is the digital media producer for the Liberty Champion. Follow her on Twitter