Ice, sweat, and tears: Liberty's Arctic 5k
Ice, sweat and tears — this was the name of the game for the Arctic 5k race that took place at the Hydaway Outdoor Center Feb. 4 at 9 a.m. 
Since its debut in 2012, local runners anticipate in the Arctic 5k, an annual event hosted by Liberty University's Campus Recreation.
The Arctic 5k race is no 3.1-mile walk in the park. Katy Ward, assistant director of outdoor adventure for Campus Recreation, said not only are the temperatures typically freezing, but there are natural obstacles along the way, including an intense incline during the first half.
"It's on the trail, so it's rocky and there's sticks all over the place," Ward said. "We clear it, we leaf blow it and we make sure that it's as safe as we can, but it's rocky. … There are trees that you have to go around, and with the steep incline on the way up, you have to come back, so it's steep down."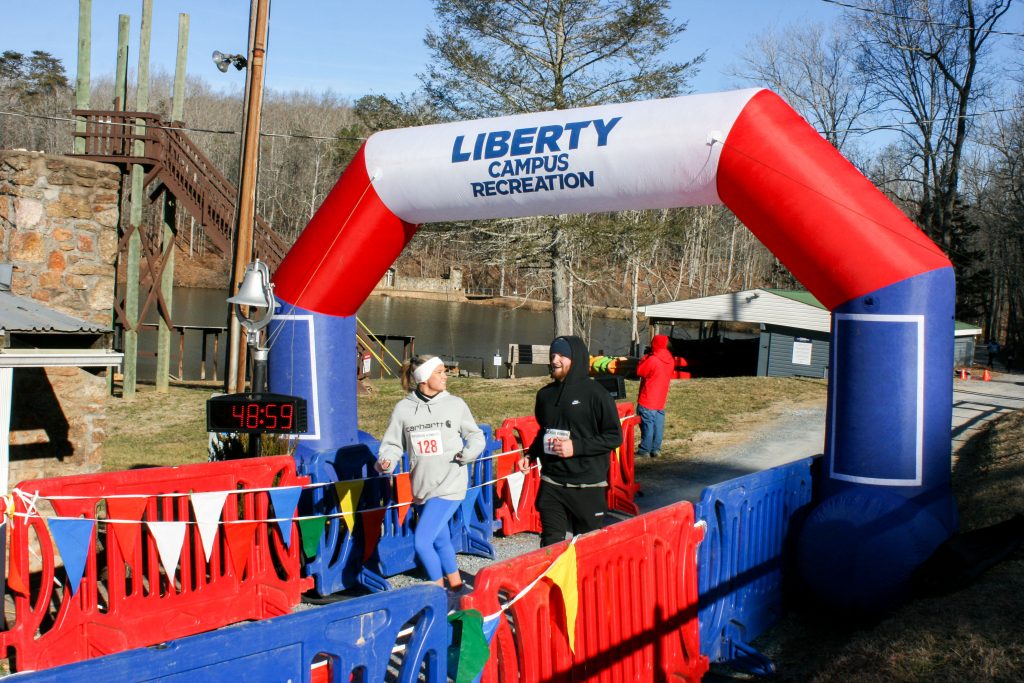 With the terrain's difficulty, Ward said the best part is seeing participants accept the challenge with excitement.
"I love the people," Ward said. "We have a lot of regular runners. I always make it a goal of mine to remember one new name (of) our regular runners. … It's fun to see them go and come back, and they say, 'I did it.'"
The race was divided into age groups, and medals were awarded to the top three finishers in each age group and plaques for those who finished top three overall. Even with the uphill battle, the first-place runner in the whole event finished the race in just 20 minutes.
Event staff member Chelsea Morgan said Arctic 5k race days are always something that she looks forward to each year.
"This is one of our coldest races, and race mornings are already tough because it's early, but you get up and you get to see the sunrise," Morgan said. "It's super pretty when it's super cold outside."
One runner in the race, Liberty freshman Zac Rada, said the Arctic 5k was filled with more adventure than he had anticipated.
"I really didn't know what I was getting into today, but I decided to run in the race today for my own personal health and to clear my head," Rada said. "I just felt like it was a good Saturday to run and be productive. It was a lot of fun to be surrounded by people who share my same goals and hobbies."
Liberty University's Campus Recreation has one more upcoming run this semester. The King of the Mountain — a single-path, 1-mile trail race — will take place March 4. The race will start at Snowflex, follow Falwell Road and finish at the very top of Snowflex.
For more information about Campus Recreation and its upcoming events and races, follow @LibertyCampusRec on Instagram or visit their website.
Lechner is the web & social media manager for the Liberty Champion. Follow her on Twitter