Overcoming mental illness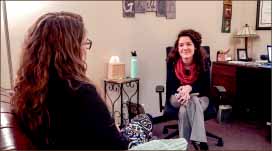 Student Counseling Services offers help to students with anxiety and depression
Many college students will feel down and afraid at some point during their time in college. New students are faced with leaving home and picking a major, while older students are preparing to finish their degree and enter the workforce.
Sometimes these feelings can escalate to forms of anxiety and depression. Students at Liberty University have access to mental health professionals if they are experiencing either of these feelings.
"The first step in alleviating anxiety and depression involves deciding to meet with a mental health professional to determine the extent of the problem," Steve Nielsen, clinical coordinator for Student Counseling Services, said.
According to Nielsen, students should not be embarrassed or hesitant about contacting a counselor. Student counselors are trained professionals who have dedicated their lives to helping students.
"It is important to remember that (these feelings) are often the result of being confronted with a problem for which we have no solution," Nielsen said. "Although we all have the tendency to reach out to friends at times like this, it is critical to seek out the help of clinicians who have the training and strategies for addressing the problem."
He said students can contact Student Counseling Services when they want to meet with a professional.
"The second step involves scheduling an intake session with a clinician," Nielsen said. "In that session, it is important to be honest and straightforward when describing the problems."
A lot of students tend to not seek help, in the hopes that they can fix their problems by themselves, but that rarely works.
"(Most everyone) experiences anxiety and depression as a part of our normal development," Nielsen said. "The symptoms associated with anxiety and depression often indicate the areas in which we need further growth. If you underrepresent your problems or find yourself unwilling or unable to describe them at length, your clinician will not be able to help you to create accurate strategies to relieve the anxiety and depression."
Students need to continue to go to the sessions even if they start to feel better, Nielsen said. Anxiety and depression may subside temporarily after telling the counselor, but they are not truly gone.
"Unfortunately, they find themselves anxious and depressed when they are again confronted with the unresolved problem. The next step is critical for overcoming theproblem," Nielsen said.
He said arranging additional sessions is critical in order to assess the problem in greater detail and establish some approaches for a treatment plan.
Nielsen said even if a student is not suffering from anxiety or depression, he or she may have a friend who is. It is important to realize when a friend needs help.
"As a friend or even as a concerned acquaintance, we want to ensure that the person feels our acceptance, warmth, support and care," Nielsen said.
Nielsen gave advice to students for when they see a friend in need of help.
"If the person is currently receiving counseling, then encourage him or her to continue to do so," Nielsen said. "If not, allow the person to describe the concern and gently encourage the individual to seek professional help. If the individual will not seek help, call Student Counseling Services or talk with your Resident Assistant. Turning the problem over to them will allow you to assume your most critical and productive role as part of that person's support network."
MCQUAGE is a news reporter.