Every semester nationally known speakers from across the professional spectrum speak to Liberty University students during Convocation, the world's largest weekly gathering of Christian students. Here are some of the highlights from the Fall 2013 semester.
Bobby Bowden (Sept. 13, 2013)
All-time winningest NCAA FBS coach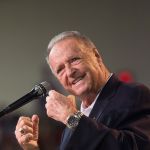 The legendary Florida State football coach shared how God has worked in his life, including the seeming providence of having received six coaching jobs without ever applying for any of them. He told the students to put God first in their lives and to let Him lead. "You don't know what is going to happen to you. But what I'm saying is if you put God first in your life … God will work miracles in your life if you let Him. (Because) God is alive."
John Piper (Sept. 16, 2013)
Pastor, Author, and Founder of desiringGod.org
Kicking off Liberty's biannual Global Focus Week, Piper emphasized the importance of being satisfied in Christ. He challenged students to embrace the opportunity to suffer for Jesus while focusing on their heavenly home rather than their earthly one. "Confidence in fullness of joy and pleasures forevermore in the presence of Jesus on the other side of this so-called dying is the root of a love that is willing to lay down its life for the sake of the nations," he said.
Willie Robertson (Sept. 27, 2013)
CEO of Duck Commander and Star of A&E's "Duck Dynasty"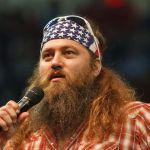 Before an enthusiastic, camouflage-clad audience, Robertson told the story of his father's salvation and how it paved the way for their family's rise to reality TV fame. He challenged the students not to let the world define success for them, explaining that his family emphasizes faith and values over fame, which they use as a platform to honor the Lord. Robertson encouraged students to make a difference: "A base like this (Liberty University) of young people can move mountains."
Pattie Mallette (Sept. 30, 2013)
Best-selling Author, Speaker, Producer, and Mother of Justin Bieber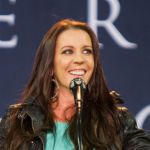 Sharing her powerful story of grace and redemption, Mallette told how God captured her heart with His love. Now an active humanitarian, she challenged students to take action rather than just talk about their good intentions. "If we are going to be the people who impact every corner of culture, we need to take that leap … we have to develop the attitude, like David, that says I will do whatever it takes to fight against oppression and injustice." She asked students to pray for her son.
Bethany Hamilton (Oct. 16, 2013)
Professional Surfer and Inspiration for the movie "Soul Surfer"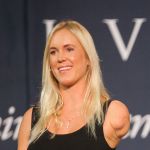 Hamilton shared her story of surviving a shark attack at age 13 and encouraged the crowd to overcome obstacles through Christ's strength. "As I grew up with one arm and relearned how to surf, God taught me that He can take the hard times that I went through and turn them into something beautiful," she said. "I think that He can do that for each and every one of you. He can take what you have been through and use it for good if you are willing to share what He has done for you."
Rand Paul (Oct. 28, 2013)
U.S. Senator (R-Ky.)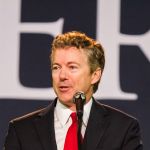 Paul called for revival in America, warning that without proper accountability the federal government could lose its way. "I believe that America is in a full-blown spiritual crisis. … America has much greatness left in her if we believe in ourselves, believe in our founding documents, believe that our rights come from our Creator, believe in an economic system that has made us the richest and the most humanitarian nation ever. But we must realize that freedom needs virtue. What America needs is not another politician. What America needs is a revival."
Dave Ramsey (Oct. 30, 2013)
Financial Expert, Author, Radio Personality, and Founder of The Lampo Group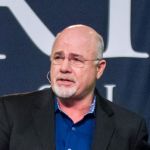 Ramsey reminded students that "money is not the root of all evil," but rather "the love of money" is the root of evil, and therefore, the free market poses a unique opportunity to honor God with hard work, and through earned income, widespread generosity. He said people should adopt a spirit of gratitude and use their wealth wisely. This includes getting out of debt and staying out of debt. Just as importantly Ramsey emphasized generosity, saying those with more should give more since everything they have is from the Lord. "My reaction, my gratitude, the way I say 'Thank you' is with the passion and with the excellence in which I handle all that (God) has given me to manage," Ramsey said. "When I am excellent and I am faithful with the little things, He gives me more to manage."
Capt. Gerald Coffee (Nov. 16, 2013)
Decorated U.S. Navy Pilot and Former POW
As part of Liberty's Military Emphasis Week, Capt. Coffee told students how faith helped him endure his seven-year imprisonment at the communist prison in Hanoi, Vietnam. "Those seven years taught me that we cannot conduct our businesses, or defend our country, or educate our youth, or make our country a success in a spiritual vacuum," he said. "God equals strength. That's the last line of defense I found that works and can work for any of us."
Sarah Palin (Dec. 4, 2013)
Former Alaska Governor and Best-selling Author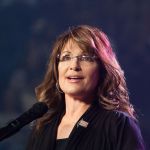 In a talk show-style interview with President Jerry Falwell, Jr. and Senior Vice President for Communications Johnnie Moore, Palin answered questions about her life, faith, and career. Palin took time to interact with students as she signed copies of her best-selling book, "Good Tidings and Great Joy: Protecting the Heart of Christmas." She commended Liberty for its commitment to traditional values and encouraged students to keep making a difference, telling them they are the future leaders of this country. Palin said protecting the true meaning of Christmas is important in restoring America's principles. "My book is about protecting the heart of Christmas, which is really about protecting the heart of America," she said.
"Because the message of Christmas is the message of hope and change, not the stuff you hear coming out of Washington. … It's the Judeo-Christian faith that provided all the foundation in our charters of liberty, our Constitution, our Declaration of Independence. It was a faith–filled people who understood how blessed our land was and the opportunities we have, our wonderful work ethic, all the things that have made America so exceptional."
Spring 2014 Convocation Schedule
Services are aired on the Liberty Channel and past Convocations can be viewed on www.Liberty.edu/Streaming and Liberty's YouTube channel.
This schedule is tentative and subject to change. Visit www.Liberty.edu/Convo for the most up-to-date schedule.
1/15: Jerry Falwell Library Grand Opening
1/17: Alternative Convocations*
1/20: Mark Burnett and Roma Downey – Television Innovators, Producers of "The Son of God"
1/22: Miles McPherson (Spiritual Emphasis Week) – Pastor, The Rock Church
1/24: Miles McPherson (Spiritual Emphasis Week) – Pastor, The Rock Church
1/27: Gail McWilliams – Visually Impaired Pro-Life Activist and Inspirational Speaker
1/29: Ed Hindson – Distinguished Professor and Dean, Liberty University School of Religion
1/31: Brad Lomenick – Leader, Catalyst movement; Lecturer on Leadership
2/3: Christine Caine – Author, Speaker, and Founder of A21 Campaign
2/5: Josh McDowell – Apologist and Author
2/7: Alternative Convocations*
2/10: Samuel Thomas (Global Focus Week) – Alumnus and President of Hopegivers International
2/12: Dr. Ronnie Floyd (Global Focus Week) – Pastor, Cross Church
2/14: J.D. Greear (Global Focus Week) – Pastor, Summit Church and Author
2/17: Margaret Feinberg – Best-selling Christian Author, Speaker
2/19: TBA
2/21: Clayton King (College For A Weekend) – President, Crossroads Worldwide
2/24: Irving Roth – Holocaust Survivor
2/26: Karen Kingsbury – America's Top Author of Christian Fiction
2/28: Alternative Convocations*
3/3: Darrell Bock – Distinguished Theologian and Author, Dallas Theological Seminary
3/5: Mike Reagan – Radio Personality, son of President Ronald Reagan
3/7: Prayer and Praise
3/17: Alternative Convocations*
3/19: Steven Furtick – Pastor, Elevation Church and Best-selling Author
3/21: TBA
3/24: Sheila Walsh – Speaker, Best-selling Author
3/26: Kyle Idleman – Teaching Pastor, Southeast Christian Church and Best-selling Author
3/28: Alternative Convocations*
3/31: Kevin Leman – Psychologist, Best-selling Author
4/2: TBA
4/4: Bob Goff – Lawyer, Humanitarian, Author of "Love Does"
4/7: Russell Moore – President, Ethics and Religious Liberty Commission of the Southern Baptist Convention
4/11: Clayton King (College For A Weekend) – President, Crossroads Worldwide
4/14: Todd Mullins – Pastor, Christ Fellowship and Alumnus
4/16: Michele Bachmann – U.S. Representative, Minnesota
4/18: Jon Acuff – Speaker, Consultant, Author
4/23: Alternative Convocations*
4/25: Glenn Beck, One of America's Best Known Media Personalities, Author, Radio, and Television Host
4/28: Prayer and Praise
*Schools within the university will host their own Convocations