Students gather for annual tree-lighting ceremony
Gathering on the Academic Lawn with festive drinks and treats in hand, Liberty students and community members stood side by side, their attention directed toward the Main Campus Christmas tree. Voices echoed throughout the air as a countdown began from 10. Suddenly, the campus was illuminated in the soft glow of Christmas lights.
To mark the start of the holiday season Nov. 13, Student Activities held Christmas in Lights: its annual Christmas-themed event geared toward giving students and the community the opportunity to come together for a night filled with holiday activities, song, fellowship and the first lighting of decorations around campus.
"One of the things that does go hand-in-hand with being a Christian is Christmas — it's a very personal holiday," Student Activities Director Cort Comfort said. "The idea that we spend 32 out of 52 weeks together, but only two of them are really at Christmastime, makes it that much more important that we take those two weeks and we really make it a big deal."
Throughout the night, students and families had the opportunity to listen to a brass quartet and sing Christmas carols while indulging in free hot cocoa and fresh cookies. A full nativity scene with live animals including a camel, sheep and goats was present for students to pet and interact with the animals. A Santa Claus paraded around the lawn handing out free candy canes.
However, each of these details led up to the main event of the evening: the Christmas tree lighting. 
The moment the tree lit up, so did all of the other decorations across campus, illuminating every sidewalk and building in twinkling golden lights and the shimmer of deep reds and greens.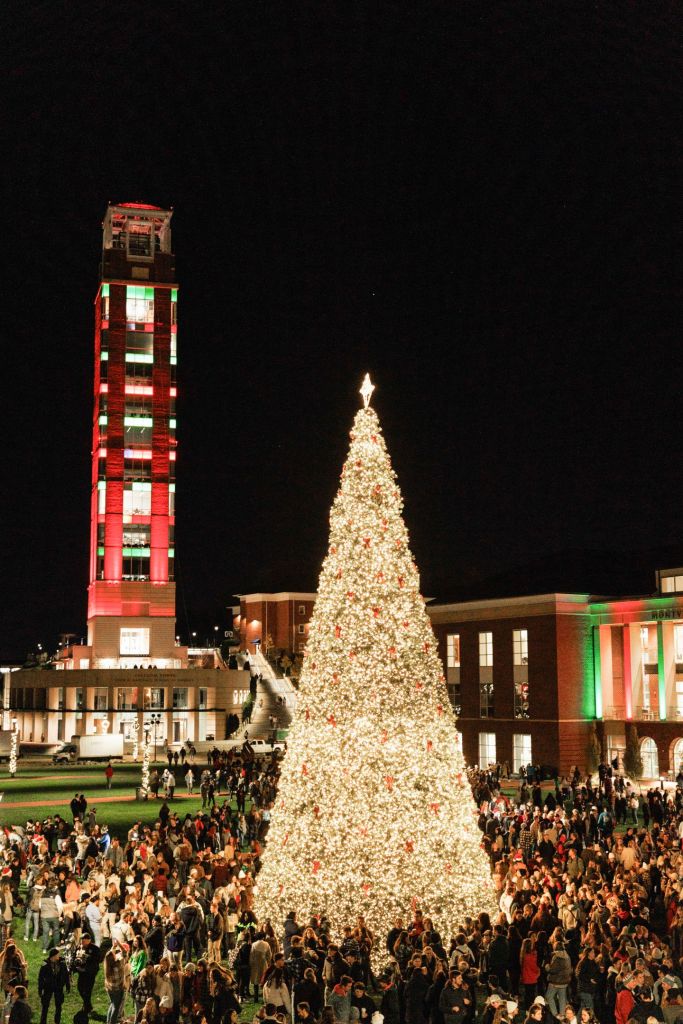 "Every year it's the same tree, the same wreaths, the same decorations that come out of the box for two months out of the year. But, as a staff member and as someone who's called this campus home for a long time, I genuinely do fall in love with Liberty a little bit more when I see it lit up in Christmas lights, and I think that other people do too," Comfort said.
Moving forward and for every night until winter break, the festive lights campus-wide will be turned on for students to enjoy. Additionally, campus speakers will continuously play Christmas music in place of their regular worship soundtrack.
"I love the Christmas decorations because they remind me of home, actually," senior Claire Sweeney said. "My parents always decorate for Christmas, and so does the town I live in. The decorations are just so pretty to look at."
Student Activities is hosting many other holiday events throughout the rest of the semester, including the annual Christmas Coffeehouse Dec. 2. To find more information on these, visit this website or check out its Instagram. 
"In the end, the Christmas tree is a symbol," Comfort said. "It's a symbol of a place to gather and a place to be merry. It's a reminder, to me, of why we celebrate this time of year. I think that there are many memories that students will hold dear to their hearts moving forward from college, and I hope that counting down to light a Christmas tree will be one of them."
Hess is the news editor for the Liberty Champion