Students learn the importance of AI and gifts

Dave Stone, a former pastor, and Gabe Lyons, a Liberty University alumni and the founder and president of THINQ Media, spoke at Convocation last week.
Liberty's Jazz Ensemble, along with the Worship Collective, performed during the Sept. 20 Convocation before Stone spoke on how Christians are to love others.
"Every person that Jesus came in contact with, he honored, loved, gave that person value and made them feel special, Stone said.
The three points that Stone talked about were making a touch, giving a gift and introducing others to Jesus.
"The challenge for us is to stop looking inward but look upward and outward," Stone said.
While discussing giving gifts, Stone told a story about how God called him to give $100 to a stranger in a diner. Although he did not realize it at the time, the woman did not have any money and was far from home.
After telling the story, Stone taped 15 $100 bills next to the stage and encouraged students to only take one if they were in desperate need.
Stone closed with, "Liberty students, what if you lived and loved as if everyone mattered?" 
Before dismissing the students, Josh Rutledge encouraged those students who needed the money Stone gifted to speak and pray with a Liberty Shepherd after receiving the gift. Rutledge added a $10 bill he had to the money that Stone gave. He also encouraged those who did not need the money but felt called to give to come up and give.
On Sept. 22, during College for a Weekend, Tauren Wells, a contemporary Christian music artist, sang his song "Famous For (I Believe)" to open Convocation.
Wells performed in concert later in the night in the Vines Center, where students and CFAW visitors were able to return for a time of upbeat worship. His opening performance at Convocation was viewed as a preview into the night.
After worship, Jonathan Falwell introduced Lyons and announced that Liberty specifically asked Lyons to discuss artificial intelligence.
Lyons spoke about AI and compared it to having a relationship. He talked about defining the relationship between humans and AI, getting to know each other, understanding expectations, evaluating progress and making decisions surrounding the future, including evaluating whether or not AI has made a positive or negative impact personally.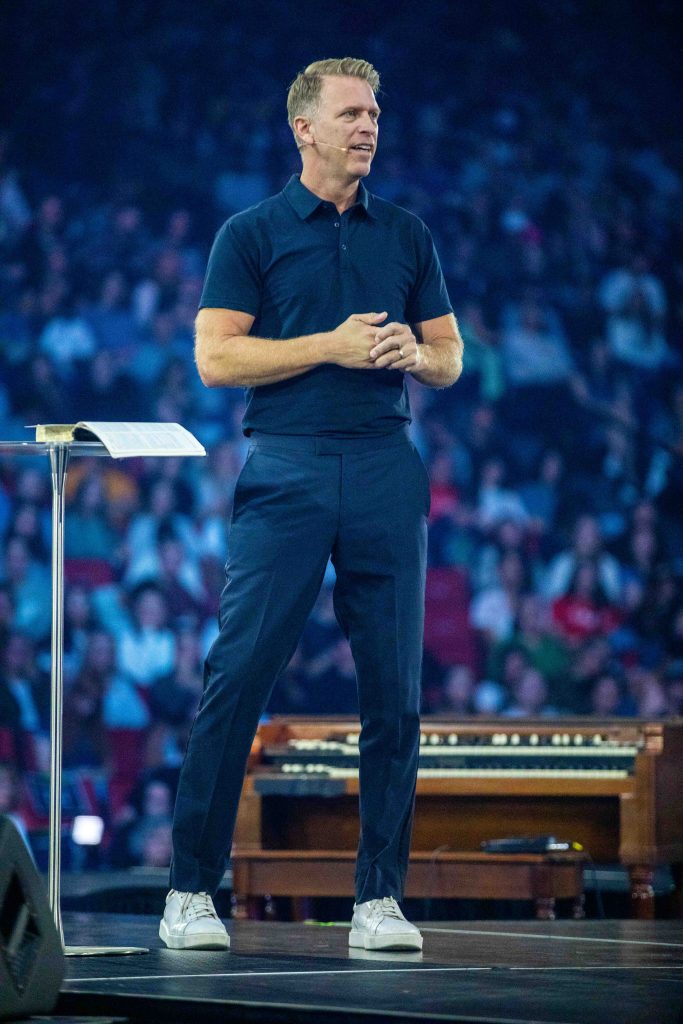 "Technology is going to keep telling you the world is about you," Lyons said.
Lyons compared AI to the Tower of Babel in Genesis 11 to demonstrate the harms of new technology and how people created it to lift themselves up.
Lyons discussed how the point of AI is to rely on it and not the human brain. He described a study that showed how using a GPS shrinks the user's hippocampus, which is a part of the brain responsible for long-term memory and memory retrieval.
"I realized how important thinking for yourself is and how that really benefits you in the long run," Veronica Burns, a sophomore, said.
Lyons also discussed his organization, THINQ Media. THINQ is an acronym that stands for theology, history, inquiry, nuance and questions. The goal of the organization is to equip Christians with a way to approach thinking thoroughly about any issue.
Instead of relying on AI, "We must continue to rely on the Scriptures, which will stand the test of time," Lyons said.
Twitchell is a news reporter for the Liberty Champion