Liberty FACS student Caleb Hibbs wins opportunity to go to New York Fashion Week

New York Fashion Week is one of the biggest events in the fashion industry each year. Through Liberty University's Family and Consumer Sciences department (FACS) and the University of New York Fashion Week program, fashion student Caleb Hibbs could live out what had once been a daydream.
U of NYFW is a program where fashion students from universities around the country are invited to New York Fashion Week, held Sept. 7-13, to get a firsthand look at the upcoming trends for the season, meet industry professionals and experience what they might expect in their future careers. However, before Liberty fashion students can attend, they must go through a rigorous competition within the FACS department.
The competition, which was held last semester, consisted of three rounds where each student had to craft their own digital fashion line. Hibbs knew it was a close battle among his peers.
"It was between me and one other person at the end," Hibbs said. "But they wouldn't tell us when they were going to announce (who won)."
To Hibbs' surprise, during an all-fashion meeting initially designed to celebrate the graduating fashion students at the end of last semester, the FACS department announced the winner.
"They started listing off things about the person who won," Hibbs said. "After a little bit, I noticed that those things were about me, so it was a slow build up to realizing I won."
Throughout the competition, Hibbs studied clothing trends, created a trend analysis report, reached out to manufacturers for the cost of fabrics and analyzed different fashion shows to have a basic understanding of what he needed to know.
"I designed a line called 'Basics Gone Better'. It's a very lame name, I know, but the point of it is to show my style and my progression as a designer and show that I can design things outside of what I would normally do."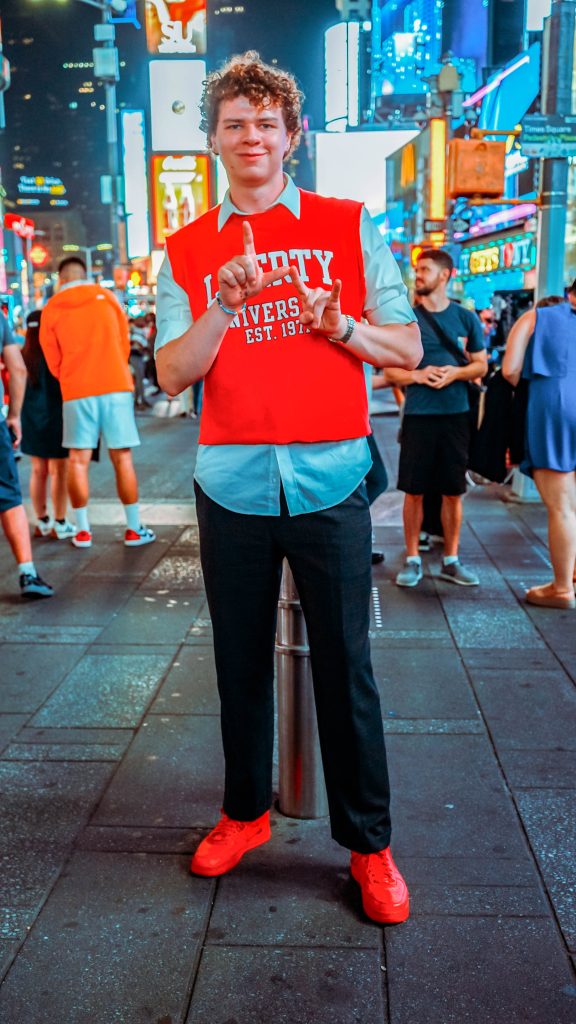 Hibbs designed the twelve pieces, three pieces for each of the four outfits, using a unique color palette of dark purple, burnt red, light brown and tan. Basics Gone Better stood out from the crowd due to the interchangeable pieces. According to Hibbs, depending on the combination of components, one could wear something almost street-like or classy.
Considering the dates and times of fashion week, Hibbs had many things to prepare before flying to New York. As a seasoned resident assistant in the Annex, Hibbs had to prepare his partner for the upcoming week alone and plan to be out of class. In addition to the academic side of things, Hibbs sewed his own outfit for fashion week.
"At fashion week, they wanted a photo shoot in Liberty merch," Hibbs said. "I love Liberty merch, but nothing fits within my aesthetic and what I love to wear, so I took one of my old Liberty pieces and I seam-ripped and sewed and reconstructed it into a piece I wanted to wear."
Hibbs also sewed a pair of his denim trousers alongside the reconstructed Liberty attire.
While in New York, Hibbs' schedule was packed with experiences and opportunities.
Upon arriving at the airport, an SUV came and picked Hibbs up and dropped him off at his all-expenses-paid hotel in Tribeca, New York. After unpacking, Hibbs attended a fancy dinner with the program's directors.
"I got to meet these people from all around the country," Hibbs said. "(A) majority of them (had) very different beliefs, very different ideas and … very different styles than I did, and it was so cool to learn with them and grow them."
Hibbs believes that Christians should experience an environment different from what they may be used to.
"You don't have to force yourself on (nonbelievers). You don't have to shove being a Christian in their face … you just want to be there … and care and learn and grow," Hibbs said.
The next day, Hibbs' group toured the apparel brand Champion's headquarters, where they interviewed a panel of workers. They also were allowed to take any garment and customize it from the store. Following that was the photoshoot done with New York Fashion Week.
"I felt very at home, like the bougie home that I always wanted and never had," Hibbs said.
Merritt is a feature reporter for the Liberty Champion