Flames goalkeeper Blake Franzen brings life of ministry to role with Liberty

There are 8,190 miles that separate the cleats of Liberty goalkeeper Blake Franzen and the city of Johannesburg, South Africa. Yet, the distance seen on a map could never block the connection between the soccer player and his hometown.
The bond uniting Franzen and the continent of Africa runs deeper than a dwelling. For the junior, his upbringing has revolved around a dedication to the African people for as long as he can remember. The commitment is something that stemmed from his parents, Rich and Michelle Franzen.
Rich and Michelle's passion for ministry blossomed in college. After being exposed to numerous mission organizations and traveling to many nations with hearts of service, the two began to feel God's calling in the nation of South Africa.
At the time, South Africa was a place of segregation — engulfed by Apartheid, a system of institutionalized racial segregation.
"(My parents) have seen South Africa both inside Apartheid and outside of it," Franzen said. "During their trips there, they really felt the calling and the need to do something for the community needs in terms of squatter camps, baby abandonment, high school dropout rate — all of the above. They really felt called to do a lot."
Through the stirring of their hearts came the genesis of Impact Africa, an organization with the mission to serve, educate and rescue individuals while provoking them toward a passionate relationship with Jesus Christ through socially relevant outlets of ministry service.
With this idea in mind, the Franzen family settled into Johannesburg in 2004, eager to bring their hopes of ministry to actuality.
As parents devoted to full-time ministry, getting the program off the ground was arduous at first. Years later, however, those humble beginnings are but a memory.
Six years after its founding, Impact Africa officially claimed its own building in Johannesburg in 2010. Now, approaching its 20th anniversary, the ministry has expanded from a mere idea to a program with five major branches — Impact Kids Preschool, The Impact Baby Rescue, Impact Mission Adventures, Impact Students and the Missions Experience Program.
"The only words that really describe the growth of the ministry is exponential," Franzen said. "It was years doing community development projects and stuff like that before we were able to really break ground and build our first preschool. And then we've grown with so many people around us that have helped develop the clinician's organization as well."
Through Impact Africa, countless lives have been touched and hearts have been reached. One of those hearts, however, happens to be Franzen's.
"It really had an incredible impact on me and my life … I mean, how could it not, being surrounded by constant mission work and mission-minded people as well as incredible people like my parents who will obey God's calling to move their family across the world," Franzen said. "But really, the most influential piece was honestly me finding my own faith."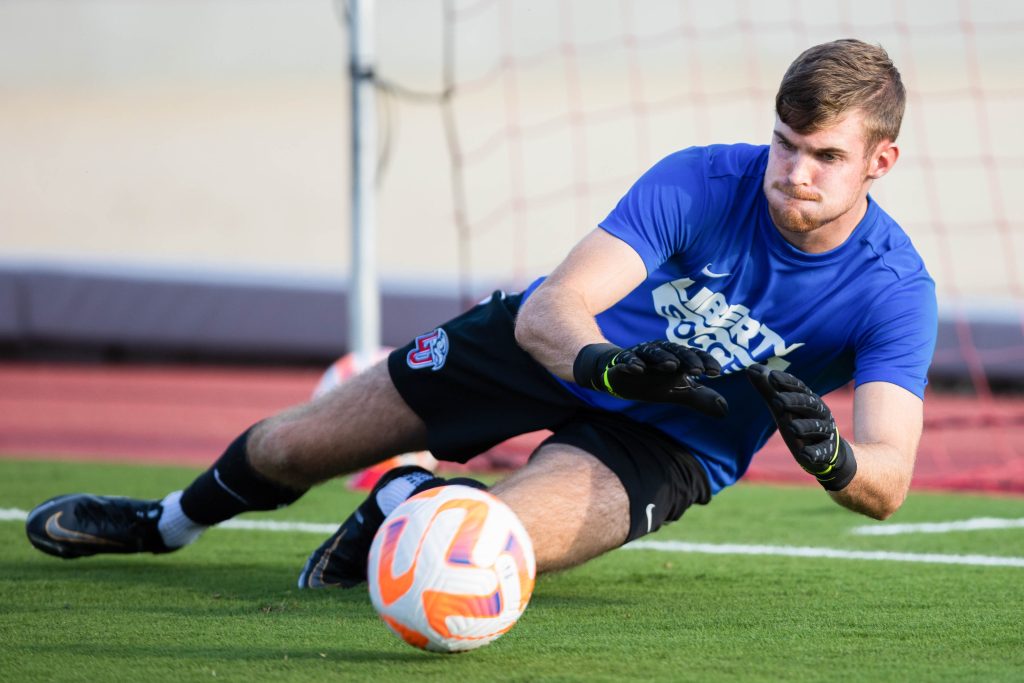 While Franzen may have grown up surrounded by faith-driven people, it wasn't until he vacated those surroundings that the passion for Christ became his own. When he was 17 years old, he left South Africa to play soccer at South Kent School in Connecticut.
"I was going from a mission field, being very sheltered, to being thrown in the wild," Franzen said. "There were just a lot of different influences, different guys, different characters that hold different beliefs and values than I do and (different from what) I grew up learning about. Moments like that really challenged my faith and where I stood in my values, how I grew closer to God and how much I would prioritize him as well."
The time at South Kent stretched the goalkeeper, with his faith ascending after leaving high school. What he didn't expect, however, was for that faith to take on a completely different form in the next phase of life.
Franzen arrived in Lynchburg in 2021 to play between the posts for the Liberty Flames. His first two years on the Mountain have seen him take his game to new heights, being named to the All-ASUN Freshman Team in 2021 and maintaining a 1.52 goals-against average to this point.
The opportunity to play soccer at the D1 level is the fulfillment of a dream for Franzen. What has stood out even more to the junior, however, is the newfound fashion of approaching the game he's always loved.
"Being able to come into an environment where they used a soccer ball to (do ministry) was absolutely incredible for me, because I've never bridged the two," Franzen said. "I've always been good at soccer and I've always been on a mission field, but I've never bridged the two … There's a new way of learning and a new way of sharing the gospel, which I love."
Franzen has taken part in multiple forms of ministry through Liberty soccer, whether through Flames Captain Luke Eberle's involvement in Samaritan's Feet, the team's recent mission trip to Colombia and other methods of outreach.
With two seasons remaining unwritten for the goalkeeper, it's difficult to remain those 8,190 miles from his mother, father and three sisters — one of whom was recently adopted through Impact Africa's baby rescue program. The path of faith, however, is the one that Franzen intends to follow in the years
to come.
"Wherever I'm feeling drawn to is most likely where I'll stay, whether that's America and trying to play pro soccer here or going pro in South Africa or completely dropping soccer and pursuing my major (exercise science) … I definitely trust the Lord to guide me through."
Cory is the sports editor for the Liberty Champion. Follow her on X