LU advertising team wins first place at national competition in St. Louis

With racing hearts and sweaty palms, a group of students that became a family await an announcement. Suddenly, there are cheers and tears. It's the moment they had prepared for, the moment the Liberty Advertising Team won first place.Liberty's Advertising Team competed in the American Advertising Federation's (AAF's) National Student Advertising Competition and won June 3.
"Our team this year was really special, because we all bonded really well, so it felt more like a family," team member Hannah Daniel said.
Over the course of the year leading up to the competition, the students were tasked with creating a fully integrated marketing campaign including a tagline, modified logo and a color palette. The team explained its decisions for the brand and what a campaign would look like in a presentation. The students created commercials and demonstrated how they would also infiltrate other areas of digital media and social media spaces.
"If you have a passion for advertising and marketing, there's just nothing that Liberty offers that can compare to this experience. It's very, very rare that in an academic setting, you get to work with an actual national brand, like Indeed, Tide or Adobe," Caitlyn Richard, advisor and adjunct professor, said.
For the 2023 year, teams represented the job search site, Indeed, and sought to answer the question, "How do we raise consideration in 18 to 24 year olds?" The students essentially brainstormed answers on how to get the Gen Z generation to begin using Indeed as a platform.
The 24-member team went to St. Louis, Missouri, on a Thursday and used that Friday as a day of "hustle." Using the information it had prepared beforehand, the team ran through its script, organized props and did a dress rehearsal to prepare.
Liberty's team outcompeted Texas State University, Chapman University, University of Missouri, University of Minnesota, Hawaii Pacific University, University of San Francisco and Brigham Young University.
The students utilized many networking opportunities with professionals throughout the competition experience, including connecting with recruiters, handing out resumes and doing some self-promotion.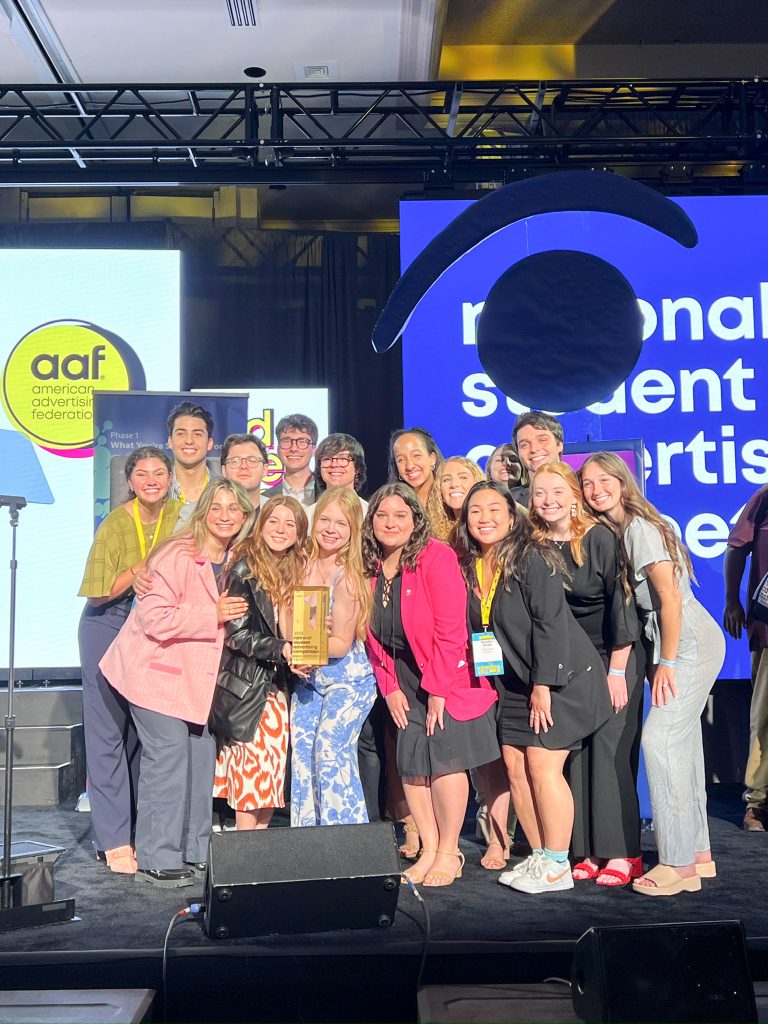 "We got to talk to a representative from (AAF ) and a representative from RPA, which is an advertising agency in Los Angeles. That opens up a ton of opportunities to get face to face with a recruiter from an agency that I would obviously otherwise have no contact with whatsoever," Emma Lane, an advertising team member, said. "It really forms a connection between you and actual people working in the industry. (The competition) gives you not only firsthand experience in building a campaign like this, but honestly, firsthand experience talking to these people that have already lived through the jobs and the positions that you want to have one day."
The Advertising team learned beyond what a regular classroom experience could provide.
"I got to use some of (what I learned) this summer (when) I worked at an ad agency. I was able to use what I learned through this experience going into the field and it gave me a leg up over other applicants to be able to say in an interview, I've touched a client brief, I know how to think like a brand thinks and I'm passionate about something like that. I wouldn't have been afforded that opportunity (without the competition)," Daniel said.
The Liberty Advertising team is set to compete again this year with a few new members and will represent Tide, the laundry detergent and fabric care company.
"If you want a Christian perspective on how to create a national advertising campaign with a team of advertising professionals, this is really the most incredible opportunity that Liberty offers," Richard said.
Hernandez is a feature reporter for the Liberty Champion.