How a perspective change brought Taylen Langin joy in her vaulting journey
Three generations of track athletes run through the veins of Liberty track star Taylen Langin. A senior season full of success saw Langin break the ASUN Conference all-time record of 13-7.25 on the outdoor women's pole vault with a jump of 13-9.25 on April 15. This effort contributed to the ASUN labeling Langin as Women's Field Athlete of the Week for the second time this year.
Though the senior has enjoyed much success in her career as a pole vaulter, it took a perspective change for her to once again find joy in jumping.
Langin's vault to the top began with her family. Her mom's side consisted of track stars and her granddad was an All-American decathlete.
"I just knew I wanted to do track because I'd done little meets when I was young and stuff," Langin said. "My mom decided to sign me up for a pole vault camp without telling me. I did it and was like, this is the coolest thing ever. It was so much fun. I loved it ever since I first tried it."
Taylen's talent in pole vaulting became apparent very early. During her freshman year of high school, Langin took homeschool courses. She was not allowed to compete for the local high school, so she joined the club track team and competed in D3 college meets, the only competitions available to her.
"I was actually placing in the top three in several of (the meets)," Langin said. "I was just doing well, and I didn't really realize I was that good until several of the coaches approached me as a freshman and were like, hey, you're really good. That's when I realized I could probably go to college for this and possibly even do D1."
Once she landed in Liberty's D1 program, Langin's success continued through her junior track season. She began to find, however, that the accolades she was earning at this level didn't carry the weight she had hoped.
"I actually PR'ed that (junior) indoor season, which I had been looking forward to for so long," Langin said. "I finally got it, and it was exciting, but it was almost just that temporary joy that you have like, oh that was it, that wasn't as exciting as I thought. I just kind of struggled throughout the rest of the season to be honest, just really trying to find joy in what I was doing."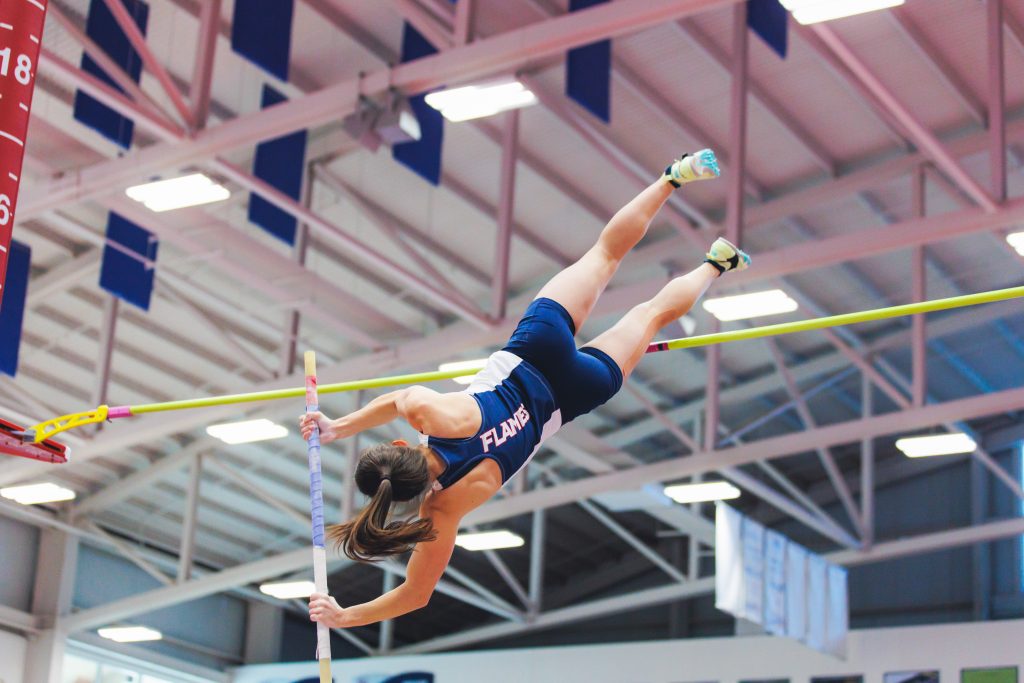 This season of struggle prompted a shift in perspective.
"I got (a perspective switch) of just being able to let the pressure off and just jump for God," Langin said. "Over time just really praying about it and inviting God into track. The reason I'm doing this is (God) giving me this talent."
Now, Langin's motivation comes from within. Despite struggling slightly in this year's indoor season, she found joy in the mere ability to compete. As the track season moved outdoors, Langin's jumping for joy resulted in the ASUN record and she continues to climb the national ranks.
"I'm not doing it for the success," Langin clarified. "It's given me an opportunity to be able to have people ask me questions. I can point it to what God's blessed me with, and he wanted me to have that success and he gave me the ability to do that to bring him glory. It's fun to make high bars, but I don't do it because of that. If God wants me to do that, I'm going to be able to enjoy the byproduct of the talents that he's given me and use it."
Barnes is a sports reporter for the Liberty Champion. Follow him on Twitter