New equipment allows FACS students to experience age through simulation

God calls his followers to take care of all people, including widows, orphans and the elderly. To increase empathy and awareness towards the needs of older generations, a team of professors, including Kevin Layell and Janet Brown from the FACS department, received the Illuminate grant from Liberty's Center for Teaching Excellence. The value of the grant is $3,500 and completely covers the costs for the project, which includes an aging simulator suit and goggles. 
The class titled "families under stress," which is taught by Brown, is just one of the FACS classes that utilizes the equipment. During the class lectures April 18 and 20, Brown explained how crucial it is for students to value the quality of life among the elderly. Older people face several stressors due to their age. The aging simulator suit shows students exactly what those stressors can feel like in an immersive way.
"When working with those from the aging population, you will want to be thinking about these (stressors) to ensure quality of life," Brown said.
To better illustrate the stressors the aging population may face, such as reduced vision, mobility and taste, Brown had all the students go into groups of three and sit at various stations. Each station had an instruction sheet detailing what activity the students needed to do. Within the students' groups, each student had a particular role of either being the caretaker, notetaker or elderly person.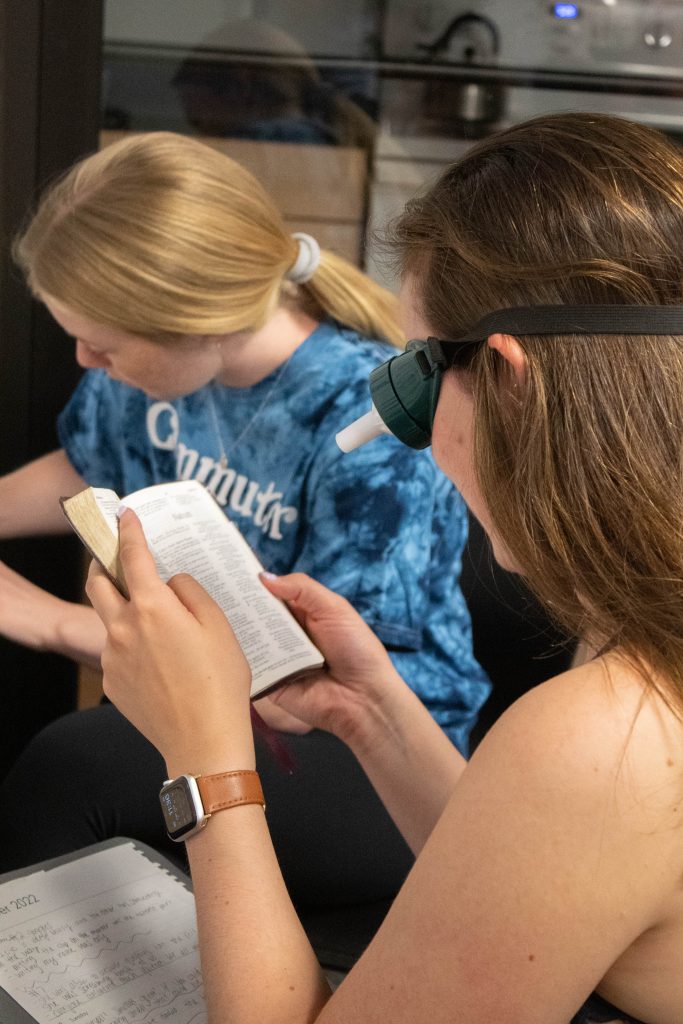 For instance, station eight had the students use goggles that would impair their vision as if they had cataracts in one eye, while station 10 had the students practice tasting various snacks as if they had decreased sense of taste. The students all had to work together to accomplish tasks and be kind to the designated elderly student as one would be considerate in real life towards someone older than them.
"I think that using the aging equipment helped me to gain a better understanding and appreciation for what older people experience," Alexa Stubblefield, an American Sign Language major, said.
From using goggles that impaired vision, to wearing a weighted, canvas suit that impaired mobility, to trying to listen with ear plugs in their ears, each of the stations around the classroom showed the students a realistic representation for what the aging population experiences daily.
"I feel like we're always going at our speed," Lorelle Phillips, an interdisciplinary major, said. "You have to imagine (experiencing) all these (stressors) at once."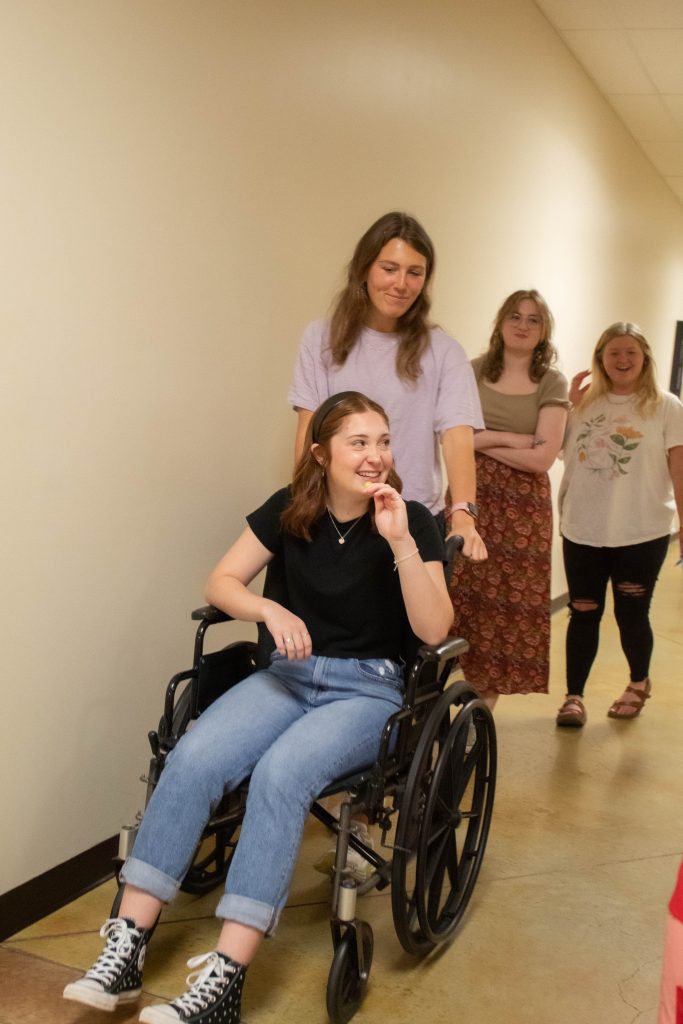 The activities were eye-opening to the students and influenced how they might perceive the struggles their older family members may have, which was Brown's goal for this exercise.
Charnay Sampson, a family and child development major, had to walk almost blindly down a hallway with special goggles that impaired her peripheral vision. The activity helped her realize how hard it can be for the elderly when driving and how some people must physically turn their head to see beside them.
Throughout the class, Brown explained that everyone is going to have a different need due to factors, such as older age or an injury like a broken arm. No matter who they are, it is vital to ensure everyone has a high quality of life.
"We're responsible to bear our own burdens, but we also want to lock arms and bear one another's burdens as Christ followers," Brown said.
Davis is a feature reporter for the Liberty Champion