"Shark Tank" style competition at Liberty offering $10,000 prize for first place winner

It is do-or-die for creatives and entrepreneurs on the well-known show "Shark Tank." Now, Liberty students will get to experience a similar thrill of the pitch in Liberty University's event called Create Fest by signing up no later than March 17. 
Create Fest was held for the first time last semester, but this is the first time this event will be open to all students. All students, no matter what their major, are encouraged to participate in this event. To compete, students must complete an entrepreneurship course. The event will offer a $10,000 cash prize.
Marc Jantomaso, professor of Liberty's Introduction to Engineering class, emphasized that they want students from all majors to come and participate.
"We'd like it to continue to expand and not just be engineering students or business students, but anyone across campus that has an idea. That's why this semester will be the first time it's open to anybody," Jantomaso said.
Many project groups are looking for people in different majors, such as ministry and fashion, to look into new perspectives and receive new ideas.
Networking is essential when it comes to creating a successful product. Create Fest is looking for people working together and being creative.
"We have been created in the image of the Creator to create," Jantomaso said. "Every human being is creative, even if you think you're not creative."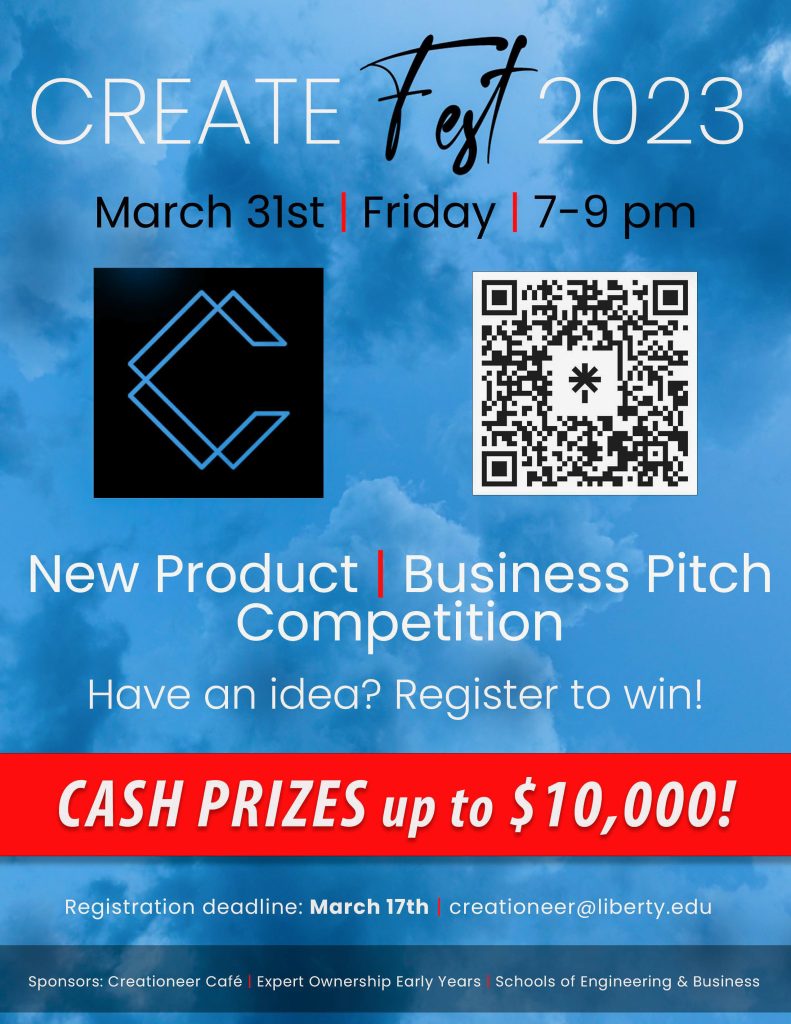 The School of Engineering plans to have a "Creationeer Café." Students can meet once a week in the café. Students will receive a student coach and a business coach to help them process and grow ideas.The café plans to have a whiteboard where students can sketch an idea and get it 3D printed in the lab next door, all within an hour.
A week prior to Create Fest, there will be a preliminary event, displaying all project ideas on posters in the atrium of the School of Business. Jantomaso expects to have between 35 and 50 posters. Judges will decide which project ideas will move on to Create Fest.
Create Fest will be held on March 31 from 7-9 p.m. in the Towns Auditorium in the School of Business. Jantomaso believes there to be between five and seven pitches, and it will be similar to "Shark Tank."
Two Liberty students, Sydney Bearinger and Sophia Batchelor, are working on a Create Fest project called "ShoEZ." Their idea is a shoe for those with disabilities or limited flexibility that snaps onto their foot.
"It was really cool to have this idea, and now we actually have the opportunity to possibly make it happen and help a lot of people," Batchelor said.
If  Create Fest is something you may be interested in, scan the QR code on the posters around campus or visit their page.
Giroux is a news reporter for the Liberty Champion