Lady Flames overtake Owls, advance to ASUN tournament semifinal

One heartbeat. That's the self-given motto of the Lady Flames basketball team, and never has a team looked so together, so in unison, as this Flames unit did in its win over Kennesaw State in the quarter finals of the ASUN Championship.
"It's a real close team," Head Coach Carey Green said postgame. "I don't know if I've had a team that's as close as this group, and they've grown to be that way."
In most sports, team chemistry can be traced back to a certain statistic — the assist. To assist your teammate is to set them up to score via a pass, and to do so requires an ability to understand your teammates and to have chemistry with them. The more assists you have as a player or as a team, the more chemistry, the tighter your team is to each other.
The Flames average 15.3 assists per game, a good total. In their win over the Owls, the Flames had 26 assists. That is the most assists this team has had in a game since December 2020, when the team matched that total. The key contributor to that total was redshirt junior point guard Kennedi Williams.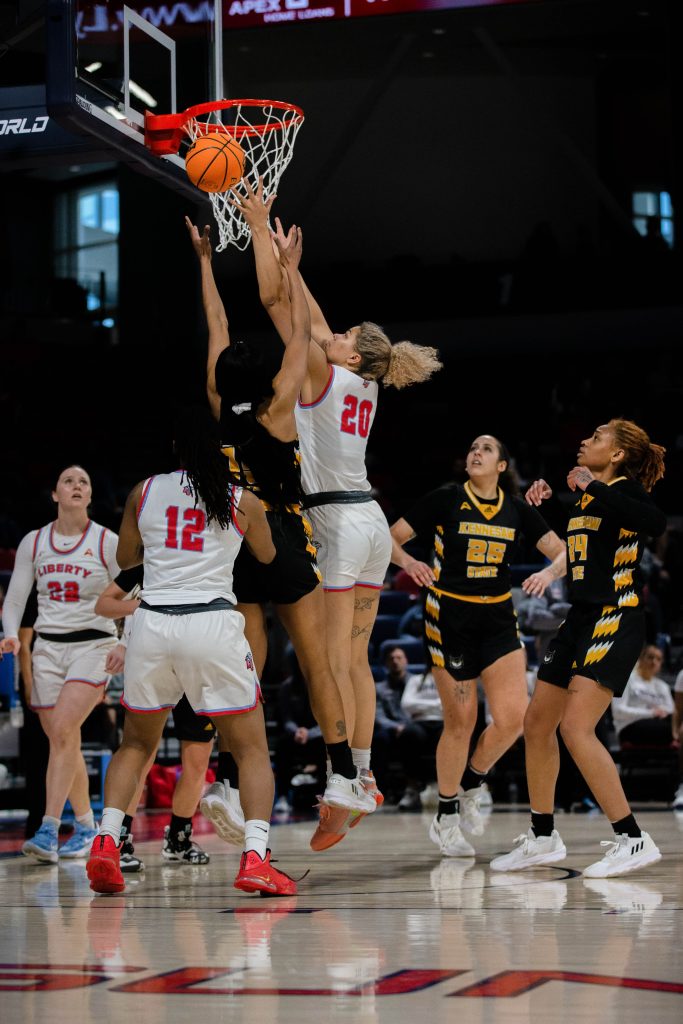 "This team just runs the offense and takes what is given to them," Green said, "The ball movement is critical to that. When the ball movement is really good and the players' movement is really good, then those are two pretty good combinations. So, my hat goes off to my two point guards, who had 14 assists (combined)… and (Williams) especially with nine (assists) and just one (turnover)."
To turn a pass into an assist, the player catching said pass has to put the ball in the basket. It seems like a simple enough concept, but to do it at the level the Flames did against the Owls brings an old saying to the forefront of one's mind: "teamwork makes the dream work."
And the Flames certainly had a dream-like performance Sunday night. They defeated the Owls 91-70, and the lead could've been much larger if the Flames hadn't let off the gas a bit in the final minutes of the contest. To score 91 points, which is the most they've scored in a game all season, is an incredible accomplishment for the Flames, and to do so in postseason play is truly extraordinary.
"It's March Madness, and they call it madness for a reason," Green said. "It's either going to be sadness or gladness at the end of the day. And I just didn't expect or did not know how we were going to play. After our last game, we sort of struggled with our focus, but for them to come out and play like they did, it was exciting. They pumped me up."
The leading contributor to the Flames scoring successes was redshirt-senior guard Dee Brown, who put up 18 points, just one less than her career high of 19. Of her 18 points, 15 of them came from beyond the arc in a career best five made 3s for Brown.
"She is in there battling and fighting all the time," Green said. "She's not known for knocking down 3s, but she really sparked us early in the game with three 3s and then ended up with five. She was on fire."
Brown has scored at least 10 points in eight of her last 13 games, but she didn't take all the credit for her career night.
"Yeah, my dad (is) here, so I had to put on a show for him," Brown said. "But, yeah, I was just going hot, and my teammates kept feeding me. I wouldn't hit them without (my teammates). But, yeah, I had to put on a show for my dad."
Brown may have put up the most points, but she was far from the only Flame putting up numbers. Redshirt senior center Mya Berkman had a normal night for her, which would be an incredible night for most. She scored 14 points and gathered 11 rebounds as she claimed her 11th double-double of the season and her 18th of her career.
All of Berkman's points, save for her two free throws, came from the painted area under the basket. To be able to score in the paint requires a mental and physical toughness that Berkman most certainly possesses.
"I love it (when a team matches my physicality)," Berkman said. "I would rather play against someone bigger just because I can be physical back. I feel like when they're smaller, the refs are more noticing, I guess, on my physicality, and then I'm (more likely) to get some offensive fouls or something. But, yeah, I love being a physical. That's how I play."
The Flames' win over the Owls is just the first step in their championship journey, with two more wins standing between them and an NCAA Tournament berth.
"The most important game is the game we play next," Brown said. "So just focusing on all the key points for that team and just having a good practice from here on out (are the keys)."
The team they play next would be No. 3 Lipscomb, who the Flames defeated in their most recent matchup on Jan. 28 by a score of 65-56. Tip-off of that game will be Wednesday, March 8 at 7 p.m.
Palsgrove is the asst. sports editor for the Liberty Champion. Follow him on Twitter