Emily Kirby's transition from ace on the mound to mentor

In Fayetteville, Arkansas, roughly two years ago, a young Liberty softball pitcher named Emily Kirby shut out a lethal Razorback offense in 10 straight innings to lead the Flames to victory.
Today, Kirby's legacy of expertise and leadership, found in the pitching circle for years, continues as she takes on a voluntary coaching position with the program that built her career.
As a freshman, Kirby pitched in only seven games. Five years later, after earning two ASUN Pitcher of the Year awards and pitching 16 career shutouts, the former Flame retired from college ball as one of the best pitchers in Liberty softball program history.
However, in August of last year, Kirby decided her time on the Mountain was not quite finished, and she joined the coaching staff as a volunteer assistant coach, working closely with the pitchers.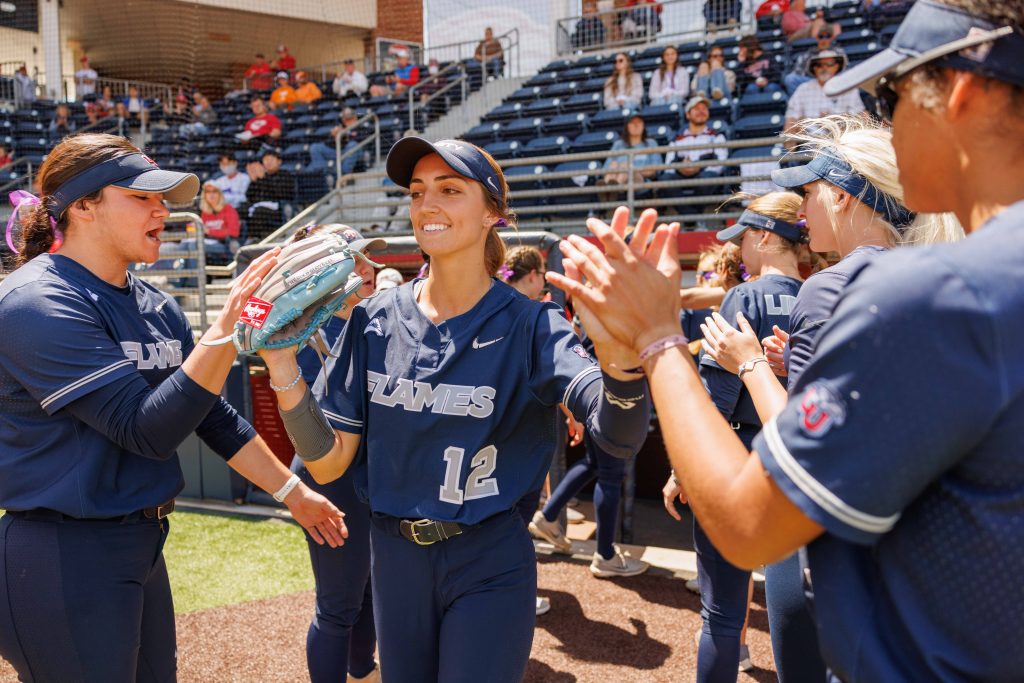 "I felt like my time at Liberty wasn't over," Kirby said. "I had a lot more left to pour into this team. It was as a player role, but now (I'm) on the other side of things. I wanted to give coaching a try as well."
Having seen Kirby's growth from wide-eyed freshman to solidified senior, Head Coach Dot Richardson knew the quality of character joining her staff.
"Kirby is an overcomer," Richardson said. "She is somebody who is able to realize where her gifts are and is willing to work hard to get them to that level of performance, whether it's as a coach or as a player … When you look at Kirby's career, she played very little (in the beginning) and so the perseverance that she has, the determination that she has, the grit that she has — that's why I say overcomer. She became one of the best and most effective pitchers."
Success was not instant for Kirby in her first two years at Liberty. Instead of scurrying to the transfer portal to escape to another team, however, Kirby exemplified what it means to "bet on yourself."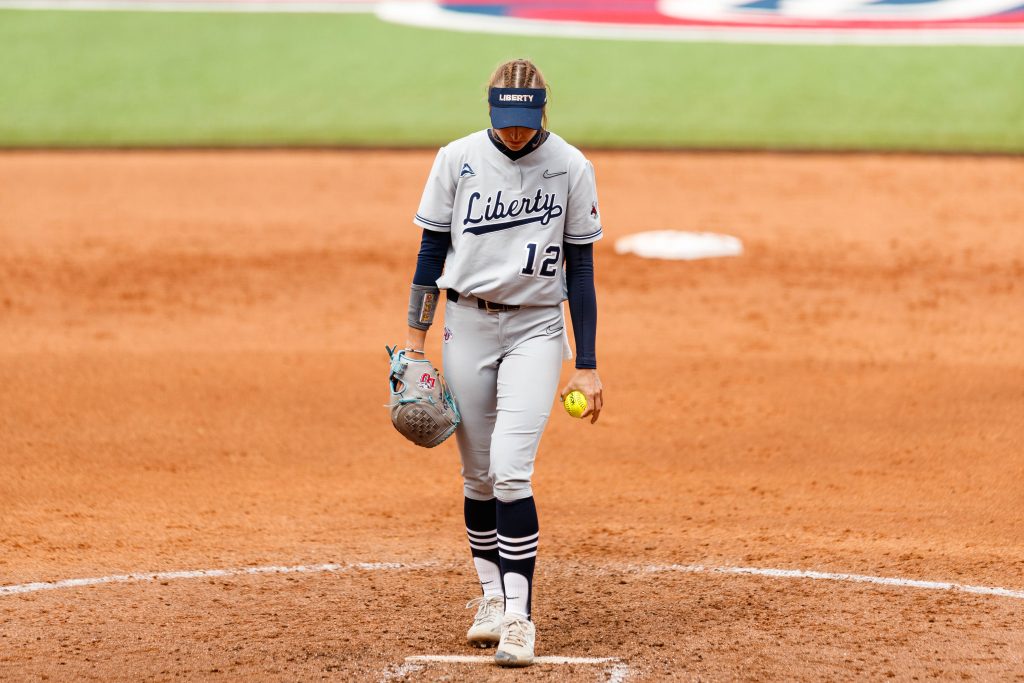 After an odd 2020 season due to COVID-19, the North Carolina native, in her third year of eligibility, took over. With 34 appearances (24 starts) and 12 complete games, Kirby posted a 15-5 record with nine shutouts and a 1.92 ERA. She pitched more than 138 innings in one season after only pitching 60 in the past three years combined.
These impressive numbers won her a plethora of awards, including ASUN Pitcher of the Year, ASUN All-Conference first team and VaSID All-State first team. Kirby's elite pitching was comparable to some of the country's best teams with wins against Duke, Georgia in the NCAA Tournament Regionals and — her most impressive performance — a 10-inning shut-out win against Arkansas. Leading the Flames to back-to-back NCAA tournaments berths, the young Kirby that stepped on campus as a freshman was long gone.
Now as an assistant coach, the North Carolina native has the unique opportunity to grow under Richardson's guidance and to invest in the next group of players. Kirby works closely with Assistant Coach Sami Fagan in the bullpen and helps to scout opponents with the rest of the coaching staff.
"I feel like her legacy was go hard or go home," senior infielder Devyn Howard said. "She brings that into her coaching methods as well. She wants all our pitchers to be lights out, to throw strikes only, and get ahead of the count early. With her being so meticulous about where she threw it and how hard she threw it; I feel like that has transitioned well into her coaching … Kirby will pick anybody up at any time. It doesn't matter if she's doing well or not, she will have your back no matter what, and that's what I love about her."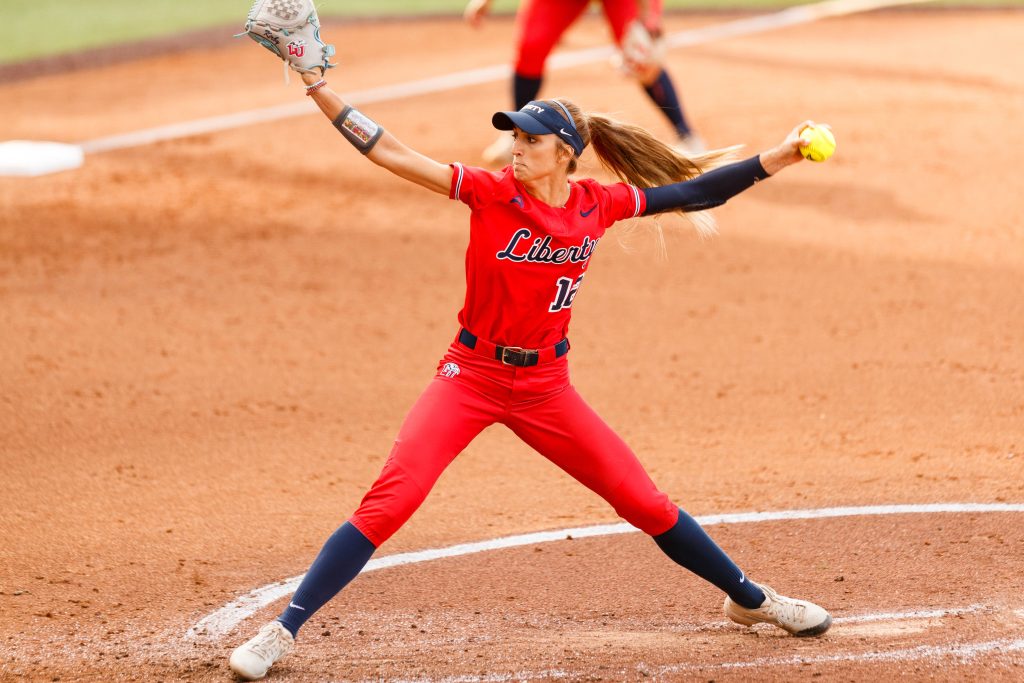 While Kirby's prowess as a softball pitcher and her deep understanding of the game surpass many at her age, they are only a few pieces to the entire puzzle. Kirby embodies selflessness, determination and a team-first mentality — attributes found in any successful program. The first-year assistant coach chose to stay at Liberty because of its culture that carries players like herself to success.
"(What makes this program special) is this team's bond and the relationships that the staff have with the girls and the players amongst players," Kirby said. "Something we strive for every day is to work together and not look at mistakes or try not to be selfish within the sport. Putting the team first has been our big thing."
"People need to hear about struggles," Richardson said. "They need to hear that life isn't easy. They need to hear that it takes some work and belief. Belief that God has a plan for you that's bigger than any plan you could possibly imagine. I'm sure there were lots of doubts, (but Kirby) was committed. I remember watching her and you just see this light bulb moment. There was fire in her eyes … When you have players like that, you don't want their careers to end."
For Richardson and the Liberty softball program, Kirby provides an interesting perspective. With her experience of overcoming adversity, she motivates current players to reach their potential. At the same time, she serves as a reminder to the coaching staff that their work at Liberty softball is truly producing "Champions for Christ."
Kirby graduates with her master's degree this May and will play her second season with a professional softball team, the Florida Vibe. She plans to stay at Liberty for the foreseeable future in her current role as an assistant coach.
Rivas is a sports reporter for the Liberty Champion. Follow him on Twitter