Demario Douglas shows off at 2023 NFL Combine

The typical job interview requires proper attire and a compelling display of one's talents. For some, this is a suit, tie and a resume. For Demario Douglas, however, it's gloves, cleats and spandex. 
Douglas was one of 319 college football players invited to the 2023 NFL Scouting Combine in Indianapolis, Indiana. The Combine is a week-long event during which players are tested physically and intellectually. These players are evaluated by coaches and scouts from all 32 NFL clubs, as well as the 16,000 fans in attendance.
The workouts are divided by position over the course of four days. Douglas worked out with the other wide receivers on Saturday. Quarterbacks and tight ends also did their drills throughout the day.
The 40-yard dash is one of the most notorious drills at the Combine. It tests the speed and explosion of a player in a 40-yard sprint. Douglas ran the 40 in 4.44 seconds, which tied Cincinnati's Tyler Scott and Maryland's Rakim Jarrett as the eighth-fastest time among wide receivers.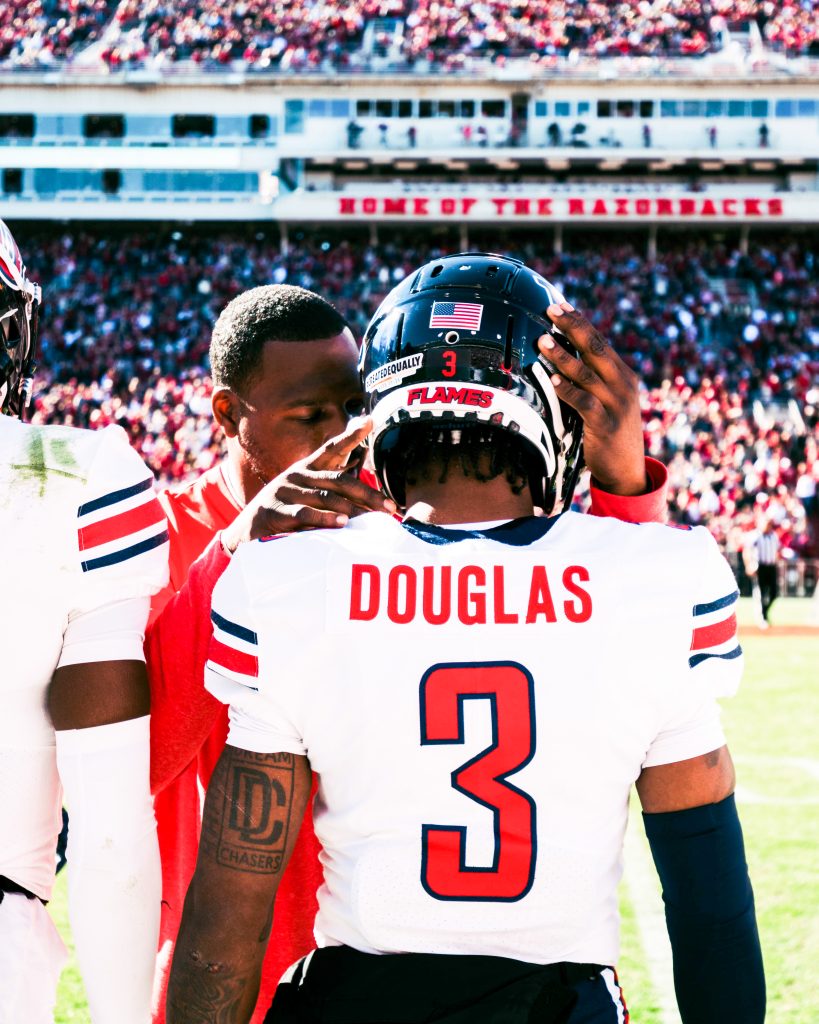 Douglas was tested in other measurables, such as the vertical jump, where he leaped 39.5 inches. This measurement tied other wideouts as the fifth highest jump. Douglas also had the second longest broad jump, which measured 11 feet and two inches, trailing Tennessee's Jalin Hyatt by one inch.
Douglas completed the 20-yard shuttle in 4.29 seconds and did not participate in the three-cone drill.
After the measurables were recorded, it was time to get their hands on the ball, as receivers filed through several pass catching drills. Douglas was successful on his first target, a 30-yard-over-the-shoulder pass ran at three quarter speed.
The next drill was the Gauntlet, where receivers are forced to catch seven passes while running across the field. Passes are thrown from alternate sides at five yards away from the receivers. Douglas was perfect in both runs through the Gauntlet, which is something not many who run the drill can boast.
Douglas would grab the next two throws in his direction: a 20-yard dart on a deep out route towards the sideline and a diving catch on a 15-yard drag route.
An overthrow from Kentucky quarterback Will Levis on another deep out was the first incompletion in Douglas' direction. He would also drop his next target on a five-yard pivot towards the sideline.
He would redeem himself, however, with two deep catches — the first from a deep corner route, and the second on a great adjustment to an underthrown go route, which garnered applause from the crowd.
Douglas would finish the day with a leaping grab on a goal-line fade drill, on which he turned and caught the ball from several feet in the air.
This year, players at the NFL Combine were tracked by NFL Next Gen Stats, which provides a nontraditional approach to evaluating players. The model ranked Douglas 17th best in athleticism amongst wideouts, 25th in production score and 32nd overall (out of 52 wide receivers in attendance).
Douglas performed better than many expected in his Combine workout. He will have another chance to wow NFL scouts at Liberty's Pro Day later this month in hopes of garnering enough attention to be drafted in the upcoming NFL Draft, which begins April 27.
Wheeler is a sports reporter for the Liberty Champion. Follow him on Twitter