Liberty's Zeta Tau prepares for book-themed events in the month of February
This year, Zeta Tau, Liberty's chapter of the International English Honor Society, welcomed 32 new members at its induction ceremony held on Jan. 31, more than doubling its number of inductees from last year. 
According to Carolyn Towles, the faculty sponsor for Zeta Tau, students must have completed three semesters, be either an English or writing minor or major, complete certain literature courses, hold a B or higher in every English course and have a cumulative GPA of 3.25 to become a member.
Students also get the opportunity to attend a number of conferences like the National Sigma Tau conference where they can earn scholarships and internships. Members can also have their work published in the Sigma Tau Rectangle, the Sigma Tau Delta Review and the Sigma Tau Delta Newsletter.
Through the English Honor Society, students can share their ideas with other students in the English and writing fields. They can also be a part of a community that both encourages and challenges them to pursue their best when it comes to the study of English.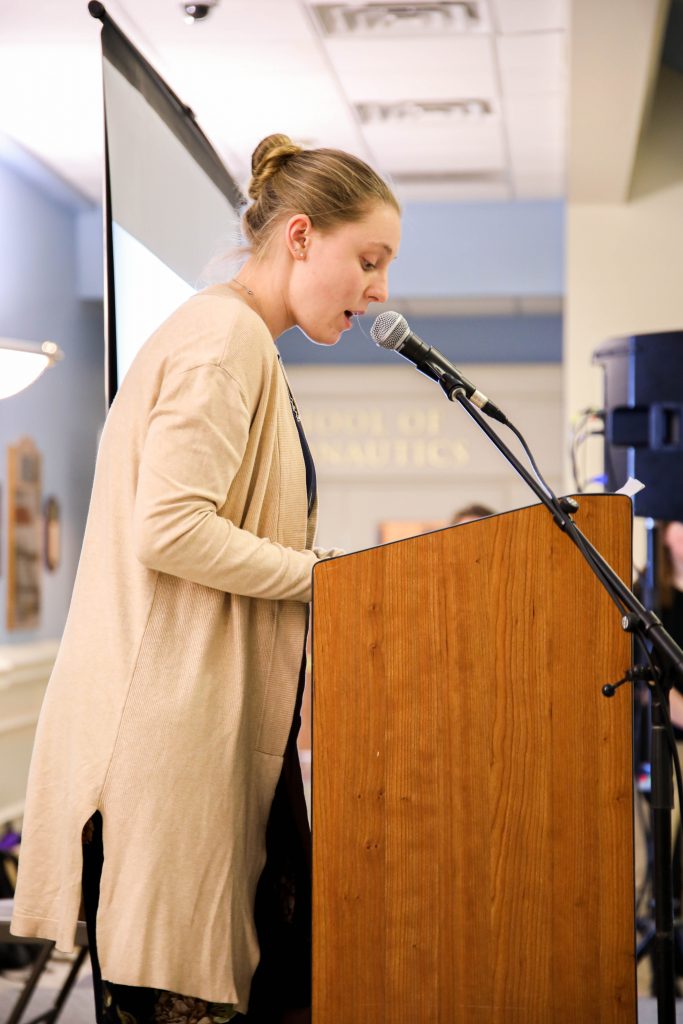 Zeta Tau hosts two events each month, including a fun meeting and an informative meeting. The chapter also presents students with service project opportunities every semester, such as participating in the Samaritan's Purse shoebox drive last November.
"For example, in February, our 'fun' event is a 'blind date with a book,'" Towles said. "The officers buy used books, wrap them and the members have an exchange, and then discuss the books that they received."
Zeta Tau's informative meetings center around preparing students for their respective fields. These meetings can discuss topics such as life after graduation, internships, graduate school opportunities and publishing opportunities.
Two brand new events are also being added to the English Honor Society this semester: a book study and a writing workshop. These events are designed for students to engage with friends and peers in a fun way.
Ever since she was a young girl, Lydia Moody, an officer for Zeta Tau, held a passion for literature. She believes in the power of stories and feels that Zeta Tau provides a diverse environment for members to share their experiences.
"Being a member of Zeta Tau means that I have a strong community of individuals who have a similar love and appreciation for writing and literature as I do," Moody said.
Zeta Tau has allowed Moody to grow alongside her peers, such as her friend Victoria Vest, who was recently inducted during the ceremony this past week.
Vest appreciates the honor society for the social aspect and the community-building it provides. She is excited to dig deeper into literature with people who share the same heart.
"Being a member of Zeta Tau reassures me that I have a place in this department, (and) I've earned my spot by my work ethic," Vest explained.
Vest feels excited to be in Zeta Tau because it represents a place where she can talk about literature with other people who share her love for books.
More information about the group can be found at their website.
Ferree is a feature reporter for the Liberty Champion