The Closing of the Transfer Portal: Wins and Woes

It has been a rollercoaster of change for the Liberty Flames football program, and, along with adding a new head coach, there's one thing in particular spearheading the transitions: the college football transfer portal. 
Since April 2021, players that chose to transfer to a new team were no longer required to sit out for a full season after moving. Responding to the chaos this caused, the NCAA Division I Council enacted new transfer window dates as of August 2022. In doing so, the college football transfer portal is now open for 45 days each winter, beginning Dec. 5 and closing Jan. 18.
It's not news to anyone that there is a new captain at the helm for Liberty football, and amid a coaching change, a fleet of transfers leaving the program is common. Unsurprisingly, the Flames lost five players to the portal on opening day — four of whom were from Liberty's record-setting defense.
The biggest loss was linebacker Ahmad Walker, who made the decision to join the SMU Mustangs. In two seasons, Walker accounted for exactly 100 tackles, with 63 of them coming this season. Walker was the third-leading tackler on the Flames while also totaling four sacks and one interception.
Flames defensive stars Chris Megginson and Robert "Rocket" Rahimi also decided to vacate Lynchburg, following Walker and joining former Liberty defensive coordinator Scott Symons at SMU. Megginson played four seasons at the cornerback position, totaling 98 tackles. Rahimi was a safety for two seasons, notching 56 tackles and five interceptions in 2022.
The Liberty defense also lost Dre Butler, a transfer from Auburn, who accrued 22 tackles last season. One final key loss for the Flames defense was linebacker Mike Smith Jr. In one season, Smith made 85 tackles, adding three forced fumbles and one interception.
Though the Liberty defense has suffered numerous losses, Head Coach Jamey Chadwell was able to bring in a few safeties from the transfer portal. Former South Carolina starter RJ Roderick will join the Flames after making 198 tackles and two interceptions while in Columbia. Louisiana safety Brandon Bishop adds further experience, making 63 career tackles thus far. Both players have one year of eligibility left.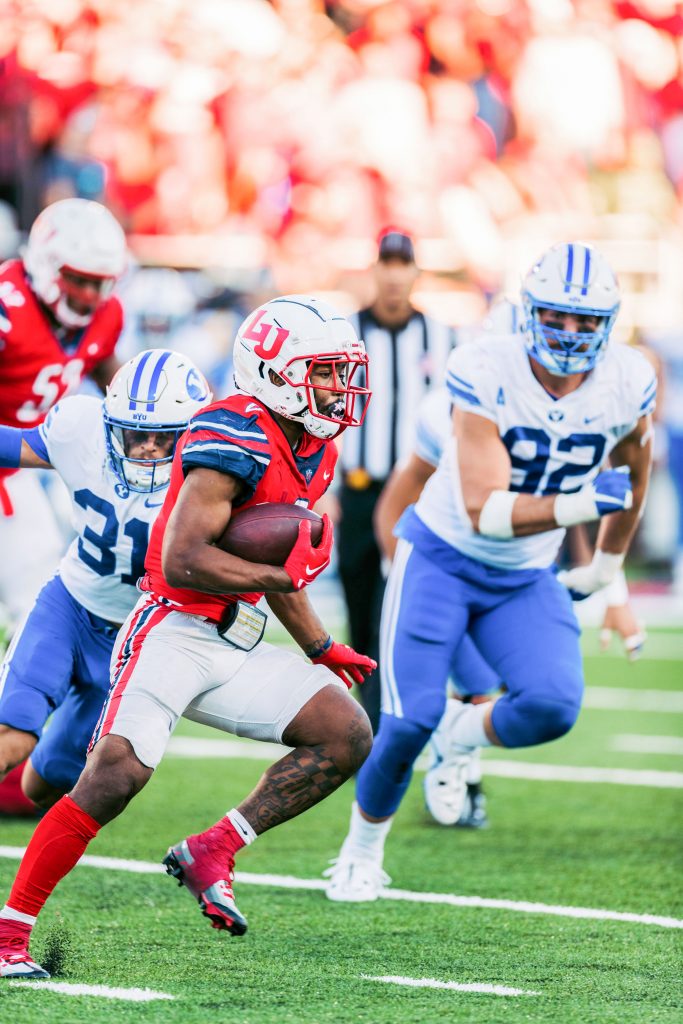 The Liberty offense also took heavy losses, though not as badly as the defense. Starting left guard for the Flames, Jacob Bodden, chose to enter the portal, alongside kicker Jason Stricker.
In addition, wide receiver Jaivian Lofton put his name into the portal. Lofton had 10 catches in 10 games for 102 yards and two touchdowns last season, including a spectacular one-handed grab against Old Dominion that made No. 1 on SportsCenter's top-10 plays.
Chadwell, known for his offensive mindset, added some key weapons through the transfer portal. These additions began with two running back commits coming from two of Liberty's 2022 opponents. Quinton Cooley left Wake Forest for Lynchburg after rushing for 215 yards and three touchdowns on 47 carries last season. The other back added is James Jointer Jr. out of Arkansas, who initially chose the Hogs over the likes of Florida State, Tennessee and Michigan. Now as a Flame, Jointer Jr. has four years of eligibility left, while Cooley has just two.
The Flames also brought in two players from West Virginia, claiming offensive lineman Jordan White and wide receiver Reese Smith. Another wide receiver, Errol Rogers from Louisiana, will join the offense, as well as former Southern Miss quarterback Trey Lowe.
Chadwell also convinced one of his former Coastal Carolina tight ends, Jacob Jenkins, to move to the Mountain. Jenkins has two seasons of eligibility left, and he has 11 receptions for 149 yards and five touchdowns in his career.
Three Flames that announced intentions to transfer retracted their names from the portal, choosing to stay at Liberty another season. Linebacker Jordan Norwood played in three games but was injured early last season. Defensive back Stephen Sings V was responsible for 13 tackles, three-and-a-half sacks and three pass break ups, and he announced his intentions to return.
The most notable name to withdraw from the portal, however, was running back Dae Dae Hunter. Before his injury during the win at Arkansas, Hunter ran for 850 yards and eight touchdowns in nine games. After previously transferring to Liberty from Hawaii, Liberty went 8-1 with Hunter's powerful running and lost every game after Hunter's injury.
There is potential for Chadwell and the Flames to make more additions as the transfer portal will open once again for 15 days from May 1-15.
Barnes is a sports reporter for the Liberty Champion. Follow him on Twitter