Liberty University Delta Mu Delta chapter trains best business students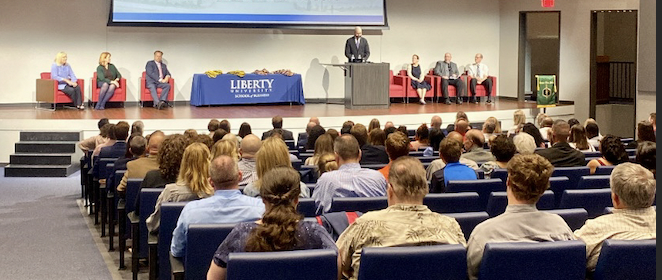 Calling all majors within the School of Business — the Delta Mu Delta Honor Society seeks to recognize and cultivate               excellence within the international business community. Students within the honors society have the opportunity to receive many benefits, including scholarship programs and lifetime recognition  in the workplace. 
Delta Mu Delta stands for "Dia Matheseos Dynamis,"which translates to "through knowledge, power"specifically, the power to achieve socioeconomic status. According to Liberty's Delta Mu Delta page, "knowledge is not selfish or self-seeking, and the true student will seek and obtain knowledge for the greater purpose of helping others through service and transmission of things learned."
Delta Mu Delta seeks the best of the best business majors. Society-wide, students who wish to join must have GPAs within the top 20% of their business school. All students must be juniors, seniors or graduate students and must have declared their major. Juniors who join the society must maintain the same or a higher level of scholarship as when they were inducted into the society.
Qualifying students receive an invitation to join the socieduring the spring semester, and a formal application follows. Every year, the Delta Mu Delta chapter at Liberty holds an induction ceremony during graduation weekend to celebrate students' accomplishments and present honor cords to the society's seniors.
"An invitation to join the Delta Mu Delta chapter at Liberty University confirms that students have a proven track record of working hard to achieve academic excellence in their studies," Tiffany Towne, advisor for Liberty's chapter of Delta Mu Delta, said. "It shows that our students have the knowledge and drive to succeed in a business career. The Delta Mu Delta honor society as a whole is an international honor society and is one of the highest international (recognitions) one can earn. Our LU members of Delta Mu Delta are recognized for having excellence in their academic discipline and (showing) they are (champions) for Christ in the business world."
Liberty's Delta Mu Delta chapter recently won its second Star Chapter Award.
"The (Star Chapter Award) provides recognition to all chapters that meet or exceed society standards for chapter operation and administration," Towne explained.
More information on Liberty's chapter of Delta Mu Delta can be found here. 
Gift is a feature reporter for the Liberty Champion