Alan York and Nick Pierce give an inside look of LFSN Radio broadcasting
Being a broadcaster is a job that many look at and want, but there is often more to the occupation than meets the eye. 
Two of the top radio broadcasters at Liberty are Alan York (football and men's basketball) and Nick Pierce (baseball). Both have taken vastly different paths to becoming the voices they are today.
For Pierce, his first job of any kind was at a gospel radio station at 17 years old. Shortly thereafter, Pierce came onto campus at Liberty, getting involved at 90.9 "The Light," and working his way up the ladder from there. Pierce joined the staff full-time in 2009.
For York, his start was not quite as early. As a two-sport athlete at Guilford College in Greensboro, North Carolina, sports broadcasting was not on his radar despite his appreciation for radio broadcasts. That changed when he started working as a public address announcer for basketball games at the school.
"When I got the mic in my hand to do the basketball public address announcing, that was it, book closed," York said. "I was sold. I couldn't get enough of it."
In 2010, Jerry Edwards, the man known as the "Voice of the Flames," retired. York was tapped as the one to take over for Edwards. Pierce and York have worked together ever since.
The story of a broadcaster goes deeper than just how they landed their position in the business. Being a broadcaster of a team rather than a national network brings its own challenges, benefits and responsibilities. One of the most unique aspects of the job is the relationship between the fans and the broadcasters.
"The fans want to think you're in the foxhole with them," Pierce said.
With knowing that the Liberty fans are listening, telling compelling stories about the Flames becomes vital.
"You have to know who is your audience, and what are they going to want to know," Pierce said. "A Flames audience is going to want to know more from the Flames standpoint."
This becomes especially important when the games are not going Liberty's way. Finding stories and positive outlooks can be difficult in a tough game, but they make the broadcast better.
"There should be always a positive storyline somewhere within a dismal game for your team," York said.
However, being on a Liberty-centric broadcast does not mean neglecting the other team. Rather, bringing up stories from the other side might be good for a broadcast.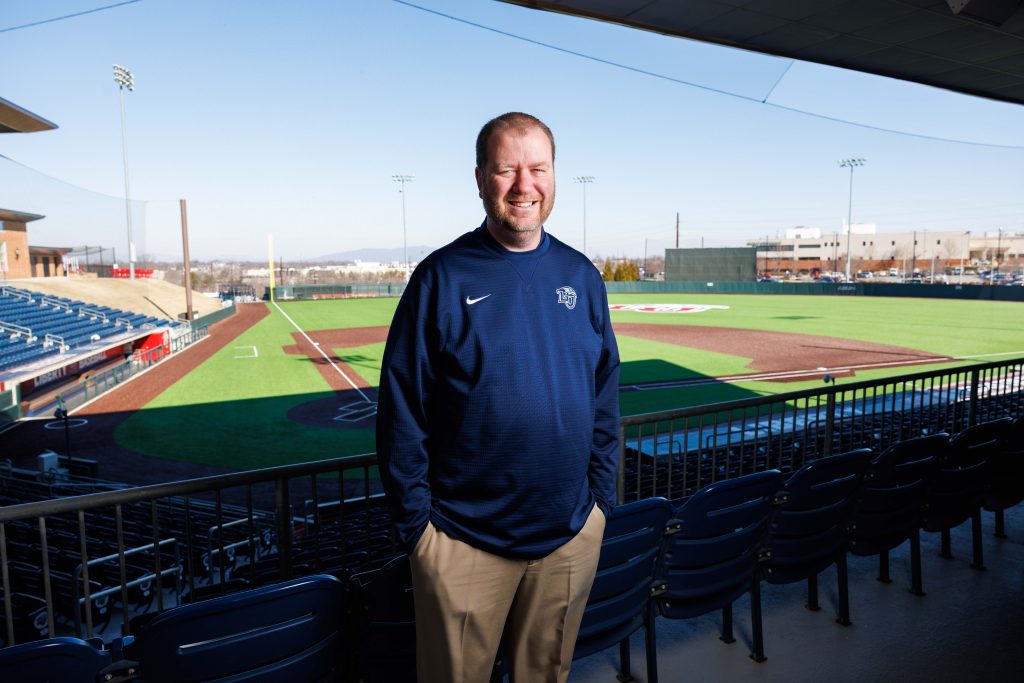 "Even on some of our broadcasts, if there is a compelling story on the other side, we like to get that in too," Pierce said. "Our listeners are still going to value that."
The relationship goes beyond just fans and broadcasters. It even extends to the players.
In a great example of this, after the Nov. 7 victory against Regent, York stayed up until 1:30 a.m. cutting and sending highlight clips of big plays to Liberty men's basketball players. York calls this his favorite part of being a "home" broadcaster.
"I just enjoy seeing the joy in our student athletes when they get to hear their name," York said. "If that's what God's got me here to do, to make them feel good, then great."
Like everything should be at Liberty, broadcasting for the university means more than just broadcasting a game. It means glorifying the Lord through it all.
"We just do it for a higher calling," York said. "We don't do it for me, or Nick (Pierce), or the athletics department. We do it to glorify his name and in the Liberty brand."
Being a broadcaster for a home team is more than just commentating on games for a team. It is about telling the story of that team, the school, and, at Liberty, glorifying God while doing so. Training Champions for Christ even goes over the airwaves on Saturday afternoons.
Lipowski is a sports reporter for the Liberty Champion. Follow him on Twitter