Flames football falls to Wake Forest 36-37

One play— that's all that stood between the Liberty Flames and a major upset Sept. 17 as they went for it all to take down the No. 18 Wake Forest Demon Deacons.
That one play, however, was not enough to pull off a thrilling victory in Winston-Salem, North Carolina, as the Flames fell short 36-37.
Redshirt freshman Kaidon Salter made his second career start for the Flames, hoping to help his team improve to 3-0. On the other side of the field, however, was a seasoned fifth-year senior in Wake Forest's Sam Hartman.
While the game finished as a high-scoring shootout, it took a while for the Flames' offense to get into a rhythm. Liberty's drives in the first quarter resulted in no points, with two punts and one missed field goal by Nick Brown.
The Hartman-led Deacons opened their night on offense with a 33-yard field goal to gain an early 3-0 edge. The second quarter would bring much of the same, with a touchdown pass to tight end Jamal Banks stretching Wake Forest's lead to 10-0.
After Liberty's early offensive woes, Head Coach Hugh Freeze tested his luck with quarterback Jonathan Bennett. On just the third play of the drive, however, Bennett found his pass in the hands of a Wake Forest defender.
Liberty safety Quinton Reese then stepped in for what would be one of his best performances in a Flames uniform. Reese intercepted Hartman's pass on the first play of the drive, setting up Liberty at the Wake Forest 35-yard line.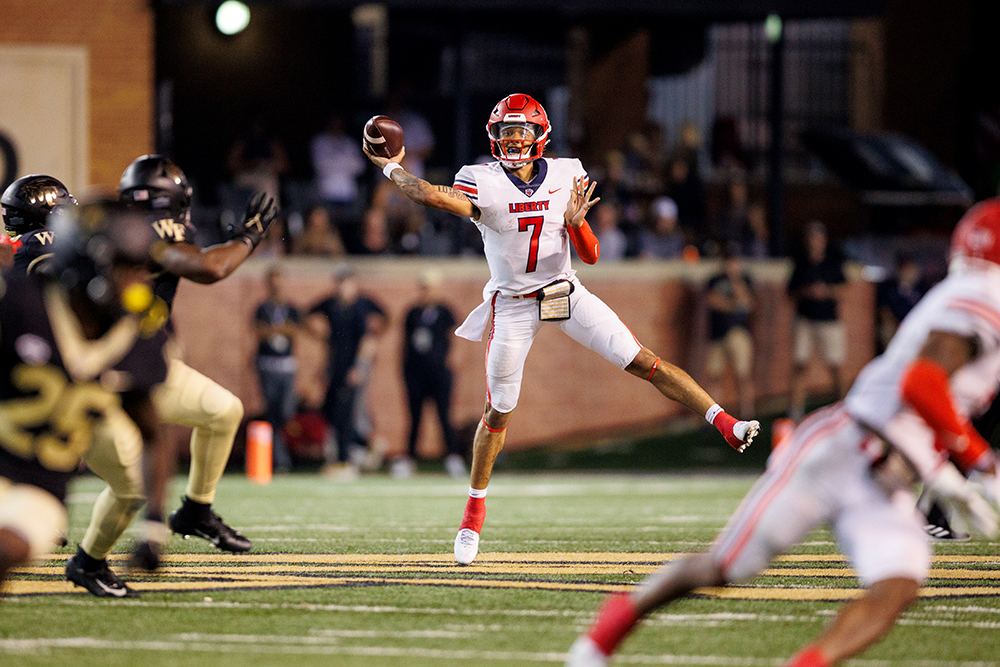 Reese's night matched his career high with six stops and his second interception. It was an incredible performance for Flames' secondary as they were missing a crucial piece to the puzzle in safety Javon Scruggs, who was ruled out prior to the game due to undisclosed reasons.
"Playing hard and disciplined was the main focus," Reese said. "And I think we did that to an extent… I feel like as a whole defense we played real gritty and real hard, which is what we stand on."
Both teams would finish their next drives with a field goal, making it a 13-3 game with 8:39 remaining in the first half.
Coach Freeze decided it was time to give his freshman a second chance with the reins to make something happen. The result, however, was an interception that gave Wake Forest the ball at their own 5 yard-line.
The Deacons, forced to punt in their own endzone, were engulfed by Flames in the backfield. Jerome Jolly Jr. blocked Ivan Mora's punt and recovered it in the endzone for a safety, cutting Wake Forest's lead to 13-5.
With the Flames in perfect position to further trim the deficit, Salter's pass was tipped and intercepted by linebacker Chase Jones. Just three plays later, Hartman found a wide-open Blake Whiteheart, who took it into the end zone.
With just 0:51 on the clock, Liberty looked to get any kind of momentum going their way.
Salter found a seam, rushing up the middle to pick up 27 yards and set up the Flames for a field goal. Nick Brown's 28-yard attempt was good, sending them into the locker room with a score of 20-8.
The Flames are known for being a dominant second-half team. Could their second-half heroics show up once again?
After Liberty forced a Deacon's punt on their opening drive, the Flames' offense found life. Salter showed off his legs, breaking loose for a 43-yard rushing touchdown and cutting the deficit to 15-20.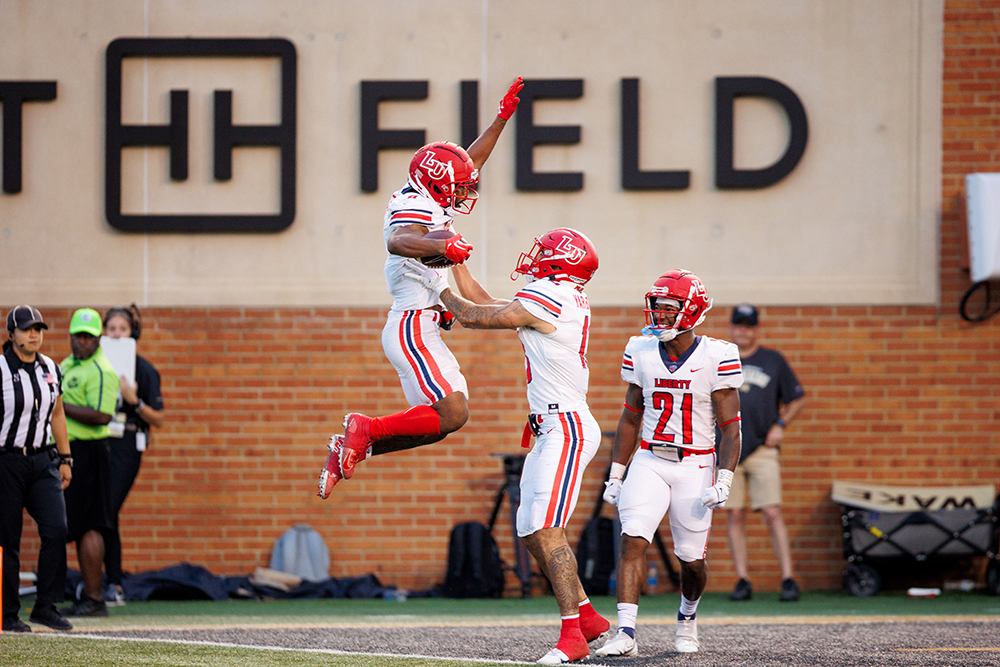 "He does things like that that other people can't do," Coach Freeze said of Salter's rush. "I love his competitive spirit, I love his teachable spirit. He makes no excuses. That just makes me want to help him that much more be successful and hopefully we can."
After Wake Forest's next drive resulted in a punt, the Flames were staring down the chance to take their first lead of the night.
It was running back Dae Dae Hunter who would power the offense ahead with a few solid rushes and a 44-yard burst to find the end zone. A successful two-point conversion to Demario Douglas gave Liberty the 23-20 edge.
The home of the Deacons erupted in chants from Flames fans, hoping to see their team pull off a remarkable upset.
After a few drives, Wake Forest responded with a 46-yard field goal to tie it up. Liberty's attempt to answer was squashed by a Salter fumble, setting the Deacons up at Liberty's 4-yard line.
Hartman would then find Jamal Banks once again to give his team a 30-23 lead.
With just 9:14 remaining on the clock, the Flames needed to put together a seamless drive to stay toe-to-toe with Wake Forest.
Hunter powered Liberty's offense down the field once again, displaying grit and physicality that stifled the Deacons' defense.
However, faced with a 4th and 7 play, it seemed the task could be too tall for the Flames.
With Salter scrambling in the backfield, a wide-open Douglas emerged. Salter heaved the ball downfield and connected, once again tying things up at 30-30.
The Flames' defense had been elite all night. However, the experience of veteran Sam Hartman proved significant as he drove his offense down the field for a 75-yard drive, capped by a 3-yard touchdown run from Justice Ellison.
With 3:39 left in regulation, Liberty began at its own 30. A pair of clutch first-down conversions by Demario Douglas brought the Flames within striking distance.
Facing a 4th and 4 with 1:20 remaining, it was do-or-die for Freeze's offense. Salter rolled out to his left and fired to Caleb Snead in the end zone. The ball bounced off Snead's hands.
Before the ball could hit the ground, however, it was snagged by none other than Douglas for the touchdown.
"It's like a Hail Mary drill," Douglas said of that catch. "When it goes up, that ball has to come down somehow. I wanted that ball."
Now down by one mere point, Coach Freeze had to choose whether to test his luck in overtime or go for the win. Without hesitation, Freeze decided to go for it all with a 2-point conversion attempt.
The Flames would try a trick play, with Salter handing the ball off to Hunter, who pitched it to wide receiver CJ Yarborough on a reverse. Yarborough looked to throw before deciding to run it in himself. The Deacons were not fooled, tackling Yarborough at the 4-yard line to claim victory.
"We worked on something that we thought would be good," Freeze said of the play. "Credit to (Wake Forest), they had a good call and didn't play us man there. Hindsight, I wish I called something different or maybe kick it, or try our luck in the overtime."
Regardless of the outcome, the Flames' effort in the second half spoke for itself. After getting off to a sputtering start, Douglas felt that the biggest most important factor in turning things around come halftime was the locker room.
"We never gave up," Douglas said. "We've got to play 60 minutes. So, we're down at halftime 20-8, we're still living. We came out and brought the energy. Defense has been playing good, and now we're picking it up and I can't be more proud."
Salter was 19-of-34 in passing attempts for 256 yards and two touchdowns in his second start. Liberty finished the night with 437 total yards, edging out Wake Forest's 346.
The Flames' defense had another astounding performance, causing their 10th and 11th turnovers of the season.
Despite the stinging loss, the Flames feel they could hold their heads high exiting Truist Field. 
"We've proven that we are a pretty good second-half team," Coach Freeze said. "Felt like if we could keep it close we would make a run in the second half, and that's what our kids did."
The Flames will return to the Mountain to take on Akron Sept. 24 at 6 p.m. The broadcast will air on ESPN+.
---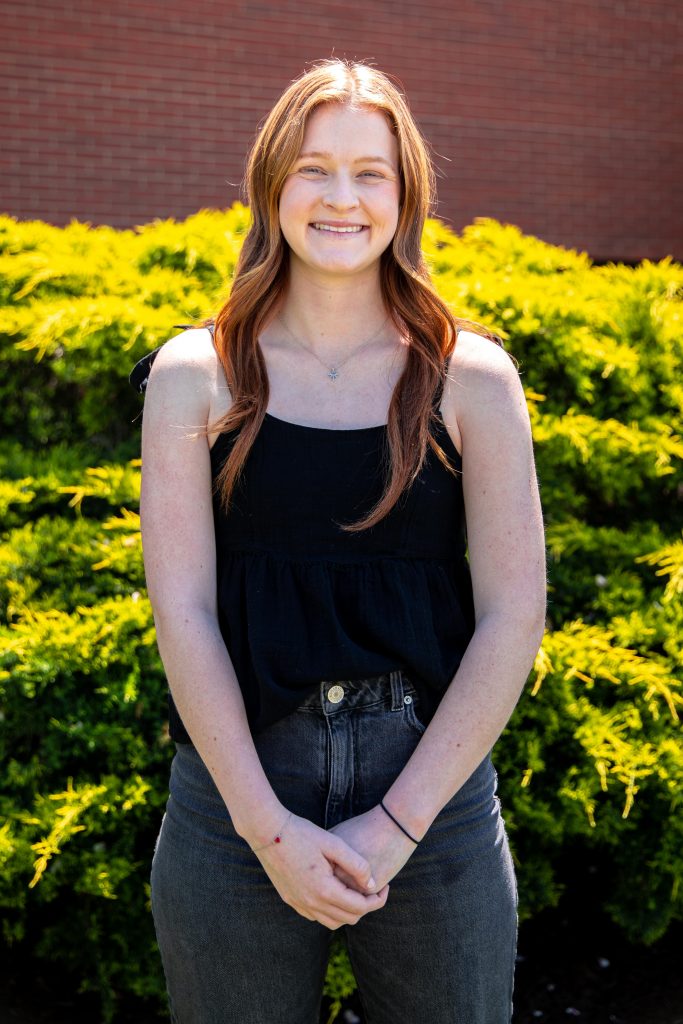 Annie Cory is the Sports Editor at the Liberty Champion. Follow her on Twitter @anniecory1