Marching to a different beat: Longtime band director of 32 years says goodbye
Drum sticks click the beat as the properly dressed members march into the stadium. The band's music will look and sound familiar, but listen closely, because a new director is leading the group.
For the last 32 years, the band took to the field under the direction of Stephen Kerr. This year, Larry Seipp will continue some traditions and bring his own touches to the position as well.
Seipp has dedicated his life to teaching students who desire to get involved in the music education industry for the last 25 years. His family moved to Lynchburg, Virginia, in 1985, where his father worked as a music professor at Liberty University. Seipp, a Liberty alumnus who attended the university from 1991 to 1996, studied music education, played the trumpet as a student and became a field commander from 1993 to 1995.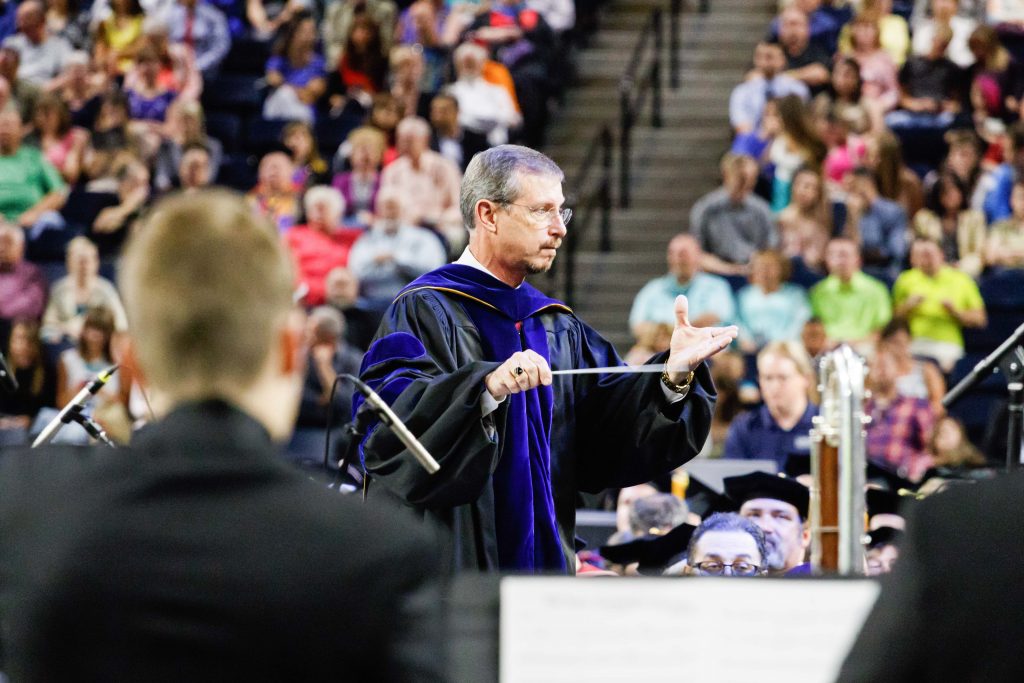 Seipp has also taught band at schools such as E.C. Glass High School and, most recently, Liberty Christian Academy. He taught at James Madison University, where he was a marching band member and completed his master's degree, and at Eastern Mennonite University. He has also served as a trumpet player at Thomas Road Baptist Church.
In recent years, he has taught at Liberty University, where he describes his experience as "probably something (he) would've never dreamed of being possible. But the Lord is amazing."
Throughout his years of teaching, Seipp has seen many of his students from LCA and peers from TRBC become a part of Liberty's School of Music and the marching band. He values the efforts the students have shown during practice and performances.
"The students have made this a great season already. Their hard work (and) our leadership in the student group have been tremendous," Seipp said.
Seipp also has a deep appreciation for how hard his students work in the marching band.
"It needs to be about the students and the school community and what the band means to the school," Seipp said. "It's really about the students and providing them the opportunity for community and to play music and to be part of a larger thing, which is Flames Nation."
The marching band president Shepard Wells, who had the opportunity of being taught at LCA by Seipp and now has him as his director once again, described his experience working with Seipp as a blessing.
"I feel really blessed that I get to come and circle back to my previous teacher," Wells said.
He described Seipp as an approachable person who will listen to any concerns or issues brought up by students and is willing to help in any way possible.
Marching band head field commander Darby Ogorek also describes Seipp as being a very approachable person who is "easy to talk to" and "very relatable." Although she had her concerns when it came to having a new person take on a position that had been held by the same person for many years, Ogorek has had a great experience working with Seipp.
"He has such big shoes to fill, and he's been so humble and kind and really aware of how the transition affects us and student leadership," Ogorek said.
Seipp expressed his admiration for former band director Kerr and his "commitment and strong leadership."
"He was a wise man," Seipp said. "I have a great deal of respect for the work and effort that he put forth to grow the band from what it was in a very humble way when I was here to what it is now, 250 (students) and growing."
Seipp strives to continue the traditions of the band, but he also includes his vision on things that "can contribute to the wonderful legacy that is Liberty — training champions for Christ."
Among those things are a new "Flames Fanfare" and an end-of-game "Alma Mater" written by Liberty professor John Hugo, with lyrics expressing the values of Liberty.
"The lyrics are going to resonate with everyone at Liberty, and people are going to love it," Seipp said.
ROLON is a news reporter.