liberty indoor drumline ranks seventh place in international competition
Currently ranked as one of the best international drumlines, the LU Indoor Drumline traveled to Ohio to compete in its final competition against several other schools from America and around the world.
The preliminaries were April 20 in Cincinnati and the finals were April 23 in Dayton, Ohio.
Dr. Thomas Goddard, among many other titles, is the Indoor Drumline director and assistant director of athletic bands and percussion. He has taught drumline at Liberty University for three years now.
"We are the only Christian drumline at the level at which we compete, so that in itself is pretty awesome," Goddard said. "We have a huge responsibility to witness to others through our actions and to put Christ first and be the light in the dark … That's the biggest thing that attracted me to Liberty University."
He is proud of the drumline for competing to the best of their ability. After each competitive performance, a group of judges gives the drumline a score. At its height, the team was ranked seventh internationally in terms of points scored.
Kristen Mendoza, a senior and snare drum player, has participated in drumline for four consecutive years. She can attest to how hard drumline has been working this season.
"LUID has taught me so much about the importance of unity and discipline," Mendoza said. "From late Friday night rehearsals to Saturday 12-hour practices, our ensemble has worked extremely hard to perfect our show for the last six months."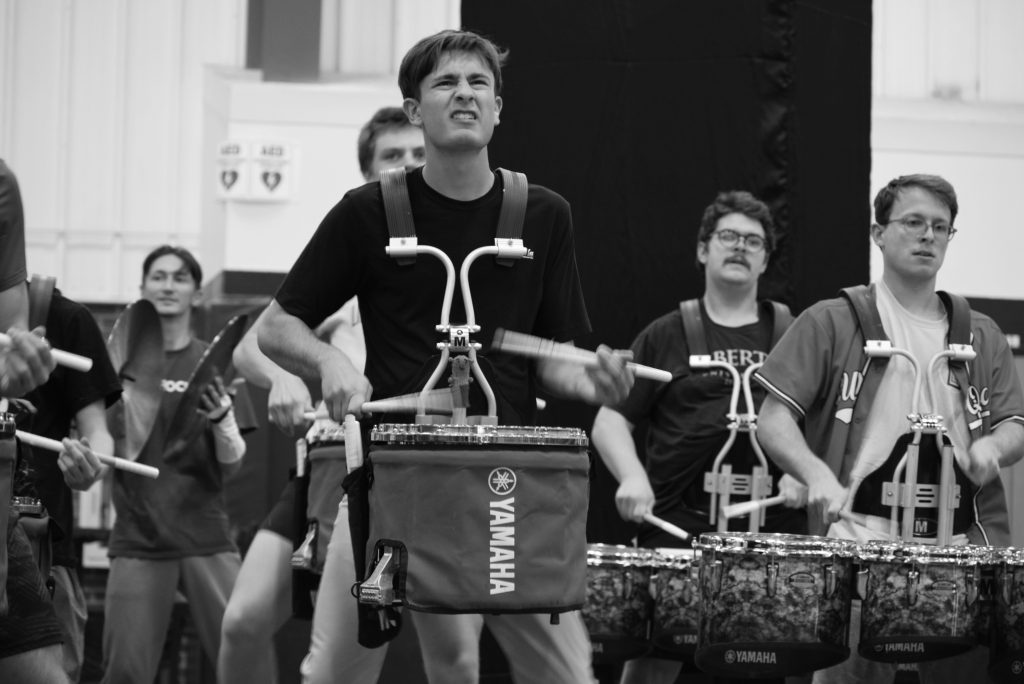 Dr. Goddard believes that the driving factor to the success of the drumline is the members' focus on Christ.
"I've taught other indoor drumlines in different parts of the country and, by far, this is the best ensemble because we are Christ-centered," Goddard said. "That's what it's all about, creating really cool rhythms and a great performance to honor and glorify God. That's our mission."
The past two seasons of drumline were modified due to the pandemic. The competitions of last season were completely virtual, their performances recorded and then electronically submitted to be judged. Goddard and the students involved in drumline are overjoyed that they could compete in person.
"This season is different because it is the first one back since the pandemic," Mendoza said. "It has been two years since we have been able to compete, so we are grateful for the opportunity and itching to hit the floor in championships!"
Composed entirely of percussion instruments, indoor drumline is focused on fine tuning its craft in drum performance. Its current showcase symbolizes spiritual restoration, going through the stages of temptation, bondage to sin and then finally being redeemed. 
Indoor drumline provides a place for many musically-inclined students to gather together and share their love of music. It has helped grow numerous lasting friendships among the musicians.
Katherine Wheeler, a sophomore and cymbals player, said being in drumline has helped her grow in many areas of life.
"It's about serving the Lord through music and making great friendships," Wheeler said when asked what indoor drumline means to her. Mendoza agreed with that sentiment, saying that being in drumline is ultimately a way to serve God.
"My favorite thing about LUID is performing and competing with the purpose of glorifying the Lord," Mendoza said. "Our members aim to honor Him by achieving excellence in every aspect of our production."
To keep up with the indoor drumline, follow the program on Instagram at @luindoordrumline.
Bear is the feature editor.